X-Fusion - What Remains Is Black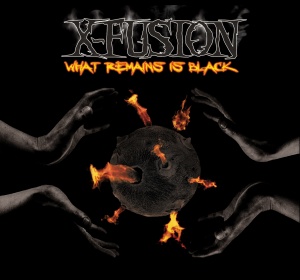 Reads: 2211 times
85%
Artist:
CDs catalogue:
It is well known, that X-FUSION formation, or rather John L. He, is a true pearl of dark independent in terms of building the climate. Although the measures of the very building are not too complicated - the whole album is interspersed with slower and faster rhythms almost alternately - it is the factor of strength and creativity characteristic to the X-FUSION.
The first track, Existence, starts with a slow, majestic introduction of electronic layers, containing audio spots with a beat element. Intro shows in the right way the overall style, in which the record is kept.
Next of the pieces, What Remains Is Black, which is a single and also the title of the album, is one of the less vivid compositions, but thanks to carefully selected sound layers it can not be denied its peculiar power. Lyrically X-FUSION is not surprising for the entire record - aggressive message, depriving of hope, which is exactly, what any self respecting band of the genre usually has. Vocal also adds nothing that breaks the definition – it is hard to find sophisticated melody... but it is not what we require of aggrotech, right?
The third and fifth positions belong already to the faster, more robust and powerful tracks, that we know and appreciate from the previous albums.
The sixth item is a complete new and absolutely fantastic change from all, that was heard earlier on the record. Inserts of powerful choirs and string section, which is beautiful - completely without vocal! The seventh track is lively, raw, full, energetic and in a classic way – aggressive; in the middle part there is an interesting departure from the accumulated musical layers in the direction of one beat and one melody. The eighth proposal in turn, supported by an unhurried beat, starts with a narrative "off from" (a non vocal), that reminiscents of the intro Her Liquid Arms from Diorama (where in turn appeared a fragment of Edgar Allan Poe's poem). In the tenth position this procedure is repeated, adding the ear catching, "the rolling" basis. Eleven again gives the proof of the power of electro + vocal, twelve instead is a return to the treatment "a lot of layers, little of vocal."
Do not deceive ourselves - X-FUSION compositions, as most of similar formations within the genre, have a plot structure like Scooby-Doo. There is a villain and a bunch of clever teenagers, throughout the episode we believe, that it is a spirit/ghost/vampire/Yeti, and what we have? Ooops! A disguise! AGAIN! We all know, we are familiar with all, and the reception invariably satisfies. Similarly it is with aggrotech - electro? It has to be. A good beat? You know. Are there layers on the principle of "the more, the better"? They are. Vocals like "screamed vocals"? Yes indeed. So what? It is really a good album! AGAIN!
Tracklist:
01. Existence
02. What Remains Is Black
03. The Beast Inside
04. I Am Your God
05. Waiting For Apocalypse
06. Hexed
07. Wicked But Blessed
08. Be Warned
09. Sneaky Lies
10. Raise Your Voice
11. Trockenblume
12. Quietus
Other articles:
Newest comments: