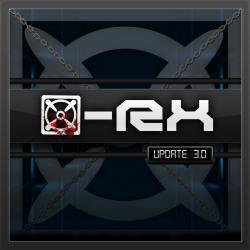 Reads: 2854 times
50%
Galleries:
Last topics on forum:
After a year since the release of Stage 2, Pascal "Cyrex" Beniesch puts out another album entitled "
Update 3.0
". The record was praised as a revolutionary one, while taking all the works of [x]-Rx into account, due to its unusual vocals, which had never been encountered before on his albums, as well as the remixes made by a couple of well-known and highly acclaimed artists like Soman, Phosgore, Chainreactor and SAM. Frankly speaking, the announcements turned out to be slightly exaggerated as unluckily I did not manage to discover any novelties on "
Update 3.0
". The truth is the whole does not sound bad in any way, yet is definitely far too monotonous. The album lacks (perhaps excluding "The Update") solid hit tracks, which one was able to find on two previous releases. Yet the album appears rather decent; it constitutes a well-measured dose of energy and is very danceable, however not to the extent which it may have seemed judging from the announcements.
The only track where a proper vocal might be heard is "Push It:. Even though it is something quite new as far as the music of [x]-Rx is concerned, even this track is not worth a certain amount of attention, which would allow you to remember this particular piece. The tracks are kept in a very similar pace and pitch. They by all means can bring to mind the previous record. Probably, it is all that matters and Cyrex aims at solidifying his style in this very way. "
Update 3.0
" will surely work well at every party but it will noty satisfy the musical needs of those who expected great changes in the sound of [x]-Rx.
Tracklist:

01. The Update
02. Drums Bass Drugz and Noize
03. Das Ewige Leben
04. The Doll Underground
05. Panikattacke
06. Push it!
07. Bass and Percussion
08. Electric Man
09. Kra 10 Mechanics
11. This Is Rock'n'Roll
12. Virus Infect
13. Der Prediger
14. The Doll Underground (S.A.M Remix)
15. Electric Man (Quagmired by PHOSGORE)
16. Bass and Percussion (Add Distortion Remix by CHAINREACTOR)
17. The Update (Soman Remix)
18. The Update (CYREX's Noise Mix)
Other articles:
Newest comments: