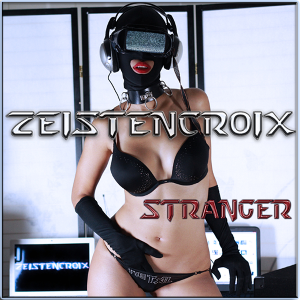 Reads: 2401 times
85%
Artist:
Galleries:
CDs catalogue:
Last topics on forum:
The debut album always raises the question with what and who we are dealing. Regardless, with the quality of the first accomplishments, let's add not always successful, some of the debutants are, however, history in music. Less fortunate were the one hit stars, repeated often over the years. After how many no trace remains.
How will it be this time?
Three musicians, Orlando Draven (vocals, guitar, songwriter) Jack Akopan (guitars) and Jean Corredor (bass) hide behind the mysteriously sounding name Zeistencroix have set the bar really high.
The first trailer of their achievements could be heard in September 2013. To that with pleasure you can watch curiously done, supported with snapshots of attractive dancer video for the single "Stranger". That actually charged with eroticism and made in ​​a daring way track has met with great interest of the electronic media and the internet users - over 125 thousand plays on YouTube is impressive.
Perfectly used instruments backed with interesting vocals, what is more ambiguous, but not vulgar text gives with the proper promotion serious chances to become a hit. I would add that in my opinion, "Stranger" will fit well as a music for the movie.
So promising beginning led to the release of available in the network from 17 February 2014 album with the same name.
Released with their own effort material contains 12 (including already known "Stranger") tracks kept in (as we read on the band's official website) convention, which will be best described as "alternative industrial". That is is not a homogeneous material. On the one hand, almost thrash metal tracks such as "Messiah" or "Walkind Dead" on the other one calm "Gone" or "Stay".
A common feature of the whole album is a huge dose of guitar riffs backed by a strong sounding drums and all that is topped with a large dose of electronics, that the musicians are not afraid to use. What is more, they are using it in a very successful and enjoyable way for the listener. It is completed by interesting sounding vocal that depending on the track shows different musical faces.
Orlando cannot be heard only in two songs which are entirely instrumental. The first one is melancholic, but not sleepy "Stay".
Easily flowing under the dictation of sounds in a style of the piano, which is successfully accompanied by guitars and drums.
The second is "The Voyage". And here is a big surprise. There, on the album full of sharp, determined sounds something almost to dance – the legs by themselves start to move. That track could successfully reign in passing carnival at events for those who like sophisticated sounds and are more demanding audience.
The album "Stranger" is almost 45 minutes of music from which enthusiasts of hard, determined sounds should be pleased, and I am very much. In the Zeistencroix material can be captured inspiration from such acts as Nine Inch Nails, Depeche Mode, David Bowie. Orlando's vocal sometimes recalls with its mannerism Frozen Autumn or The Cult especially in "Got The Wave".
"Stranger" is the album that will not be put down to a dusty archive. Subsequent listenings are not boring, just the opposite. The next three fifteen minutes with the band allow to perceive another gems. I look forward for the continuation of a career and subsequent albums from Zeistencroix.
Tracklist:
01. Flesh - 02:51
02. Gone - 03:19
03. Got the Wave - 03:30
04. Killer Babe - 03:54
05. Messiah - 02:57
06. Party Animals - 03:50
07. Stay - 4:18
08. Stranger - 03:51
09. Tears of the Heart - 05:10
10. The Lie - 03:13
11. The Voyage - 03:53
12. Walking Dead - 3:21
Also available:
Stranger Radio Ver. - 03:54
Stranger ver. 2 - 03:51
Official Website
http://www.zeistencroix.com
Other articles:
Newest comments: