Zeromancer - Sinners International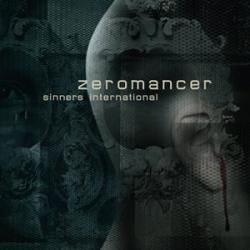 Reads: 3302 times
85%
Artist:
Galleries:
CDs catalogue:
Last topics on forum:
Møklebust,They used to serve as one of the most interesting bands playing industrial rock - Zeromancer - and now they came back after a long break, definitely a too long break. Those five Norwegian guys effectively marked their presence by previously released three albums - Clone Your Lover (2000), Eurotrash (2001), ZZYZX (2003) - with which they won the hearts of many fans all around the world. I am used to the fact that on every album created by Zeromancer there is quite a number of tracks which capture your heart or any other internal organ. That is why with big expectations and an appetite I was waiting for "Sinners International" - its premiere was postponed over and over again from 2006.
A vision of creating shared by five musicians (Alex Møklebust, Kim Ljung, Noralf Ronthi, Dan Heide, Lorry Kristiansen), which connects industrial programming, rock and melodies together with the previous studio experience, made the group take up a gauntlet they wanted from the very first album and produce the album independently from the very beginning to the very end. I need to admit that they have done a great job.
Having heard the first title song "Sinners International" I knew that it was going to be good... New numbers but such a familiar characteristic sound. There is no division between slow and fast tracks, all leads are dynamic, full of energy and expressive melody. They 'give you a kick', this album bubbles over with energy, there is no time to think, you need to act. I like to listen and know what the artist is 'saying' to me, in this case drawing my attention Alex Møklebust clearly explains to you what he means by singing the provocative texts with his provocative voice. Other guys are not inferior and try as hard as the frontman to make everything play on the highest level. They don't let the lively beats synchronised with hot guitar and drums sets get out of control. An indisputable proof for that is the last 'sweety' "Ammonite" – an essence of the performance.
The first time I have listened to the album was on my way home from work. I was walking wearing my earphones and I don't know how I got home – I think, I flew. I am not surprised, I was expecting that those five unsubmissive sinners would do it again... With premeditation they seduce the listener.
Tracklist:
01. Sinners International
02. Doppelgänger I Love You
03. My Little Tragedy
04. It sounds like Love (But It Looks Like Sex)
05. Filth Noir
06. Fictional
07. I'm Yours To Lose
08. Two Skulls
09. Imaginary Friends
10. Ammonite
Other articles:
Newest comments: