The Algorithm – Brute Force Tour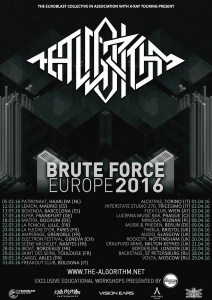 Reads: 2462 times
On the occasion of releasing his 3rd full-length album, Rémi Gallego gave concert on 8th April 2016 in Poznan's club "Pod Minoga", as a part of the "Brute Force Tour".
In repertoire of that performance the artist focused mainly on songs from the latest release, but there were also played songs from the previous albums.
"Brute Force" introduce a more melodic guitars' lines that are balancing electronics, which has so far a more frequent appearance in the musicians works. Hearing it live is at least interesting. Rémi Gallego describes his music as "heavy computer music." Based on the principle of contrast, he combines adequately refined sequences of modern metal, sometimes even becoming breakcore-like, with selected structures of synthesizers, melodious electronics, from time to time almost in the ambient climate, and sometimes referring to the tradition of trance. The whole simply makes an electrifying impression. Never before the electronic music sound so hard, and yet so dignified. The concert was completed by the electric guitar and percussion played live. For the latter was responsible Jean Ferry. Rémi Gallego on a regular basis programmed sequences of individual tracks, and then was giving a show of strong and hard guitar play. There was both sharp and danceable. The audience reacted very vigorously during the entire performance.
At times Rémi Gallego played so quickly and relentlessly that auditorium was pierced with sounds on the border of one's ability of audial cognition. Brief moments of respite were possible between successive tracks, but never lasted for long. The Algorithm just like a smoothly operating war machine from outer space, was attacking fans with its exceptionally sophisticated weapon in the form of the music. Efficiently operating between metal and electronics, the artist introduced the gathering to an unusual sound intoxication.
Setlist:
Boot
Floating Point
Synthesiz3r
Pointers
Trojans
Brute Force
Rootkit
Neotokyo
Pythagoras
Un Dernier Combat
Machine
Access Granted
Newest comments: