Forever Still - Scars
Female fronted, alternative rock band Forever Still have released a new song "Scars" as a limited-time, free download exclusively via foreverstill.dk. "Scars" is the first track from their upcoming album and is featuring new band members Dennis Post on guitar ...
» Read all


Tangent - Transience
From Dutch duo Tangent comes their engaging sophomore effort 'Transience'. An auditory montage of beatwork that blends subtly abrasive, mechanical rhythms with fascinating time signatures, scattered glitches, and nostalgic orchestral movements, that culminate into a caldron of latent kinetic energy and sophisticated ...
» Read all
» All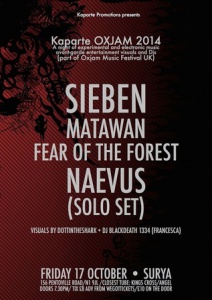 Sieben + Matawan + Fear of the Forest + Lloyd James
For the date of 17 October 2014 I was waiting with kinda longing, looking forward for Kaparte OXJAM 2014, organised in Surya, one of the London clubs. The club is placed quite close to the Kings Cross train station. Because Surya is small place, I was happy I will enjoy excellent music without pressure from people all around. And I wasn't disappointed at all. Four bands played that evening: Lloyd ...
» Read all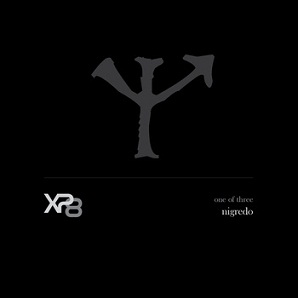 XP8 - Nigredo
Marco Visconti and Marko Resurreccion are back with 5 tracks EP in the form of "Nigredo". As the first part of a planned trilogy, its name refers both to alchemical search for the philosopher's stone and psychological analysis that involves patient's confrontation with himself. Beginning track, "Dolly Was A Raver", presents unique atmosphere of the rave parties, where sharp bit mercilessly cuts the air, and fans of uncompromising music along with resounding of ...
» Read all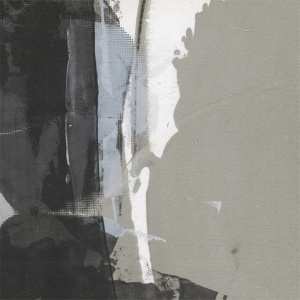 Electrosexual - Tempelhof
Many times during the session of science fiction cinema's works from the period of the sixties or seventies spectator is surprised by vision woven from the beginning of the XXI century. Women in the style of washing powder ads from the mid XX century, using every morning a bottle of hairspray, men in outdated, brown, corduroy suits and distinctive mustache - everyone wanders streets of the city among androids and ...
» Read all
» All

XIII Wrocław Industrial Festival
From 6th to 9th November be ready to take part in the amazing Wrocław Industrial Festival! The organizers guarantee not only an awesome line-ip (Legendary Pink Dots, Lustmord, Borghesia) but also your comfort preparing an additional stage. This year, on Friday ...
» Read all


» All
What kinds of music we write about