Alien Sex Fiend - The Best Of Alien Sex Fiend (CD)
Other CDs: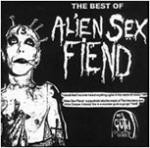 Alien Sex Fiend
Add date: 2001-02-26
Label:
Anagram Records
Tracklist:
01. Ignore the Machine
02. Lips Can't Go
03. R.I.P. (Blue Crumb Truck)
04. New Christian Music
05. Dead and Buried
06. E.S.T. (Trip to the Moon)
07. I'm Doing Time in a Maximum Security Twilight Home
08. I Walk the Line
09. Smells Like...
10. Hurricane Fighter Plane
11. The Impossible Mission
12. Here Cum Germs
13. Stuff The Turkey
14. Now I'm Feeling Zombiefied
15. Evolution