NCN 16 - Nocturnal Culture Night Festival
2023-08-08
(
Events
)
Get ready for a mesmerizing journey into the heart of creativity and culture at the 16th Nocturnal Culture Night Festival! Date: 01-03.09.2023
Location: Kulturpark Deutzen
Prepare to immerse yourself in a night of enchantment as the 16th Nocturnal Culture Night Festival returns with an unforgettable celebration of art, music, and culture under the starlit sky. This year, the festival promises to be bigger, bolder, and more breathtaking than ever before.
Get ready to groove to an eclectic mix of musical genres that will transport you to another dimension. From electrifying live bands to soul-stirring solo performances, the festival's stages will resonate with melodies that touch the soul. Let the rhythms guide your feet as you dance the night away and celebrate the universal language of music.
Line up and running order: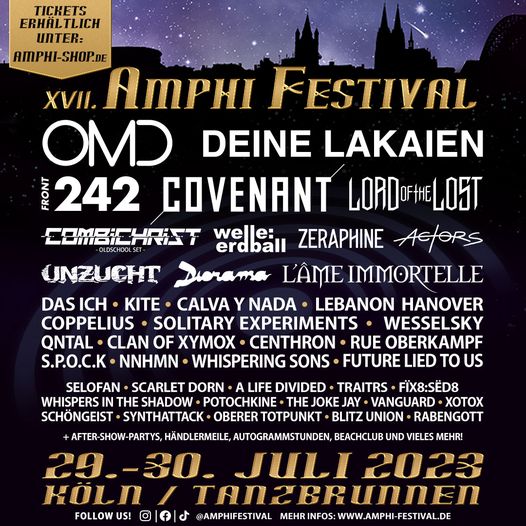 Amphi Festival 2023 line up is now complete
2023-03-02
(
Events
)
The 17th edition of Amphi Festival will take place on 29th-30th of July in Tanzbrunnen, Cologne
The line up is now complete:
OMD * DEINE LAKAIEN * FRONT 242 * COVENANT * LORD OF THE LOST * COMBICHRIST (Oldschool Set) * WELLE: ERDBALL * ZERAPHINE * ACTORS * UNZUCHT * DIORAMA * L'ÂME IMMORTELLE * DAS ICH * KITE * CALVA Y NADA * LEBANON HANOVER * COPPELIUS * SOLITARY EXPERIMENTS * WESSELSKY * QNTAL * CLAN OF XYMOX * CENTHRON * RUE OBERKAMPF * S.P.O.C.K * NNHMN * WHISPERING SONS * FUTURE LIED TO US * SELOFAN * SCARLET DORN * A LIFE DIVIDED * TRAITRS * FÏX8:SËD8 * WHISPERS IN THE SHADOW * POTOCHKINE * THE JOKE JAY * VANGUARD * XOTOX * SCHÖNGEIST * SYNTHATTACK * OBERER TOTPUNKT * BLITZ UNION * RABENGOTT
Tix: www.amphi-shop.de lub odwiedź stronę www.eventim.de orCTS/EVENTIM
Info:
https://www.facebook.com/events/721669245594891
https://www.amphi-festival.de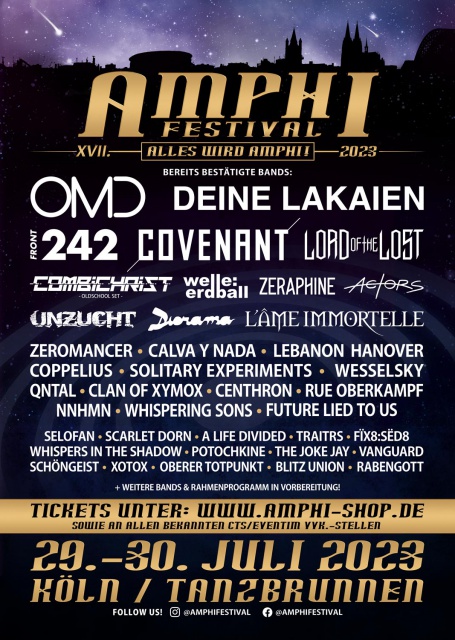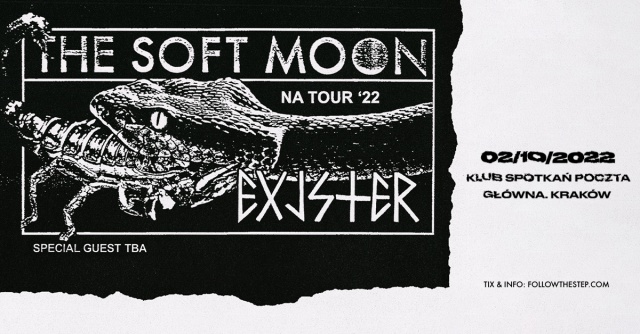 The Soft Moon tour in Poland about to start!
2022-09-27
(
Events
)
The autumn repertoire of concerts offered by Follow The Step is diverse - also fans of harder music will find something for themselves. At the turn of September and October, The Soft Moon will go on tour in Poland!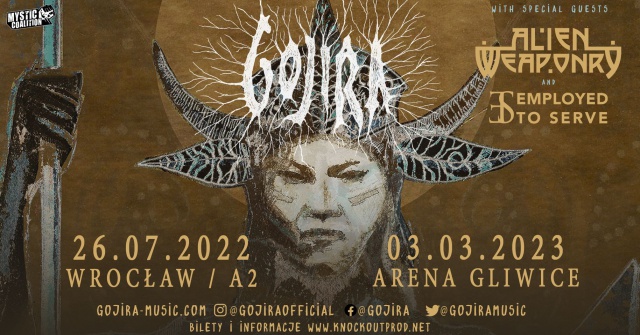 Gojira + Alien Weaponry + Employed To Serve / 26.07.2022 / Wrocław A2
2022-07-18
(
Events
)
Gojira is coming back to Poland with their newest album "Fortitude" (2021). The French band will perform @ A2 club, Wrocław on July, the 26th 2022 and then on March 3rd at Arena Gliwice. Their supporting acts will be Alien Weaponry and Employed To Serve.
18:00 - Doors
18:55-19:25 - Employed To Serve
19:45-20:30 - Alien Weaponry
21:00-... - Gojira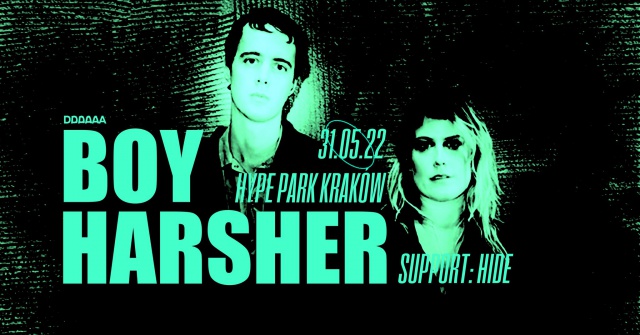 BOY HARSHER + Hide | 31.05.22 | Hype Park, Cracow
2022-05-16
(
Events
)
Boy Harsher will appear in Warsaw and Krakow to promote his latest album "The Runner (Original Soundtrack)", which was released in January this year. The album is the sound equivalent of the film of the same title that Boy Harsher made during the pandemic. It is a horror movie mixed with a meta-document illustrating the process of making the album. It is worth recalling here that the members of the team met during film studies.
The duo, created by Jae Matthews and Augustus Miller, is currently one of the most popular representatives of the minimal synth trend, although they describe their music simply as "dark electronics".
Boy Harsher was founded in 2013 in Northampton, Massachusetts, USA and was first known as Teen Dreamz. In 2014, the first EP of the duo "Lesser Man" was released, and in 2016, the first album entitled "Yr Body is Nothing", supplemented with the EP "Country Girl" in 2017 and the album "Careful" in 2019.
The evening will be complemented by a performance by the Chicago duo Hide.
We recommend purchasing tickets only at authorized points of sale.
By purchasing tickets from third parties, you are exposing yourself to fraud.
People who are over 15 on the day of the concert (but under 18) may enter the concert with the written consent of their parents / legal guardians. People who on the day of the concert are under 15 years of age may enter the concert only under the supervision of an adult indicated by their parents / legal guardians and with their written consent. The consent template can be downloaded here: https://tinyurl.com/formularz-zgoda
REGULATIONS: https://tinyurl.com/regulamin-DA
31.05.22 HYPE PARK, Cracow ul. Kamienna 12
18:00 DOORS
20:00 START
TIX:
Biletomat: tinyurl.com/boyharsherKRK
GoOut: goout.net/pl/bilety/boy-harsher+hide/enhn/