Alien Sex Fiend - The First Compact Disc (CD)
Other CDs: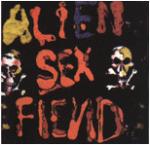 Alien Sex Fiend
Add date: 1986-05-12
Label:
Anagram Records
Tracklist:
01. I'm Doing Time In A Maximum Security Twilight Home
02. Mine's Full Of Maggots
03. Do You Sleep?
04. In And Out Of My Mind
05. Spies
06. Fly In The Ointment
07. Seconds To Nowhere
08. The Beaver Destroys Forests
09. Do You Sleep?? (Not Of One Mind)
10. Depravity Lane
11. E.S.T. (Trip To The Moon)
12. Boneshaker Baby
13. Ignore The Machine (Electrode Mix)
14. Attack!!!