Interview with Hidden by Ivy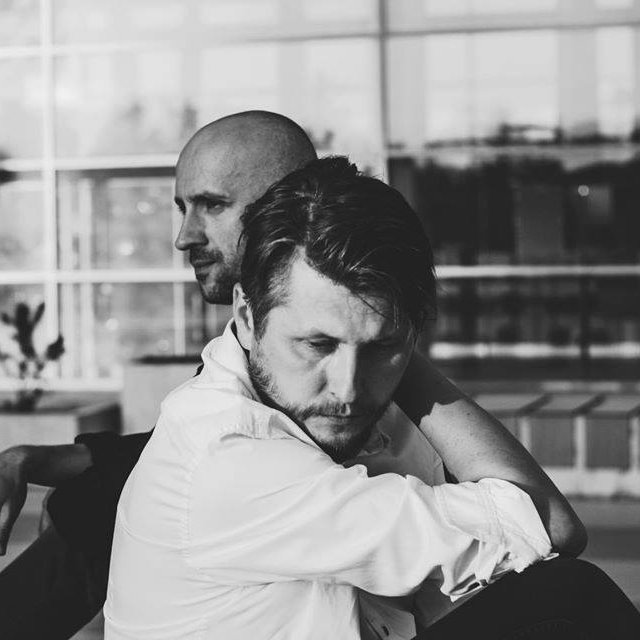 Reads: 2886 times
"Melancholy and nostalgia are inscribed in our musical DNA"

Hidden by Ivy is a Polish project founded in 2014 by Rafał Tomaszczuk and Andrzej Turaj. On the occasion of the new single and video "From Now On", I asked the musicians a few questions - not only about the new release, but also about inspirations, changes in the perception of the world and what it is like to be a "correspondence duo".

The single and video for "From Now On" were released at the end of March. Since then, you have certainly received feedback from fans as to how the new release is. What were the reactions?

R: The reactions were and are very positive, which makes us very happy, because for the first time we released two singles long before the album release. It was an experiment that was fortunately successful. Additionally, both "Light House" and "From Now On" differ in style compared to our previous work, so we wondered what the reactions of the listeners would be. As it turns out, the HBI in the more synth and even more "80s" version was to our audeince's liking and we are very happy about it. It is also worth emphasizing that our current sound is greatly influenced by the change of the studio where the final mixing and mastering takes place. Currently, our recordings are made by Kamil Łazikowski at Soyuz Studio.

The video for the single was shot by Bartosz Hervy. You have been cooperating for years. Tell me a bit about this collaboration, and also about the concept behind the shooting of the new video.

R: It was just a matter of time when Bartosz would make a video for us:) As soon as the idea for the second single "From Now On" came up, I asked him if he would like to do it with us. He agreed because he additionally found our musical transformation to be good and cool. As I have been friends with Bartosz for many years and we have had many years of creative cooperation behind us, the matter was simple. In total, two phone calls about the vision and concept of the clip were enough, we set a date and after a few weeks he was in Białystok. The shooting took one day. We shot the video in the hospital where I work and I must admit that everything went really smoothly. We know each other inside out, so we read our minds. The whole thing was supposed to give the impression of loneliness and loss. Fear of losing something and someone important. Cold light and an ascetic room were to intensify these emotions.

You've mentioned once that Hidden by Ivy never played a concert together, which, I must admit, is quite exceptional. You gave technical reasons to be the cause for it - can we expect this to change?

A: Well, the prosaic reason is the distance, we live on the opposite parts of Poland, we see each other once a year and we are unlikely to change that. We were called a "correspondence duo", which in a way explains the way we operate. We hope that with the latest album we will be able to show HBI live, at several concerts in Poland. This is also our target for 2022. R: Let me say immodestly that we did not think that in just 7 years we would be able to create so many songs and attract the attention of the audience. I am speaking here in the context of the style of our work and as if not looking at the many difficulties related to the distance of almost 500 km that separates us. As it turns out, a lot can be achieved if we are driven by passion, love for music, as well as, and probably most importantly, friendship, which in my opinion is probably the most important, gives strength and drives this machine. On the other hand, the appetite grows with eating, and we cannot imagine that we would not have to play a few concerts. So at the moment the priority is a new album and then promoting it with several concerts.

Hidden by Ivy is a duo - each of you brought previous experiences to this project - Rafał from Agonized by Love, Andrzej from God's Own Medicine - how do you think your previous projects had an impact on what you present in Hidden by Ivy?

A: Probably a small influence, the previous projects, however, are different musical worlds from HBI, closed in certain specific styles. In Hidden By Ivy we try to constantly broaden the horizon of searching, we are more open to new inspirations and, importantly, we have never lost the element of being a "listener" in ourselves. We constantly absorb the music of our favorite artists and artists. Music is an integral part of our lives.
R: We were especially afraid at the beginning of our joint adventure that the work of HBI would be shadowed by these bands. I think we have successfully separated all these musical worlds.

"Inner" - your last album, came out in November 2019 – what was the reason behind the hiatus?

A: We have been releasing new albums regularly since 2014, we have 3LP and two EPs to our credit. This year, the premiere of a new album - considering that the whole "musical story" happens next to our normal, everyday and ordinary life, the result is more than great!
R: Let me just remind you that the original assumption of the cooperation was to record one, joint song, maybe an EP. We have been operating regularly for 7 years and if we pay attention to the mechanism of our functioning, the overall effect amazes me.

Looking at your previous releases - is there any continuity in the subsequent albums, a story that develops through successive releases, or rather what you create reflects your current or experiences?

R: We try not to plan specific actions, not to assume that the next album will tell something specific. It used to be like that, I assumed the following. The album will tell a story, or that I will sing it entirely in Polish. Then, often under the influence of various events and emotions, these plans faded away. So, such far-reaching planning seems pointless to us and we try to act on the "here and now" principle. Of course, we talk about the sound or general nature of new recordings and we organize a plan and paths that we will follow, but it applies to one specific song each time. When it is ready and we are satisfied with it, we start the next one.

Your music is precise, but also quite poetic and melancholic - what inspires you to create music and lyrics?

R: Melancholy and nostalgia are inscribed in our musical DNA and we naturally see many things through their prism. Of course, we are smiling guys on a daily basis, but when it comes to our work, it has its own, usually less cheerful identity. It's a cliche, but inspiration is everywhere, everyone looks at the world in their own way, some remember places and moments for a shorter time, others are not interested in the past and memories at all. I find a lot of inspiration in what has already happened, places, people, memories, smells, frames with "films" from different eras scrolled through your mind. Sometimes I enter this world more and then I feel the need to write about it, I see in it and how I feel in it. Sometimes, however, I feel tired of living in the past, then my dreams come to the rescue, sometimes some visions that appear before falling asleep, usually it is fear that can be creative. It is said to be one of the most acute human emotions. It concerns each of us, everyone has to face it and can absorb a person.

How has your perception of music and art changed in general since 2014, when you founded the band? Is development included in the musician's life or is it a natural process of maturing as people and artists? How does this translate into the music you create?

A: Development, evolution, searching, overcoming own limitations and habits, and partly also fighting with oneself - creative work is not easy! It requires a lot of self-discipline, but in return offers a world of incredible creative rapture, difficult to express in words. The third album "Inner" is a turning point for us, it was there that we tried to break free from the safe "musical" orbit. The latest album, which we are constantly working on, is a clear stylistic twist and a leap into the unknown space, away from previous achievements.
R: In our work, we have become, in a way, such "stylistic pushers". We wander around the styles, combine them and experiment. This is probably what the joy of creating should be about. Making copies, copies, copies of subsequent pieces is, in my opinion, pointless. The same goes for painting and other arts. Of course, you have to hold the reins tightly so as not to go astray because then there is a risk of total discrepancy and then you can easily be accused of a lack of concepts, consistent ideas or even artistic schizophrenia. This must be done, and I hope that in our case the search is controlled. In addition, it is influenced by our musical inspirations and what we listen to every day, which, at least in my case, is a very wide spectrum of genres. From the avant-garde Coil or Current 93, psychedelia of the 60's / 70's, all kinds of 80's, all kinds of electronics, dark indie, to black metal.

What can we expect from you in the near future in terms of new music or projects?

A: The new HBI album is a priority, although in my musical drawer there are still many different stylistically musical notes and sooner or later they will see the light of day. All in good time.




Newest comments: