Interview with Ionic Vision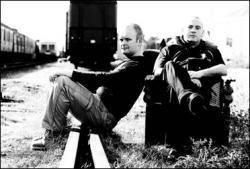 Reads: 2983 times
Last topics on forum:
Astrid asked Sven and Andy about their new album, the past and future plans!
Hey Sven, hey Andy. Thanks for taking some time to answer us a few questions.

Our pleasure
Firstly please introduce one another.

Well, we are Ionic Vision (who would have guessed ☺), we live in a small country called Belgium, we are two, being Andy and Sven.
We exist already since 1992, so we are the longest ever non stop existing EBM band ever (we should write to Guiness Book) and we release our material on the Machineries Of Joy label, a sub division of COP intl. Furthermore we prefer to leave the itchy details out of the interview:)
On January, the 22th you will release "Complete Isolation" – a remix-album of the 2008 CD "Bitter Isolation".
Did you get in contact with the guys or did you get so many requests that you felt forced to do a whole remix-album?

We decided already a long time ago to finish of our isolated sessions with a remix album. These isolated sessions refer to the complete set of releases we did since the Sweet Isolation (ION010) MCD, the release we did with Orange Sector. It is all about one huge concept (being isolated as a band for so many years), be it on the art part (the red chair on all sleeves on a deserted place) and the musical part. An overview of all that is to be found in the booklet of the Complete Isolation release. Worthwhile taking a peek.
We got in touch with the remix bands in a quite early stage, and we never ever had any intention to go and look for well known names in the scene. We don't care about that, we only care about quality. Of course we ended up with big names, not to avoid. We had Orange Sector, Pouppee Fabrikk joining in on the heavier EBM part and on the other end of the spectrum we had sounding names like David Carretta, the Horrorist and Komputer.
We know that the variety of EBM is very important for you. Is that the reason why you not only cooperated with EBM Bands but also with other musicians such as NorthBorne or Komputer?

We indeed always strive for the fact we want people to believe pure EBM can have several faces without losing its identity. This remix album is the ultimate proof for this. An EBM band like Ionic Vision does not have to ask 15 other EBM bands to make a remix because in the end it will all sound the same. On the other hand it is not easy to keep identity, occasionally we do dare to stand up and say, we want something completely out of line. Komputer for instance is such a case, it worked, we wanted a strange vision and we got one.
We both have a broad interest in good electronics and we are in touch with loads of artists, so it was quite easy to get the cd out.

Why did you decide to take only 5 tracks from "Bitter Isolation"?
If you would remix the complete Bitter Isolation album, there would be nothing left of it, it's kind a like Depeche Mode's Black Celebration.
All the good songs were remixed to death and only the lesser tracks were left over. We did not want that to happen.
On the other hand, you now get a chance to taste the remix spectrum, take for instance Die Macht, listen to how it is remixed by Orange Sector and The Horrorist, two completely different fine remixes of the same song. If we would only have one band doing a remix of it, we may never had the chance to taste the varieties possible
Is there a Mix that really knocked your socks off while listening to it for the first time?

In a way they all did sound nice and we are all pleased, but I reckon we cannot escape to give an honest answer….we both instantly adored the Millimetric mix from Die Macht…..but that's not on Complete Isolation ☺. Truly, there are good parts in nearly every mix, you have the dance effect of Northborne's remix and the weird parts in the Komputer remix, and in between every interpretation is a fine one.

Next Friday (22.01.) you will support Nitzer Ebb at their Release-Show in Antwerp. How did it come to that?
We were asked to do that by Peter Mastbooms (Body Beats). He always knew it was our biggest dream. And it is only logical in our case to go for our biggest strive, the ultimate. After all, Nitzer Ebb is the reason why we got into this sort of music and we are still here doing our Nitzer Ebb based stuff.
We are still around and in the EBM scene (as small as it is) were we gain more and more respect. Working with artists like Terence Fixmer, Thomas P Heckmann, David Carretta, Pouppee Fabrikk, Orange Sector and so many more, forces people to respect you after all the years of trying to stay alive. We are proud of what we have achieved and who knows what the future will bring. Playing as a support for Nitzer Ebb is again a confirmation we are doing a good job.
Will it be a unique event or do you attend Nitzer Ebb further on tour?
For now it is a unique event, but another step further would indeed be doing few more. We never say never, and will see what comes next. We learned our lesson well over all those years. Stay who you are and don't act as an arrogant pain in the ass trying to be the best and biggest….it won't work. So we keep low profile and are very grateful we get this one time opportunity, an opportunity lots of other EBM bands still dream of….like we have been dreaming for all those years.

Nitzer Ebb is one of your idols. Is it a special honour for you to be on stage with them?
oh definitely, it feels like being 16 again and listening to Murderous and thinking……"this is the ultimate, wish I would be able to do that and one day, be on stage and be as famous as Nitzer Ebb"……..all these years later that ultimate wish comes true (but we are not as famous of course!)……but, in all honesty, it will be just another gig like we did so many before. We are proud to tell people we support the biggest of all, but when it comes down to the stage act, it will just be another Ionic Vision gig…..it's all around the stage happening that is so exciting… We even have a great chance to interview Nitzer Ebb, that is a much more exciting thing for us.
For 18 years now you battle against the opinion of many people that EBM would be just monotonous but various. From your today's point of view, what change did EBM experience since the beginning?

There is more of this music than so long ago, and to be honest, we as Ionic Vision were for a serious amount of time the only EBM band left, struggling hard to convince everyone of what we were doing. Oh, we have taken the piss so, so many times…..and only now, when the genre is coming back and being respected, they look at us saying 'hey these geezers are still around, respect'. An sich, the music of the bands and the inspiration is still the same, but it's good to notice that EBM is gaining interest and yeah, without trying to be arrogant, we feel to have our small share in the revival….or not ☺?
What changes did Ionic Vision went through since then?
We gotten a little older, more wise (that goes without saying ☺) and much tougher when it comes down to saying 'no'. We now know much more what our share is in the EBM genre, and this has made us more secure about what we do. But furthermore, we still are doing this because we are enjoying it, every studio session we have is just fun, not a burden, pure fun. So not much of a change there. Technically we gained more experience in the soft-synth play area and that has given us a fresh boost 5 years ago. At this point of writing you are the first one to know we have a set of 14 tracks which we will start mixing within the next few months, so there is another Ionic Vision album in the making (may God preserve us all when this gets out ☺)
You have the slogan "Rage Against The Acoustic". Please explain the background to it.

It comes from the period when we started Ionic Vision. At that time we slowly saw everything from the true EBM scene sliding into the cross over and there was hardly anything left to enjoy, the guitars made their way into the scene and we just did not like it. So, we took up our weapons, started to load and created Ionic Vision, doing the true EBM and thus spitting against the cross over scene. By the time we were recording our first album, we thought it would sound nice to make a harsh statement towards the cross over, and being inspired by the band's name "Rage Against The Machine", we easily found a good title for the album and at the same time the Ionic Vision way of acting was a fact…..and to be honest, it still works today and no band ever used that slogan. We have a patent on it ☺

EBM unfortunately is often associated with the right-wing scene. What do you think about it?
The association lies in the fact the music is hard, aggressive and the 'army' type dress code. But where ever and whom ever we met and spoke to over all the past years, speaks and acts completely the other way. A vast proof that this statement is absolutely wrong. And for Ionic Vision, politics has got nothing to do with music and vice versa, not much more comment on this one.
We will now give you 3 catchwords. Please give us a short statement to them.
The economic crisis

Fortunately we do not suffer to much from this, but for the people who are struck with unemployment we can imagine times are tougher. But look at it from the other side, a downward period can be the perfect time to act and strive for something new and better. And we also believe that the term 'crisis' is often being abused to kick out people easily, making more profit and make it a bigger burden for those who stay….sad, but the economic truth that is.

Casting-Shows
Hahaha, how do you think Ionic Vision got famous? We enjoyed so much doing that Modern Talking impression, so long ago….we failed as Dieter Bohlen was in the jury and he did not like his songs to be fucked up that much….so in the end we decided to start an EBM band ☺. Ionic Vision covering You're my heart You're my soul……woohoo…tempting…..
Nah, we truly are not into that sort of stuff, but it would be a blast if one day there would be an EBM casting. The 'E' factor ☺, where the E can stand for Erotic or Electronic…we would go for the first one, only girls are allowed and we would be in the jury.

Interviews
If the questions are nice, cool, if the girls are nice, fine, if the nice girls have a nice smile, even better ☺
In case in 2012 the world would really go down, what things would you be desperate to do until then?

Finishing our new album, we are working hard on it, so give us let's say until 2013, ok?
No, we would try to enjoy whatever we can enjoy…..but it's hard to say we would do this or that, because we are not facing that day, armageddon is not close, so nothing like this is truly spinning our minds. Imagine every living creature would know the day he would die…darn scary that would be

You both now have 30 seconds. What do you have to tell the world?
30, 29, 28, 27, 26, 25……euh….23…….do we really have to tell something to the world after all, wouldn't that be a little too arrogant……..we are just two people doing music, and if we would have to say something I guess it is all to be found on our cd's. As said, we are not arrogant to think that what we have to say is important, we are just musicians.
Many thanks for your answers! We wish you all the best for the future and a lot of fun with Nitzer Ebb.

With pleasure, and thanks to all at promofabrik, you guys are truly nice people with a perfect attitude (and a nice smile:))
Newest comments: