Karjalan Sissit - Fucking Whore Society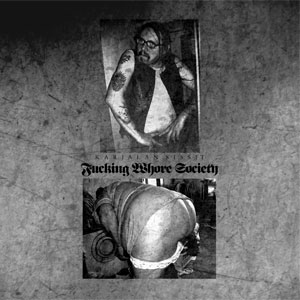 Reads: 5626 times
85%
Galleries:
Last topics on forum:
"Fucking Whore Society" is one of the albums of Peter Bjärgö's solo project Karjalam Sissit, which was released in 2009. His music is based on combining into one whole the elements of hard electronics, dark ambient and charismatic voice, either reciting or almost shouting the lyrics which are full of motifs concerning mainly alcoholism and revealing full of brutality, dark side of life in Scandinavia.
The album carries very simple and obvious at first glance message presented already on the cover, the title of the album makes it clear, it is not music for masses, it's full of hatred manifestation of feelings tormenting the vocalist. Very often almost military motifs appear in the songs, for example the sounds of crowds, drums and scream of shouted lyrics announcing that the play is over and that the enemies will end their lives soon just as unfaithful wives or gulling family – ending up in forgotten graves somewhere in the forest...
For me it is clearly a psychedelic album, listening to it in an empty house after watching a good horror may lead to psychosis, especially if you have weak nerves. I believe that some of the songs would be ideal for the soundtracks of many horrors. For some the album may seem monotonous because of repeating motifs of alternate calm and screams, however, still it guarantees good fun if you listen carefully to the lyrics. Finnish language unfortunately is not commonly known in Poland, it's a pity since as you can see it's possible to convey your emotions in a very suggestive way thanks to this language ;)
Tracklist:

01. Jävla Psykopat Kärring (Värre Än En Horunge)
02. Asuntovaunussa Huoraamassa
03. Slöddret Måste Bort
04. Loppuun Nussittu Avioliitto
05. Har Du Horat Runt På Campingen?
06. Nyt Tulee Kirvestä; Perkele
07. Rautakeppi
08. Hyi Helevetti (You Are A Whore And Will Always Be)
09. Skitfolk
10. Knulldate
11. Solmu On Solmittu
Other articles:
Newest comments:
Scather



Writen at: 2011-07-22 07:23:50

Karjalan Sissit to Markus Pesonen, w żadnym wypadku nie Peter Bjärgö.