KOFE-IN done czech caffeine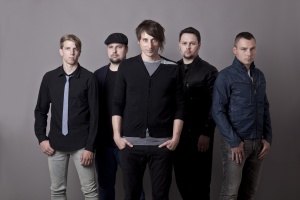 Reads: 5278 times
The band
KOFE-IN
was created in 2006 in Opawa (not so far away from the Polish border).
Now the group has five talented musicians:
Jan Kunze
(vocal),
Petr Kunze
(guitar, vocal),
Martin Lecián
(guitar, vocal),
Daniel Herrmann
(bass, vocal) oraz
Pavel Hruša
(drums).
KOFE-IN
cleverly combines rock music with catchy electronic elements. We also see experiments with other music styles as: pop, trance or d'n'b. Besides czech lyric in their songs and delicate theatrical message served by main vocalist, the most characteristic is expressiv guitar sound and pulsed rhytm of drums which is supported by elecronic beats.
For the first three years members of
KOFE-IN
have focused on searching and working on their own unique style, and preparing interesting material. In the summer of 2006 demo with four tracks was ready. This demo opened the doors to many clubs where
KOFE-IN
had possibility to play their first concerts.
With their energetic shows and hypnotising video projections, band gained not only interest of audience but a great group of fans.
Without any of issued CD's, in 2007 the group have played in London's club The Jamm.
"Osobní vesmír" is the title of their debut album which was released in april 2009. The title means "Personal universe" and show that
KOFE-IN
goes on their own way, doesn't look back and doesn't copy anything on the Czech music scene.
On this CD we can find ten energetic tracks that have been recorded in studios of Česky rozhlas in Ostrava. Guitarist Marek Hoblík is the producer. Klára Vytisková from Toxique band is the guest vocal on the two tracks.
"Osobní vesmír" is characterized by intimacy of material and clear maturity of members, who serach inspiration in different styles of music. Pecurial lyrics and their intriguing interpretation served by Jan Kunze add a lot of colour. Frontman takes people to the different world and he tells them his own story.
As a single which promotes "Osobní vesmír" they choose electro-rock track "Sebe mi dej" that perfectly captured band's character. In cooperation with postproduction studio AVION, the first official band video was created for this track. Allan Šubert was the director. Collection of comics "Sin City" by Frank Miller was the inspiration for scenario. That was the first Czech clip made in 3D technology.
https://www.youtube.com/watch?v=8JPEcs-qiFw
This fact couldn't pass unnoticed on the Czech music scene. For the first month, over twelve thousands of people have seen this video on youtube. Also music tv Očko regulary showed that.
This track was on the hit list of Pětka v Pomeranči through over seven weeks. Through the five weeks it was on the first place.
Without any doubt, a debut CD showed that
KOFE-IN
is a group which isn't afraid of experiments and demonstrating own innovative music visions.
Next turn in KOFE-IN career was in march 2011, when they released second album "Libertin".
Jan Kunze was author of the title. He told, the title means freedom of music creativity for the members.
On this CD we can see more electronic sounds and nice melodies under that. Rock and intriguing guitar sound are still basis. Worthy of mention is the fact of original music transmission and fresh and ambitious Czech texts.
,,Kladu tě na vodu" is the promo single. Music video for this song was directed by Allan Šubert.
https://www.youtube.com/watch?v=4hzIJjNOkVE
In june 2011 music video for "Kladu tě na vodu" took second place in the first edition of the music contest Česky Youtubefest. In the final, fans voted for their own favourites through the youtube portal.
Next big success was a second place in prestige query Žebřík 2011 (category: revelation of the year). In the same plebiscite, song "Kladu tě na vodu" was nominated in category: song of the year.
The second single (from their second album) has become energetic song "Levituju". Guitarist Vladimír Jaska was the director. Clip was released on 2 November 2011 on the band's official youtube channel.
https://www.youtube.com/watch?v=XZpAnP9U5uw
Video appeared regularly in the music TV Ocko, and in the music charts Medúza. This video was nominated by the jury for the final of the second edition of the competition Česky Youtubefest. It took fifth place by beating over 800 submitted videos.
Interesting videos with deep message are next trademark of
KOFE-IN
. The confirmation of this thesis is the video for the song "Jediná", presented officially in December 2012.
For the first three months of the publication video had over 31,000 hits. In March 2013 it took first place in the category: Video of the Year 2012 in a music query Žebřík.
https://www.youtube.com/watch?v=tllwqgubBgg
In summer 2013, band had personal changes. Ex members of Cocotte Minute: drummer Pavel Hruša and bassist Daniel Herrmann joined to Kunze brothers. Then band started to prepare material for the next CD.
18th of the november 2013 in coordination with music agency VIS-A-VIS,
KOFE-IN
recorded their third studio album "Dobré nebe". Recording was held in Prague studio of producer Armin Effenberger (known from electro-pop band Cartonnage). Interesting design of the CD box was prepared by Daniel Herrmann.
CD "Dobré nebe" is definitely the most positive album of KO
FE-IN
. It's a mix of rock wildness with a nice, fresh pop.
This time electronics was reduced, and sounds of vocals had a big role there. Interesting fact are two acoustic songs "Věčnost je nic" and "Dívčí".
In song "I Kdyby", guest vocals was given by Katarína Landlová (participant of the television music show Česko Slovensko má talent 2012).
Jan Kunze is the author of most of lyrics. Petr, his brother is author of music.
Track "Moje dobré nebe"is promoting single. Video was directed by Libor Martinik.
Video premiere was held on 16th of September 2013.
https://www.youtube.com/watch?v=YKsgejhEdog
KOFE-IN
is one of the most interesting and most characteristic progressive bands in Czech Republic. They are strongly fascinating by their clever lyrics and expressive message.
If we add magnetic frontman Jan Kunze, we get a guarantee that we won't be bored with their music.
Newest comments: