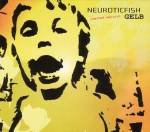 Reads: 4820 times
70%
Artist:
Galleries:
CDs catalogue:
"...Gelb is electronic music in a very pure form, it is danceable, always a little trivial, never instructive, but invariably personal..." - Neuroticfish
And here we are... the well known synthpop project Neuroticfish released another album. At the very beginning I'd like to point out that the album is not surprising. The CD is a very good one, but not original. It' s simply a great amount of good, catchy, dance music. Project of this kind produce varied music, better or worse, but I must admit that I do not listen to them especially passionately, yet, Sascha Mario Klein can always interest me with his productions. This is the story with "Gelb". Tracks like "Waving Hands" or "Are You Alive" have their mood which attracts attention.
There are some really good dance tracks on the album, practically all of them have interesting lyrics and fine, typical for Neuroticfish , melody line. The track"They're coming to take me away" is a music experiment Sacha did, I think You'll be surprised. I really encourage You to listening to the album, which is best described by the quotation above.
1 Loading...
2 Why dont you hate me
3 The Bomb
4 I dont need the city
5 I never chose you
6 Waving Hands
7 Short commercial break
8 Ich spüre keinen Schmerz
9 Are you alive
10 Youre the fool
11 Solid you
12 They re coming to take me away
13 Suffocating Right
Oryginal text on darknation.pl
Newest comments: