Skinny Puppy - Video Collection (DVD)
Other CDs: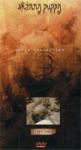 Skinny Puppy
Add date: 2001-11-26
Label:
SPV
Tracklist:
01. Dig It (from ''mind: Perpetual Intercourse?)
02. Stairs And Flowers (''mind...'')
03. Far Too Frail (''remission'')
04. Smothered Hope (''remission'')
05. Deep Down Trauma Hounds (''cleanse, Fold & Manipulate'')
06. Testure (''vivisect Vi'')
07. Spasmolytic (''too Dark Park'')
08. Killing Game (''last Rights'')
Picture Format
Pal
Region Code
0 (all Regions)
Technical Information
Nb :- Pal = European Tv Format, Ntsc = Usa Tv Format. Please Check The Compatibility Of Your Dvd Player With The Relevant Tv Format, As Well As Its Region Compatibility, Before Ordering Your Dvd. If You Have Any Doubts Then Please Email Us.