Visions - Summoning The Void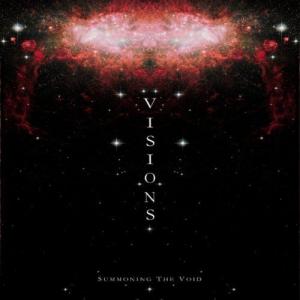 Reads: 4691 times
80%
Galleries:
Summoning The Void is a new release of Canadian project, Visions, which has been created throughout a few pretty years. An album pleached into a whole by 5 cells, pieces that are a deep essence of dark ambient style. Depth – this is surely the first connotation after meeting sounds of the record. Trembling, hypnotic space overwhelms the listener since very first minutes, then you just fall in deeper and deeper, running across disturbing, cold, dark sounds in the abyss of the pieces. But not those trashy-dark ones as In case of many bands of so called 'dark' stage, Visions reaches the point of darkness through the sense of hearing, and actually not only, as a drone bass causes almost physical feeling of pulse underneath the skin and shiver inside one's throat. A kind of music which one fears to listen to, because it subconsciously starts up a mysterious journey inwards unfrequented areas of the mind.
All the five tracks cement into a holistic chain. First of them, Dawning, is a sort of welcome, it lasts long enough to successfully prepare us for the journey inside conceptual spaces. It makes some kind of monumental atmosphere from which you cannot escape, until the end of the album. It strikes with power of bleak low chorales in the background, bells intentionally breaking the harmony of monotonous leading sound line. We fall suddenly and fast. Visions does not leave choice. If someone doesn't know what waits for them, or isn't an admirer of such kind of sounds, they can turn off the record after a few seconds as if they burnt themselves.
The title one, Summoning The Void, is already an epicentre of threat and darkness, the bass chorales drill inside the ears mixing up with looped, winding sound blurs. However, the whole Hing definitely has its own outlined scheme, the notes have not been used just to 'scare' the listener. This music is supposed to picture might of indescribable, distant world, which we can reach only through music. Visions' Assumption is to illustrate boundlessness of the Universe and anxiety that accompanies the attempts of engulfing it, in his music he can include it perfectly.
The central link, In The Midst Of Infinity, is constructed on the basis of such stretched, hypnotic sources, that it's hard to imagine a greater spacioussness. Murmurs, floating into endlessness whines of the instruments, from time to time interrupted with sudden strikes, are like getting into a deep phase of dream, when we don't control our thoughts and senses anymore. The void of this track simply lasts and embraces.
Vortexed brings an impression of a discreet tempo rise, there are more chan ges here, intense, regular bells and some constant beating pulse heard in the bottom. The sounds suddenly skrew a dormant listener into a whirl of a new dimention.
For the end, contrariwise, an invocation. Seemingly the same building material, dark chorales and stretched blurs, however, icecold darkness seems to liquefy and allows to take a breath. A ritual completes. The voices change tone, blend among themselves.
The album is actually frightfully unsurprising. Frederic Arbour arrives into the wildest depths of musical cosmos in an artistic way that he had determined himself. If anyone feels like fighting a battle with their own visions and disturbances in a dark ambiental Colosseum, then definitely their choice ought to be Summoning The Void. Yet it certainly isn't an album for experimentalists and technical explorers of new sounds. Cause it's a part for those who like being scared!;)
Tracklist:
1. Dawning
2. Summoning The Void
3. In The Midst Of Infinity
4. Vortexed
5. Invocation
Other articles:
Newest comments: