XIII Stoleti + Hyoscyamus Niger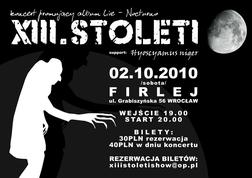 Reads: 4383 times
Artist:
Galleries:
On the first Saturday of October, the Firlej O.D.A. stage in Wroclaw has filled with a black crowd of vampires, werewolves, medieval ladies and gentlemen and some quite modern gothic rock lovers. All thanks to four amiable Czechs who at night-time change into dark scenic beasts. XIII Stoleti, known in Poland for their appearances at the Castle Party festival, has visited us once more to prove that, like with all true vampires, they are timeless.

To start, a few words on the support. To be honest I was apprehensive towards the choice of Hyoscyamus Niger for this role. Although the psychedelic and dark ambience of their music was well-matched, I was wondering whether it wasn't too calm in comparison to the time bomb it was supposed to precede. It turned out that Lulek Czarny has positively surprised me. The artists have chosen a very diverse set of tracks and performed them with a huge involvement and energy. The combination of distinctive, low vocals of Tomasz Sokolowski and completely different in tone range voice of Pawel Szajkowski resulted in a curious and pleasant experience.



The suggestive acting and role-play performed by the vocalist during the show was an additional attraction. Musically not bad, interesting and quite dynamic. When the star of the evening has appeared on the stage, the true black celebration has begun. The Stepano brothers are very persistent in sticking to their vampire image. They have showed up in sunglasses, despite the fact the performance took place long after sunset. From the very beginning it was very gothic and dynamic. The marvellous and fierce rendition of 'Fatherland' has swayed the audience. A special recognition has to be given for the distinguishing voracious and aggressive guitar line thanks to which the tracks have gained more rocky and dark feel. The audience went crazy, some of them even managed to dive into the crowd. Contrary to my predictions, the fans did not have to wait for the bloody 'Elizabeth' until the encore, it has appeared in the middle of the show. Slight problems occurred in he first part of the track. The most characteristic of the anthem's keyboard part has slightly missed the tempo. Its hard to tell why, probably some problems with the synchronization. Nonetheless, such details could not spoil the positive reception of the whole. The audience has enthusiastically joined in during the chorus of one of the best known songs of the '13th century'.


I was under the impression that the musicians have put more emphasis on the most recent creations, although some of the older, well-known numbers, such as 'Nosferatu is Dead', were also performed. We have heard 'Kabaret Voltaire', sung in a deep, loud voice with the reverb effect and 'Katakomby', with great guitar work. During 'Jolene' it turned out that Jana Havlova is not only good with the keyboard but she has also a very interesting voice. The only other time we have heard her singing was during the encore. The basic part of the performance was closed by the 'Karneval' - the icing on the cake - composed from the energetic and ambient tunes in a very hard rock edition.
As for the encore, the audience demanded 'Candyman'. Unfortunately, the band has not delivered. I think we got 'Mystery Ana' as compensation. The second encore tune has broken the dark, gothic atmosphere. We have heard 'Knocking on Heaven's Door' in a very alternative arrangement, sung by a female - very interesting acoustic experience.



The organizers did a great job too. All the technical problems - like the foot and the keyboard cable that came off - have been solved smoothly and without the audience noticing. If one would want to pick holes, he could point out the muddy guitar that has blended in with the vocals. Maybe it was due to the chamber's acoustics, maybe the wooden floor. Anyway, who would even bother picking after such amazing music feast?

Great concert, we're waiting for more!

1. Intro: Gotika
2. Fatherland
3. Kabarette Voltaire
4. Mesic Lovce
5. Shelley
6. Elizabeth
7. Hypnotizer
8. Cerne Slzy
9. Katakomby
10. Jolene
11. Justina
12. Nosferatu is Dead
13. Karneval
14. Mystery Ana
15. Knockin' on Heaven's Door
16. Bela Lugosi's dead
17. Roze a Kriz

Pages:
Other articles:
Newest comments: