Alfa Matrix Re:Covered - A Tribute To Depeche Mode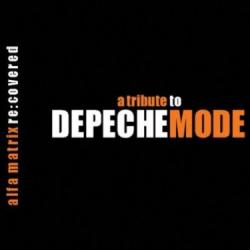 Reads: 5319 times
70%
Artist:
Galleries:
CDs catalogue:
Last topics on forum:
A Tribute To Depeche Mode released by Alfa Matrix is a double-disc compilation (in the extended version, there is one more disc: A Tribute To Depeche Mode - The Re:Covered Singles), that came out on 9 May 2009. Unfortunately, tribute albums aren't easy to judge. For, as it happens in this case, in which we deal with Depeche Mode covers, it's hard to find anything that would make us say 'that's definitely better than the original.' There are greater and poorer versions, but many examples found here show the artistry and precision of Dave and the rest of the band.
The album shows us a different look at the Depeche Mode music, from the bands taking part in the tribute recordings. Each of them tried to render the pieces faithfully enough, but also with enough of their own style, to make the medley of the DM material interesting thanks to that variety of styles and presentations. Still, I've got the Depeche Mode pieces too deep in my mind, not to say to myself 'I miss Dave in here' with each song.
The compilation is not as full of various references or paraphrases, as it is full (it's enough to see the tracklist) of various pieces. Anyone can find something for themselves among them.
But let's get to particular impressions. "Master and Servant" performed by Krystal System is definitely worth attention; other pieces that took my fancy include 'new' "John the Revelator" (Komor Komando feat JL D meyer (front242)), "Precious" performed by Regenerator (with female vocals) and "Personal Jesus" (again, by Komor Komando, from whom anything can be expected), which is a completely new and fresh look at this song.
The album also features "Enjoy the Silence", which doesn't impress me much, any more. It's just another version (one of the many already made), with a different vocal rendition.
What really put me off was the cover of "It's no good." I admit it's one of my favourite DM tracks, and what was done to it here, is a heresy that I won't support in any case.
(That's another trait of tribute albums – they can feature a massacred version of a good song. Or maybe I don't get that whole 'new understanding' thing?)
It's the same in case of "Photographic" (musically, it is passable, but vocally...) As always, there are good and bad things.
Apart from that, this tribute will attract not only the Depeche Mode fans, but also the fans of many of the other bands (here, we've got versions by Ayria, I:Scintilla, Krystal System, 32crach, Technoir, Helalyn Flowers, Leather Strip, Essence of mind and many others.) What's also interesting about this album, is the fact that between the well-know DM hits, we can also find the less-known pieces.
I recommend listening to the whole album, because in such collections, something really cool can always be found.
I've got yet another remark – such quantity can be tiresome. But I can't be numbered among the Depeche Mode fans, so maybe such a dose can be lethal just for me ;)
Tracklist:
CD one
1. I:SCINTILLA - i want it all
2. KRYSTAL SYSTEM - master and servant
3. MESMER'S EYES - stripped
4. LEAETHER STRIP - blasphemous rumours (black edit)
5. KANT KINO - question of time
6. KOMOR KOMMANDO feat. J-L De Meyer (FRONT 242) - john the revelator
7. NEIKKA RPM - boys say go
8. ACYLUM vs. HAUSHETAERE - it's no good
9. DUNKELWERK - any second now
10. NEBULA-H - photographic
11. DIFFUZION - sacred
12. TECHNOIR - lie to me
13. REGENERATOR - precious
14. KOMOR KOMMANDO - personal jesus
15. STAR INDUSTRY - enjoy the silence
16. KLUTAE - new dress
CD two
1. SCHWARZBLUT - leave in silence
2. AYRIA - in your room
3. SEIZE - shake the disease
4. ESSENCE OF MIND - Strangelove
5. 32CRASH - get the balance right
6. HELALYN FLOWERS - i feel you
7. TAMTRUM - personal jesus
8. INURE - rush
9. VIRGINS O.R PIGEONS - people are people
10. PLASTIC NOISE EXPERIENCE - world in my eyes
11. PSY'AVIAH - stripped
12. AIBOFORCEN - little 15
13. O.V.N.I. - never let me down again
14. MIND:STATE - stories of old
15. IMPLANT - nothing's impossible
16. LEAETHER STRIP - black celebration (white edit)
FREE EPCD
1. KOMOR KOMMANDO feat. J-L De Meyer (FRONT 242) - john the revelator (club mix) *
2. VIRGINS O.R PIGEONS vs. Robert Vadney - people are people (club mix) *
3. SEIZE - shake the disease (d!rty house b!tch mix)
4. KRYSTAL SYSTEM - master and servant (disco mix) *
5. HELALYN FLOWERS - i feel you
6. I:SCINTILLA - i want it all (ESSENCE OF MIND mix) *
7. PSY'AVIAH - stripped
(*) exclusive tracks
Other articles:
Newest comments: