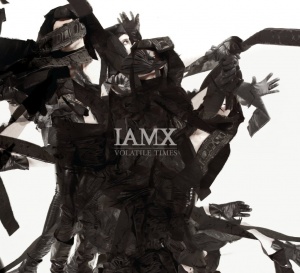 Reads: 5496 times
79%
Artist:
Galleries:
CDs catalogue:
Last topics on forum:
The emotional Kiss + Swallow, dance Alternative, and mature Kingdom of Welcome Addiction – they all have been put out under the sign of IAMX. Now it's time for a step further, the task of which poses no problem for Chris Corner. By my calculations, Volatile Times was to be a blend of everything that Mr. Corner had already created. I was right in my thinking.
The album begins with a tribute to Christopher Hitchens, who has been a spiritual support for Mr. X for many years now – you can clearly see that browsing through "God is not Great". Listening to that album-opener you couldn't expect that after this song suddenly the lights will flash, the dance floor will get crowded, the music will knock your socks off – yet Music People devastates, changes that attitude, and leads to what we are most into. You just drift enraptured in the IAMX boat throughout the next two pieces. Then you land at some operatic square and you hear certain overtone of Dance with Me. At first I was merely falling asleep, but then, having listened to it several times, I sort of tuned in. The best idea for listening to this album is the following: listen to the whole thing but skip this track or listen to this song but skip the rest. Or just dance to this number. The softening of tune leads to another tenderness introduced by Bernadette. Stunning. Commanded by Voices and Oh Beautiful Town make the atmosphere even more romantic and the latter song, in compliance with a ballad-to-end-with rule, closes the album.
There is also a single, Ghosts of Utopia, which is said to have brought about spasms to fans awaiting the new album, Cold Red Light which is the most energetic track of all IAMX songs (the live was awesome!), and Into the Asylum, which shows yet another side of Chris – but those who are followers know that side very well.
Tracklist:

01 – I Salute You Christopher
02 – Music People
03 – Volatile Times
04 – Fire and Whispers
05 – Dance With Me
06 – Bernadette
07 – Ghosts of Utopia
08 – Commanded by Voices
09 – Into Asylum
10 – Cold Red Light
11 – Oh Beautiful Town
Other articles:
Newest comments: