Interview with Chris Corner/IAMX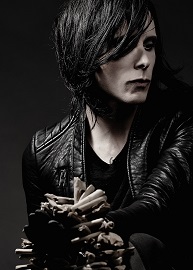 Reads: 6214 times
Artist:
Galleries:
CDs catalogue:
Last topics on forum:
"
Metanoia
" is a special album, made with incredible solicitude both when it comes to contained sounds and lyrics. It is the release, on which there is no place for randomness of sounds, and at the same time it is a fascinating journey through altered states of sub-consciousness, artistry of details with victorious improvisation. Everything is carefully arranged, and created music is on an extremely high level. Sounds clarity, refinement of particular tracks and wonderful, magnetizing voice of
Chris Corner
, are the hallmarks of this album.
And in connection to the tour promoting this 6-th band's release, we have the opportunity to talk with the founder and mastermind of
IAMX
.
-Your latest release is the most driving and mature one. How was the production of this album going on? Was it different from your previous works?
Chris Corner
: I have a small cabin in the Mojave desert in California where I made the album. There is incredible nature, silence & wide skies there. The album was made looking out of the window & knowing that nature is enough to take me out of my own thoughts & experience. I changed my life after a dark period, & part of the improvement was to simplify everything including my work process & the message that I am trying to convey in my art.
-What was the main idea during creating process of the album?
CC
: The new album is the literal story of my psychological rebirth - the journey of breakdown & then breakthrough.
-Why "Metanoia", what it means to you?
CC
: Well, the essence of the word comes from the Greek for "change of mind". It was appropriated by religion for many years & then was taken on by Jung to represent & describe a psychological metamorphosis through depression, despair & an encounter with the inner void. The Jungian use of the word is what interested me most as it precisely described what happened to me personally.
-Lyrics are very important to you, what's your message to people who are listening to the "Metanoia"?
CC
: The message is one of hope & strength. It is through sharing my experiences I wanted people who also suffer from these issues to not be alone. I want to help them.
-Recording "North Star" and making own video to this track is an exciting experience – what can you tell us about it?
CC
: Don't put the fire too close to the caravan!!. I wanted to give people a peek into the atmosphere & twisted beauty of the area where the album was made & from whence I
drew so much inspiration.
-What do you plan in the future?
CC
: You never know the future. I am definitely interested in collaborating with a few well known friends!!
-How being insomniac affected your life?
CC
:
There is a huge difference between the mythical sexy "night person insomniac" & the clinically depressed panic stricken actual insomniac. I used to think insomnia was a fuel
to creativity until I experienced real insomnia. This led to me making massive changes to my life… simplifying my work process… moving city… removing poisonous people.
Thank you for the interview. Hope to see you soon in Poland once again.
Other articles:
Newest comments: