Industrial/Rock Band 51 PEG Breaks 14 Year Silence with AVOID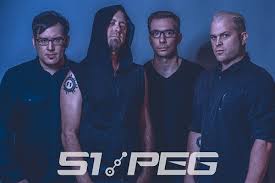 Industrial/Rock band 51 PEG are pleased to announce the release of their new album AVOID. This is their first release after a 14 year hiatus.

After garnering a following in the Mid-Atlantic region in the mid-2000's and sharing the stage with acts such as 30 Seconds to Mars, Orgy, and The Birthday Massacre, the band is back with a 16-track offering that builds on their unique blend of the alt rock, goth, prog, and industrial genres.
"AVoid bearing all the hallmarks of the band's previous work – striking melodies, complex progressions, and top-notch musicianship… but now, much more finely tuned, honed, sharpened into an eloquently produced industrial/rock package. With such a strong showing after 14 years, 51 Peg has certainly made the 14-year-long wait worth our while." - ReGen
AVOID Track List:
1. A Void 03:46
2. No Ctrl 04:50
3. Another Nothing 03:38
4. Coded in Time 04:36
5. Acceptance 04:31
6. Prying Eyes 04:04
7. Super Spy 05:19
8. Night Things 05:25
9. Parachute and Savior 06:09
10. Cat Scan 03:25
11. Now and What Used to Be 04:19
12. Death March 03:34
13. Zero Zero 04:47
14. Walk Through Me 04:40
15. The Light That Lit Your Way 05:28
16. The Void 02:56
51 Peg formed in 1998, with the release of their first album "Strange Appointments" coming in 2000 which drew comparisons to a varied group of artists like Peter Murphy, Depeche Mode, and Orgy. The follow-up album "Esc Ctrl" featured a more focused and polished sound, and pushed the band forward in popularity. The group went on an indefinite hiatus in 2007 but was offered a reunion show in 2016 which proved to be successful.
Building on that momentum and with the combined experience gathered over the years in other projects, the band decided to write their most ambitious material yet. Listen to the latest evolution of the band's sound at 51peg.com.
Author:
newdarkagespr
Source: New Dark Ages PR / 2021-07-17 / News
Newest comments: