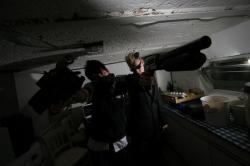 Reads: 6897 times
Galleries:
Last topics on forum:
German Industrial Ravers of X-RX released on Feb 27 on ProNoize / BrokenSilence their second strike called "Stage2". And it becomes clear: The guys aimed on the dancefloor of the nation! Founded in 2006 they have gained some success. We have used that opportunity to come up with some intriguing questions.
1. Hi and many thanks that you take your time and efforts to answer the following questions. Please, introduce yourselves shortly to our readers.Pascal:
We are Pascal Beniesch (all audio) and Dominik Obenaus (video).

2. How do you feel now after the release of your new baby "Stage2"? How have been the feedbacks so far?Pascal:
We feel just great. It is cool to have your new CD finally in your hands after such a long time. I think the response so far has been more than positive.
3. What did you change or how did you develop if you compare your first album with "Stage 2"?
Pascal:
We wanted to improve the quality of production and I think, we have achieved that. ''Unmöglich erregend'' has been merely a loose collection of songs and "Stage 2"is a complete new opus. The sound has been improved and I did not want to release a first album again..

4. Do you use more virtual instruments on your productions or do you love to use analog equipment? Or is it a mixture of both? What equipment do you use?Pascal:
It's a mixture of both. We use what we get under our fingers. At the moment I love to use the Waldorf Blofeld, for example. But also some VSTs and samples.

5. Nowadays there have been a lot of acts of your genre – there is literally a kind of fight for positions on club-playlists. How do you see your unique style or what distinguishes your music from the other danceable acts out there?Pascal:
We dare to do what we like to do and not what people expect from us to create. There is so much indifferent crap out there in the scene and we wanted to sound different from that. I think there may be people who do not stand our kind of music, but there are also many people who like it. There is so much of monotone stuff. Why not using a blend of melody and awesome fat beats?
6. Can you describe how a typical [x]-RX Track comes into life? Do you start with basslines, or melodic sequences? Is there a fixed working order or do you start emotionally or spontanuously with some songs?Pascal:
I would say, we work spontanuously. Some songs are built on a sample, some on a synthsound, some on a percussion sequence. It is built piece by piece..
7. On the album "Stage 2" you provoke with driving beats and remarkable sequencer sounds as well as sexual explicit vocals or samples. Do you combine that topic with aggression to make it fit your energetic music or is there a concept behind it?Pascal:
I use more humour that aggression. The basic concept is simple: Club music where you do not have to think about but according to "Just go to the club and dance, you bitch!"
8. You only use vocal samples on your tracks. Did you ever think on using own vocals in your music?Pascal:
No, no, never. Vocals will never play a role in [x]-RX. Maybe with other projects, but x-RX will be free from nearly any vocals. With "bleeding ears" I have used my own voice, and maybe there will be more tracks with that kind of voice, but I will never use "real" vocals.

9. Is it a must to have vocals distorted in your style of music or is it okay to use it differently to become different from the "mainstream" of that kind of acts? What do you think?Pascal:
Being different is the best way possible. There are too many projects that seem to have all the same frontman and use only on synth. I call those projects the "Vanguards". Insiders know what I mean...[laughing] The problem is that we are such an individual scene, but all sound the same – that is simply bad. To me, all that indifferent shit is just stupid. I like to listen what I like and I like to do music the way I want to. I will never allow my creativity to be limited by such bullshit like: "You have to sound like blabla..."
10. You have put 15 tracks on your new album "Stage 2" if you include the skits. If you look onto your whole album from the far, what is the track take sticks out most for you?Pascal:
In my opinion these are track no.2 "bleeding ears" and "homofürst".
11. How many freedom does your label ProNoize gives you in creation of your music? How did they discover you and how did it come that you work with them?Pascal:
Fortunately we have the best label on earth and we can do what we want to do..
How they found us, well there have been two things: "disco distortion" has been quite an underground hit we had when we haven't got a label yet. And second there has been "sexualkiste der hölle" – a track we have earned much reward for, too.
12. What have been your best live experience so far? Do you plan your liveshows or do you create it more spontanuous?Pascal:
I think the best gig has been the second gig in Utrecht at the Summer Darkness. We have had no experience and it has been simply great. At the moment we plan some new shows. We will have a certain concept, but much of it is just improvised. Every show is different. We do not fuck with the peoplle and pretend something – we just have fun and like to party.
13. When will we have the chance to see you live in 2009 and what can we expect from it?Pascal:
There are some things in progress. Dates will be announced on our myspace site. You can expect a lot of fun and beats to dance. We will not unveil our concept already, be will keep it secret... woooow
14. Do you plan to create an own website? I have only found your myspace-site so far?Pascal:
No,we will not have a website in the future. We will keep our myspace site as a news portal and everyone can see what we will be up to.
15. What do you think about decreasing CD sales? What do you think about alternative marketing strategies and digital downloads?Pascal:
What I think about it? [laughing] Good questions. I cannot do something against it. All are doing bad and why should I cry now? There is nothing against the official download sites. It's up to everybody. But I like to have a CD in my hands, that's more a personal thing.
16. Can we expect more releases of [x]-RX? Do you plan a third album, an EP? Can you disclose something already?Pascal:
You will not get rid of us so quick... A third album is planned, but it will take some time. I will do some remixes in the near future and some live-shows. There we will present some tracks that have not been released yet, too..
17. Thanks again for the interview and finally you can send out some final words to the fans and readers out there...
Pascal:
Buy our Cds, come to the shows. Let the industrial-rave revolution become that big that nobody can stop us anymore! Encircle, overtake, tear down. And then the ultimate atomic inferno will come!
Other articles:
Newest comments: