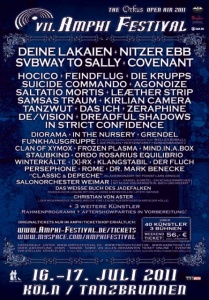 Reads: 24390 times
Artist:
Galleries:
Last topics on forum:
The success of this year's Amphi festival was certain from the very beginning. Some larger groups of people gathered at the place much earlier than last year and in effect an impressive audience appeared to see [X] – RX - the first band's show on the main stage. No doubt this festival consecutively grows in size with increasing number of attendants each year. This year's edition was no failure and left us with an untamed desire to participate in next events in the Cologne Tanzbrunnen. Of course, if only the quantity of participants will allow this to happen in the forthcoming years and it won't be necessary to look for a larger space, as comparing with the previous year, the number of people was way bigger. The reason may have been the diverse line-up, yet still maintaining the uniform atmosphere, which integrated the whole event - an important element, too. We had the opportunity to hear many bands – ranging from electronic to gothic, from noise to darkwave – plus many attractions between the concerts, full involvement of the artists in their shows, the public eager for sensation and we have a cocktail ready to blow up half of Cologne – fortunately, nothing like this happened, thanks to the amazing organization of the festival.

Being already perfect, festival's facilities were surpassed by the newly constructed disco hall this year, made especially to cater for the needs of the gothic audience. The hall is ready to hold thousands of people and has perfect, high-tech sound system, which was definitely appreciated by the festival attendants – the hall was full to the brim. People of all ages were dancing to the rhythms of And One and the brand new remixes of "Personal Jesus". Repeating the organizers' words: it is the largest gothic party hall in Europe!
If you're still in need for enhancement, Staatenhaus was enlarged with the whole left wing with bars and spots where you can rest and regenerate. This essential zone of recreation is the result of the organizers' awareness of the needs of the partying participants, as we all know - more energy means more fun. Nobody will suffer from lack of energy from now on.

[X]-Rx
Dark rave and heavy electronic rhythms – with such a medley the festival participants were welcomed by thye guys from [X] – RX, who played first. Thus the beginning of the festival was really energising, and the group was consciously using their creativity to make people dance and so they did! They played tracks from their magnificent album "Unmoeglich Erregend" from 2007, as well as from the latest one, "Update 3.0".



Staubkind
Ethereal sound supported by strong beat shrouded the air above participants when Staubkind appeared on stage. Melancholic, oniric soundscapes were perfectly supplemented by electronic background, which created a specific atmosphere and aroused longing for a new material of this group, which released their last album in 2007. Let's hope that the new stuff will appear soon!



Melotron
Melotron's magnetism did not surprise anyone. This in fact was one of the reasons for them being chosen the best electronic band of the year 2009 by Viva Music. Their passionate poetic manner is really hypnotic and it allows us to set our minds at ease in a romantic atmosphere wreathing the listener – this is definitely one of the main factors of their success. We heard i. a. "Brueder", "Vaterland" and "Kindertraum". Without losing their passion on stage they managed to show their more mature side, full of refinement and professionalism.

Zeraphine
The charismatic frontman with an unique timbre of voice knows how to manipulate the sound starting from aggressive rock up to goth-ambient and thanks to him Zeraphine's performance will be well-remembered. Full of emotions "Lieber Allein", then "Be My Rain" during which it started to rain…well that was unforgettable.



Klangstabil
A fantastic, breathtaking outburst of energy was served by Klangstabil. They are a true metaphor of revolution on stage, a mutiny hitting the listener's heart directly. Constant searching for one's true "Self" in context of the human existence, dealing with the social hysteria and false values of the contemporary society, and at the same time encouragement to full assimilation hits straight the listeners' ears and hearts causing nothing else but a will to communicate through pure beauty of music. Boris May showed great contact with the audience, which is, as we all know, a key to a successful, unforgettable concert. And this what Klangstabil's performance was like.



Frozen Plasma
Frozen Plasma made people dance even during the sound-check. We also had a chance to have a little fun thanks to some deft remarks by Felix Marc. With tracks like "Murderous Trap" or "Warmongers" they held the energy of the party at a high level.



Grendel
Grendel is usually a key band of each festival and so it was this time. Weaving electro and industrial into their sound, the group has maintained their position on stage since 1997. This raises the bar of expectations. Feindflug, Arzt+Pfusch, Leather Strip are only a few of the groups collaborating with Grendel. Pulsing sounds continued to flow through the whole performance, and despite not being too diverse, they still managed to draw attention of both the fans and people not being familiar with the band before. Indeed, they were a splendid bonus to the festival.




In Strict Confidence
In spite of some technical problems before the show, In Strict Confidence didn't let their fans down and they gave a very attractive show supplied with the best hits of their career. We could hear such pieces as "Zauberschloss", "Silver Bullets", "Set Me Free", "Seven Lives", "Approacher", "My Despair" or "Promised Land". Dennis Ostermann's voice was not disappointing at all, besides, the presence of Nina de Lianin and HayDee Sparks combined with a superb choreography and good strategy of communicating with the audience, encouraged everyone, even the most fastidious ones to have fun.



mind.in.a.box
This relatively fresh appendage to the stage proved that they may equal with the veterans of their profession. Although their elaborate musical arrangements are easier to experience as recorded on a CD than performed on stage, nevertheless, they managed to create with their show some specific kind of chemistry.



Leaether Strip
Unusually vivid show of Leaether Strip was accompanied by the audience's ovation. We had a chance to admire a new formula of their performance, and even though the classical setting of Leaether Strip is desired by almost every club, one must admit that their new quality is attractive, strong and convincing for the Amphi audience, that gathered as close to the stage as possible to take as much as they could from the spectacle.



Suicide Commando
This is the top level title of electro and industrial community. It's no wonder the performance was followed by the sequence of encores. The concert was good enough to demand a few pieces more. "Bind, Torture, Kill", "God Is in the Rain" i "Die, Motherf***er, Die" electrified the audience with the pulsing rhythm. Anyway, the performance made it clear why Suicide Commando celebrates their 25th anniversary and why we need such line-ups on stage.



Hocico
The band remains true to their credo, which they repeated during Amphi Festival: "With our music we try to awake the demons hidden deep in our souls. We need to accept our dark side and express our opinion concerning what we do. We don't want to trigger hatred or self-destruction but a sensible approach to one's own creativity." Standing behind the mic stand adorned with a bloodstained goat's head, Erik Garcia left no doubt that the occasion requires a vivid scenery especially while performing "Dog Eat Dog" and "A Fatal Desire", but also during the whole show, which topped the first day of the festival.



Funkhausgruppe
Shortly after the release of their first album, Funkhausgruppe's performance excited curiosity thanks to the creative use of analog sounds, guitar riffs and synthesized voices. With the emphasis on visual quality, a very dynamic exhibition of spirit, which the group provided us with, confirms us in the conviction that we should keep an eye on them.

Dreadful Shadows
The performance of the anticipated, well-known group with the pleasant, encouraging line-up once again proved that adding a few beats to high quality music is a good idea. They presented a wonderful mix of darkwave and metal with impressive electronic interludes in the background. They passed the exam in front of the Amphi audience with flying colors and were very warmly welcomed.



De/vision
No one is surprised by the fact that one can take a lot from the industrial performance, reinforced by the solid albeit not easy process of building tension. De/vision stimulated the audience, which perfectly knew, what the band can achieve on stage. We heard compositions ranging from the early ones, such as "Foreigner" and "I Regret" to "Mandroids" and "Ready to Die".



Agonoize
It was definitely the most spectacular show of the whole festival. Surpassing the expectations of the visual spectacle, their show was a very strong experience. As usual, preparations took a while, far enough from the gaping ones' eyes, not to unveil the secret of the final effect. Even when preceded with announcement, when Cris L. entered the stage, everyone was unexpectedly astonished. All this was highlighted by a hair-raising bloodshed on stage. The crowd congested to the point that it was impossible to stick a needle in. Agonoize left us truly impressed.




Diorama
The music was perfectly harmonized with the lights, making a special atmosphere. Additionaly, all was enhanced by the dynamics of the band and exquisite voice of Torben Wendt. Pieces like "Child of Entertainment", "Synthesize Me", "Advance" or "Home to Millions" absorbed the audience's attention.



Clan of Xymox
In spite of the incomplete line-up you could still hear the classic sound of the Clan. Their performance evoked associations with Depeche Mode and some gothic groups and Djs, which could not be unsuccessful. Perhaps their show was not the main attraction of the day, but this calm and well-arranged concert was surely an important and essential element of the festival.



Das Ich
Unfortunately, the temporarily transformed Das Ich gave us a sample of the band's new sound. It is obvious that without Stefan Ackermann the group is not complete, yet one must admit that "Kannibale" and "Re_animat" went on quite well in this new incarnation. Hopefully Stefan's health condition will allow him to get back on stage soon, as he is the irreplaceable element of Das Ich.



Feindflug
Against all fears and doubts, the enclosed space did not take away any of Feindflug's impetus. In a halo of war atmosphere, with gas masks and wall of decibels ready to hold back the whole army, Feindflug created a dancing mass of energy which seized all the audience. It is surely something worth seeing at least once. Even after some time when I think about their concert I feel goose bumps and my face unconsciously lights up with a smile.



Kirlian Camera
A well-experienced group gave us a privilege to see a great concert, in spite of some minor problems with the sound and a slightly changed line-up, the performance was very successful. We heard great tracks starting from "K-Pax" and "Edges" or "Heldenplatz" and "Born to Fight". After this show a number of their fans must have increased.



Covenant
The act crowning all the shows did not leave a single drop of bitterness. Covenant even increased our appetite for more. We could listen to i. a. "Modern Ruin", "One World One Sky", "Bullet", "The Men", "We Stand Alone" and "Call the Ships to Port". To say it was fantastic is not enough. One of the mostly awaited and one of the best concerts of the festival!



The organizers of the concerts were certainly not sleeping. It is obvious that they do their best to prepare such an event, they draw conclusions and each and every year the festival gets more and more attractive. Despite some small organizational - acoustic slip-ups in and unfavourable weather conditions, we are convinced that next years are going to be even more prosperous, especially if the lineup will be equally attractive. Some bands have already confirmed their participation: The Sisters of Mercy, Camouflage, DAF, Mono Inc., Corvus Corax, Coppelius, Haujobb, Seabound, Tyske Ludder and Whispers in the Shadow. See you then in 2012!

Pages:
Other articles:
Newest comments: