Pigface Beauty - return of rock'n roll?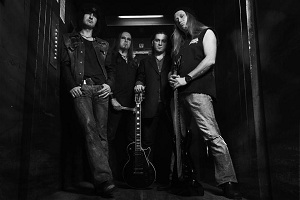 Reads: 5727 times
Artist:
Galleries:
CDs catalogue:
Last topics on forum:
They say a little about themselves. The personal set is made from metal and heavy sound tops, and they summarize their project as follows: "The world needs rock 'n roll, and that's why we play it giving the audience an energy rock kick, that in commercial radio and TV stations is really missing today. We fill this niche." Today, in an interview with the lead singer of Pigface Beauty band - Tornejdo - we will try to find out more about their music and about whom they want to reach with the "dirty rock 'n roll" sound.

Wildness, clarity and charisma – that's how one can simply define Pigface Beauty band, which with their unpredictable dirty rock 'n roll style can give character to every event in which they participate. This shouldn't surprise anyone, since we are dealing with musicians associated with bands such as Devilsh Impressions, Crionics, ex-Hellraiser or ex-Behemoth, who, in 2009, decided to create a project reaching a wider audience than their parent bands. What came out of this? Is there anyone else who wants to listen to such music? Let's see.

- Where did Pigface Beauty project come from? Tell me how it all started, why it is something "lighter" than the music you play in other bands and whom you want to reach?

- The idea for the band is a coincidence with no small amount of alcohol. One New Year's Eve we ended up together with Szarmancki in the same pub, with a few hundred people and disco polo flying from the speakers. There was nothing else left as to get drunk in order to survive, especially since we paid for the party. With a bottle usually various conversations start, in this case, among others, about starting a band playing rock 'n roll. And because we have similar musical tastes and inspirations it didn't take long to decide. From three metal bands (we didn't have a wider choice) we gathered brave ones and so Pigface Beauty was founded. From the original set now me, Ilya and Szarmancki are left. Brovar joined a year ago and this is the best set for PFB since the inception. Somehow we don't really care that we jumped from playing metal to rock 'n roll, because, first of all, it gives us bloody joy and we have lot of fun with this, and secondly, we grew up listening to the classics of the genre. Anyway, the atmosphere at rock concerts is quite different, more lively, and we really like it. We play rock 'n roll for people who want it, need it, or forgot about it. The music is back in favor. And Pigface Beauty is there to serve it on a plate for all the starving.

- What are your inspirations?

- If it's a question about bands / musicians than there would be quite a group. Lately we're strongly into bands like Steel Panther, Hardcore Superstar, Crashdiet or the music that Slash plays recently. We always have in our blood Skid Row, Guns 'N Roses, Motley Crue, Motorhead, Black Label Society and all the old guard. We're aware that we're not discovering America, but playing rock 'n roll is overwhelmingly pleasant for us so we try to keep his old, dirty form. We're also turning each other on as a single spark is enough to create a song. I'm not talking about the musical masturbation, where one person brings the music and everyone has to be excited with it until every one begins to do themselves good, or overeat it, and finally all ends up on the floor along with sausage or kebab devoured moment before. And I know such cases, and I know that it leads to nowhere;). We sanely approach writing and if anyone has comments on the music they speak it and we change concept until we all feel that this is it, or simply not waste time and hit the next one.

- You've existed for 3 years, is it hard in our country to break through as a band playing dirty rock 'n roll?

- To answer this question just take a look around and see how many rock 'n roll bands in Poland play regular gigs or are present in the media. Of course it's hard, but only small girls sit in a corner and cry when they're bad and unwell. We're trying our best and don't look back. We've just teamed with a new manager - Anna Szymczak, and look very positively into the future. What's more, the material we're preparing for the album can be enjoyed.


- What's the band's biggest success?
- Personally I think that the success of Beauty Pigface is that everywhere we appear, there is something left after us - and it's not always a mess and broken glass;). We played some interesting gigs after which we've gathered good reviews. Currently we have in the band an explosive mix of personalities, which doesn't always keep bands together. Here, the opposite is true, and despite how we're different or the distance separating us (Brovar lives in Gdańsk and the rest in Białystok), we are one band and we want to push our pigmobile forward.
- You have an EP on your account. Is it a whiff of the debut album? What can we expect from the album?
- Tracks recorded for the EP were showing the style in which we find ourselves. Will all those included on the EP be featured on the album, that we don't know yet. We work a little with arrangements, a bit with sound and vocal lines. Additionally, we're working on new songs to complement the whole. You can expect everything on the album. There will be dynamic and fast tracks, slower and heavier, there will be melody and ballads. You can also expect that all the pigs will provide vocals, effect of which I can't wait myself. But I won't reveal all the cards, the latter will belong to you.
- Year 2013 has begun, what are your plans with Pigface Beauty?
- We want to play as much as possible and reach with rock 'n roll the greatest numbers of people. This year will also lead to our debut album. We already know how to do it, we know where, we know with whom. In the near future we will close all the material and enter the studio. In the meantime, we will be touring wherever we can, and for millions of cash;). We look forward to offers! Best wishes and have a good rock 'n roll year!
Thank you for your time and I wish you many musical successes.
From our side, as editorial, we can only add that from now we will take the band under our patronage.
(information - Pigface Beauty,
www.facebook.com/pigfacebeauty
, photo: Łukasz Ławreszuk)
Pages:
Other articles:
Newest comments: