STEAMED: Gears, Goggles, Gentlefolks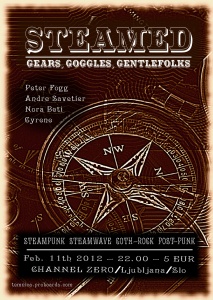 Reads: 4166 times
Galleries:
Last topics on forum:
When I first found out about Steampunk, I was fascinated by the aesthetics it represents. "Some say, it is when goths discover brown" or "is it goth for engineers?", quotations I heard about steampunk. But it is much more. It is a mesh-up of the past (mainly the fin de siècle) and the future – retrofiction.
I searched for steampunk music, designed my own gadgets, bought a top hat and a pocket clock and sew my own clothes. My dear friend Peter Fogg is also into steampunk. In Slovenia it seemed we are the only ones. Intending to change this we decided to spread the message by organising the first steampunk event of Slovenia. Curious people should be given the possibility to find out what steampunk is about, which music fits to this aesthetic and so on.
We decided to make
STEAMED
a DJ-event, also with focus on post-punk and goth-rock, as we had no idea, how many people would be interested in steampunk. We could win two DJanes, Nora Beti from
Hellektro
and the newcomer Cyrene. As venue we organized the club
Channel Zero
in Ljubljana's occupied zone
Metelkova
.
To get the people's attention on the event we made a
facebook
-group, where we posted videos about steampunk and printed posters which we put all over the city. One week before the event started, we started to make the decorations. Cyrene made gears out of carton and sprayed them brass and silver. Nora Beti made posters with cogs and airships. Peter got an old Yugoslav typewriter at the flea market and coloured it in copper. I found a model of a Zeppelin, constructed it and we made a statue out of it. Together we designed a big compass from carton.
On the day of the event we were like about two hours before the start in
Channel Zero
to decorate the place. The typewriter we put at the bar, because we hoped that the crowd would have some nice ideas to write down. The compass and the Zeppelin were on the stage, the posters were put on the walls all around. The place looked completely different than before. We were ready to welcome the people into our freshly designed airship-bridge.
Cyrene played the first hour and warmed the people up with some goth-rock and darkwave. She was nicely dressed in a leather-corset, lace-gloves and on her head she wore a mini-top hat. She has been concerned about that she was nervous before, but on the stage you really couldn't see that she has this for the very first time.
After Cyrene it was time for Peter Fogg to get the people moving. He played steampunk music like
Abney Park
and
The Cog is Dead
, as well as dark cabaret like
The Dresden Dolls
and
Emily Autumn
. He was dressed like an airship pirate with a red tissue on his head and goggles and made a really good show to motivate the crowd.
After Peter it was my turn to play. I entered with the song "Behold the Machine" by
Vernian Process
. I played mainly steamwave (darkwave with a lot of steam-sounds) and was dressed up like a mountebank and motivated the people by waving a walking stick around in the air.
More and more people were entering. I talked to some visitors and they told me that they really liked the decorations and the music. Nora Beti entered the stage, after I left. She wore a self-designed black/white dress and a mini-top hat of the same style. She is already quite known from the
Hellektro
parties that are organized monthly. This day she served us the finest music from goth-rock and coldwave.
After Beti I was playing again on stage, this time dressed like an airship pilot. For this purpose I redesigned an old Soviet marine uniform hat, which I bought years ago in Kiev. This time the music was still darkwavy, but I added some industrial songs by e.g.
Escape the Clouds
, too.
Again Beti was playing the following hour. There were still a lot of people, she could motivate to dance. Cyrene made the special finish, entertaining the last 20 people with hits from goth rock, supported by two foreground-dancers: a pirate and an airship-captain.
All in all, the event has been a success. For introducing something new like steampunk I think we have done a good job. Many of the participants at this party demanded a repetition of
STEAMED
, which we are willing to put into practice, maybe in April.
Other articles:
Newest comments: