The Runner Tour - Boy Harsher, Sexy Suicide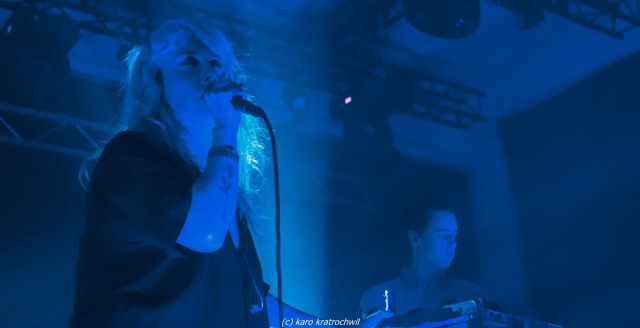 Reads: 1590 times
Galleries:
The last day of May at the Hype Park club in Krakow was a truly magical event!
Boy Harsher
promoting their latest release during the "Runner Tour" gave a really unforgettable concert. The project
Sexy Suicide
played as a support - it was a quick mobilization due to the last-minute line-up change with the band substituting the original support Hide. I think that no one complained though.
Hype Park is an incredibly atmospheric place in Cracow, combining club space (also in the open air) and concert space in a simple and unpretentious style. The concerts started around the 7 p.m. with a show of the aforementioned Sexy Suicide.
Sexy Suicide
- the trio Monika Kaptur, Bartłomiej "Poldek" Salamon and Mateusz "Mat" Rogóż play an incredibly catchy combination of synth pop / industrial / dark wave. They performed in Cracow in a two-person line-up, but their concert was incredibly energetic. The mix of electronic sounds balancing between dynamic and slightly melancholic passages, great stage expression, and the general atmosphere somewhat reminiscent of the 80s offered a great introduction to the rest of the evening.
Soon the stars of the evening appeared on the stage.
Boy Harsher
- Jae Matthews and Augustus Muller - provided the audience with a great dose of energy, dance, amazing melodies, and stage charisma. "The Runner", released in 2022, is a wonderful blend of what's best in Boy Harsher - heartwarming melanchodies and a stunning pace of live beats.
During the concert, we got a full dose of both of these ingredients - a delicate "Tower" and self-speeding "Motion", mesmerizing "Pain" and electrifying "Morphine", trance "Come Closer" and sensual "Wicked Game". The energy, incredible talent, and dynamics of the concert made the crowded hall dive to dancing madness in a very short time. I must admit that such concerts are incredibly battery-loading - especially since these are empty after a pandemic break.
Beautiful concert, bravo!
Other articles:
Newest comments: