DIGITAL RIOT XXI: Dark Side Eons & Sexy Suicide live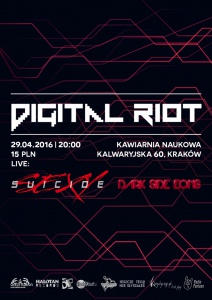 Reads: 3495 times
Galleries:
Digital Riot is a cyclical event taking place in Cracow since 2012. 21st edition took place on 29th in Kawiarnia Naukowa. The guys responsible for that are Toxik Twinz who enduringly organise events for the fans of alternative sounds.
This time the concert took place during the party amking it even more attractive. Two bands palyed during that night: industrial-synthpop Sexy Suicide and electro-industrial Dark Side Eons. After 'digital' warm up
Sexy Suicide
took their place on the stage. Already they preparations drew the attention of the audience and there is a lot to be interested in. The duo is deeply inspired by the atmosphere of the 80's reaching for those sounds simultaneously offering fresh and original interpretations. Marika Tomczyk and Bartłomiej Salamon presented their new material which will be released as their debut album entitled "Intruder" on 27th May. Catchy tracks, important message and light and unpretentious performance. The girly charm of the vocalist is enchanting, she plays with the sounds and her velvet voice. Even the technical problems don't spoil the positive effect. It's danceable but not trivial, sweet and cool mixture of sounds. The band has a lot of charisma and potential. The duo will perform at Castle Party this year.
After a while
Dark Side Eons
appeared on the stage. The hooded musicians announce changing the sides into much darker one. Indeed, this time the sound is heavy, gloomy and consequent. Sometimes it's like interstellar race, sometimes like a dark abyss. There's a male vocalist in this duo and it can be both deep and seducing and harsh and distant, anyway it's diversity is intriguing. The guitar makes the whole sound solid and firm. Multilayered and massive compositions fill up all the possible space. Despite fighting with technical problems again the message stays uncluttered. Nothing left but to wait for the album.
After the concert there's time for after party. Toxik Twinz rule and those who didn't feel like dancing could just sit and talk with the musicians or the organisers. We're waiting for the next edition of the event and we recommend.
https://www.facebook.com/toxiktwinz
Other articles:
Newest comments: