Controlled Collapse - Distorted Dreams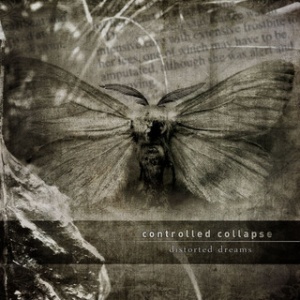 Reads: 5916 times
80%
Artist:
Galleries:
CDs catalogue:
Last topics on forum:
On 3rd December 2011, the latest musical proposal of Controlled Collapse, that is an EP entitled Distorted Dreams, had its premiere. A number of remixes and four brand new tracks made up this record, which may undnoubtedly serve as a good indicator as to which sound direction the band has been following.
The EP opens with a reinterpretation of Prisoner, Mental Cage mix, which is devoided of that specific, characteristic throb of the original, the mix is more of a sensual version of the track. The next piece, Beg For Your Life (Unspoken), may come as a bit of a surprise for all used to the standard sound of CC; really disturbing melodic, a hint of cabaret, theatricalness, modified by subdued electronica, form an extraordinary track, perfectly suiting my music preferences, and proving that Controlled Collapse handles and dodges the fetters of restrictive rules of dark electro and does not intend to hobble itself musically. We are back to usual stylistics in Monster, moderately agressive, enriched with a catchy chorus. Another variation of Prisoner should appeal to the ones fond of popular dubstep accents and its derivatives, for the composition features very discernible themes typical of this genre. Synthetically reverbating tones commence Venture, a new piece which by all means extracts the best particles of the band's overall sound. Have You Ever distorted by Swithface is definitely more dynamic than the original; Prisoner interpreted by Detuned Destruction also dissent from the musical minimalism of the basic version, introducing a number of dynamizing and refining elements to the track. The pace slightly slows down in History, where ontologic issues are being expressed accompanied by the keys, rendering the piece's atmosphere a bit distrubing, and thr drums, whose distinctive sound may resemble the most recent work of Combichrist at times. The EP ends with a bit more radical version of Halloween, suggestively reffered to as Heavy Metal; guitar riffs ensured a decent amount of agression, rendering the track more truculent.
Distorted Dreams musically represents very high level, providing a proof of the band's compositional versatility; Controlled Collapse, playing with conventions, creates new sets of sounds, witouth giving up on its own style. The apptites of CC enthusiasts have been whetted; still, however having been partially satisfied, they wait for another sonic feast.
Tracklist:
01 - prisoner (mental cage mix)
02 - beg for your life (unspoken)
03 - monster
04 - prisoner (r010rzd)
05 - venture
06 - have you ever (remixed by switchface)
07 - prisoner (destructed by detuned destruction)
08 - history
09 - halloween (heavy metal)
Other articles:
Newest comments: