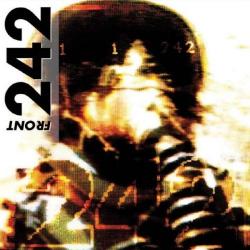 Reads: 5894 times
80%
Artist:
Galleries:
CDs catalogue:
Last topics on forum:
Belgian forerunners of EBM - Front 242 (Daniel Bressanutti, Patrick Codenys, Jean Luc de Meyer and Richard Jonckheere), present a unique box -"Moments", which comes out just after "First Moment". The latest release is both an archival as well as current record of "Vintage Tour", announcing at the same time a real treat for the fans of this cult band – cult in certain music circles. An incredible combination of industrial EBM and new beat started to appear in 1981, when we had an opportunity to watch the birth of a new project - "Prothese", created by Daniel and Dirk (later renamed as Front 242). In order to thank for the cooperation, Dirk gave up his place to Jean and Codenys. Now, a few words about the group's new achievements…Honestly speaking, I hope that Castle Party 2009 will be as exciting as the album itself. As you probably already know, Front 242 was hailed as one of the stars of next year's festival in Bolków. I'm already rubbing my hands with satisfaction thinking about this event.
"Moments" presents new arrangements of such old songs like "Operating Tracks" and "Lovely day", which are considered as classics, that appear on less official releases ("Moments"- rousing, dynamic and provocative music). Front 242 skillfully integrates itself into the new generation of synthesizers, at the same time deserving to be called the band that maintains high level of their works. It is a great advantage, especially as the sounds flowing from the speakers seem to keep their freshness. Well… it's good to know that there are still some people who know their job better than most. As a 'music freak' full of admiration, I believe that they won't abuse my trust. To cut the long story short, I heartily recommend the album!
Tracklist:
CD1
1. Happiness
2. Body to Body
3. U-Men
4. Lovely Day
5. Religion
6. Welcome to Paradise
7. Commando Remix
8. Funkhadafi
9. 7Rain
10. Until Death
11. Moldavia
12. Together
13. Im Rhythmus Bleiben
14. HeadHunter
15. Operating Tracks
16. Punish Your Machine
CD2
1. First in First Out
2. No Shuffle
3. Don't Crash
4. Welcome to Paradise
5. Commando Remix
6. Quite Unusual
7. Master Hit
8. Crapage
9. Melt
10. Gripped by Fear
11. Loud
12. Moldavia
13. Take One
14. HeadHunter
15. Kampfbereit
16. Punish Your Machine
Other articles:
Newest comments: