Discography:
See photos:
Similar artists: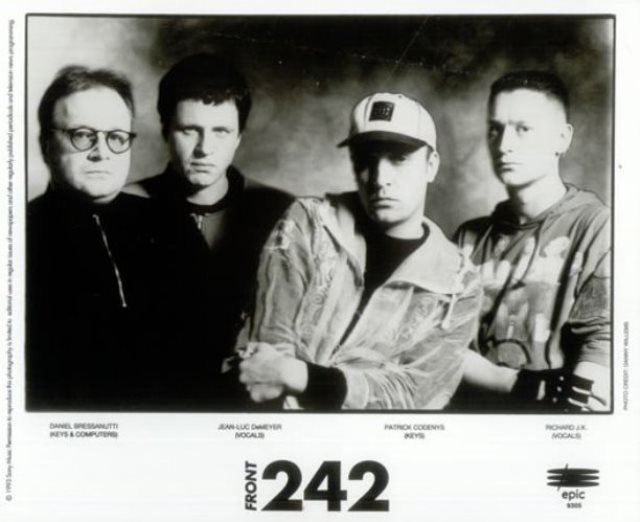 Daniel Bressanutti, Jean-Luc De Meyer, Patrick Codenys,Richard Jonckheere aka Richard 23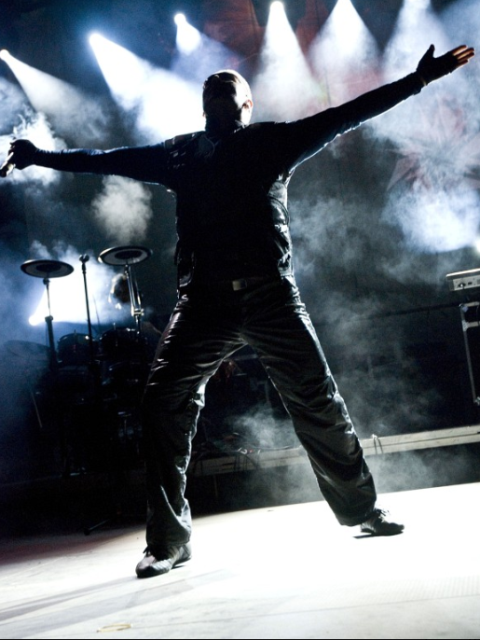 Jean-Luc De Meyer CP 2009
Country:
Belgia / Belgium
Date of establishing :
1981
Music genere:
ebm
,
industrial
WWW
:
https://www.facebook.com/Front.242
http://www.front242.com/site/content/news.asp
Band members:
Jean-Luc De Meyer
- vocals
Daniel Bressanutti
- keyboards, programming, live mixing
Patrick Codenys
- keyboards, programming, samplers
Richard Jonckheere
aka "Richard 23" - percussion, vocals
Tim Kroker
- electronic drums
Biography:
Front 242
were formed in Aarschot in 1981 by
Daniel Bressanutti
and
Dirk Bergen
.
After a few singles,
Jean-Luc De Meyer
(vocals) and
Patrick Codenys
joined the group and the first album, "Geography", was released. At this stage, Dirk Bergen left the group to become their manager.
In 1983,
Richard 23
(Richard Jonckheere) joined the group as vocalist/percussionist.
With this line-up, the band released many albums of EBM, gaining more popularity with every release.
EBM stands for Electronic Body Music, a term invented by F242 themselves.
hey also established a solid live reputation, with an energetic show in para-military outfits.
The year 1993 brought a radical change in style, with guest musicians, the disappearance of their military look and the exploration of both harder (guitar samples) and softer (female vocals, ambient) sounds.
After many years of silence, except for a few live/remix-albums,
Front 242
re-appeared in the spotlight in the late nineties with their "Re:boot-tour", bringing modern, techno-like cover versions of their own songs. In 2003 they took a step back towards their EBM-roots, with the release of "Pulse" and "Still & Raw".
Before
Front 242
, the members were already involved in other projects, like Prothese (Daniel B.), Under Viewer (J.-L. De Meyer & Patrick Codenys) and Tranik Ind. (Richard 23).
The number 242 is a reference to Security Council Resolution 242 which called for the withdrawal of Israeli forces from territories it occupied after the Six-Day War in 1967.