Full officaial Castle Party 2006 lineup!
Artist:

Galleries:

Last topics on forum:

Archive: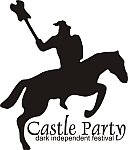 Today we have finally received the final official line-up of this year's Castle Party Festival. As you can see, the main focus is on Polish music projects, with 4 headliners.
The full line-up is as follows:
VNV NATION (GB)
DIE KRUPPS (DE)
DE/VISION (DE)
LEAVES' EYES (DE)
FUNKER FOGT (DE)
THE BIRTHDAY MASSACRE (CA)
RIVERSIDE
BONCZYK&KRZYWANSKI (ex Republika)
FADING COLOURS
...
JOB KARMA
BATALION D'AMOUR
DEATHCAMP PROJECT
AGRESSIVA 69
HEDONE
THEODOR BASTARD (RU)
DE FACTO (HU)
MANO JUODOJI SESUO (LT)
NO NAME DESIRE (CZ)
It seems there will be a lot of good fun and great
music to experience during the 3 days in Bolkow!
Newest comments: