Interview with Informatik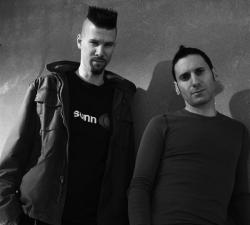 Reads: 4142 times
Artist:
CDs catalogue:
Lucy interviewed Tyler (TN) and Da5id (DD) of Informatik about their latest release.Hello Tyler, hello Da5id! Nice that you took some time to answer our questions. Informatik's history began in 1994. What can you tell us about the birth of this band?DD:
The original lineup was Matt Crofoot and myself. We sort of met serendipitously and began writing music together immediately. Although we both had similar musical goals we had very dissimilar skill sets and methods. The results were far greater than the sum of its parts.

It took until 1997 to release the first album. Do you remember why it took such a long time and what you felt when you had the first CD in your hands?DD:
Actually, the 8 track self-released version of Direct Memory Access came out in 1995. I remember quite well what it was like holding the fruit of labor for the very first time. The feeling was quite indescribable. Needless to say we were elated, yet at the same time uncertain of where this would take us. I suppose deep inside we knew it was the beginning of something big.
What is the difference between your debut album "DirectMemoryAccess" and "DirectMemoryAccess v2.0", that has been released two years later?DD:
When Metropolis signed us, they wanted to release DMA as a full length so they asked to us to add two more tracks. We wrote Human Nature and completed the track Violation which was cut from the original EP because I was not 100% satisfied with it at the time. Other than those two tracks, the only difference is that we added a video for At Your Command on the data portion of the CD.
Your released the albums Syntax, Nymphomatik, RE:VISION and Beyond after the first two. Can you tell us one sentence to each?TN:
Syntax was the album that launched us to the club scene with some of our first dance hits, however it's a somewhat uneven album to listen to. Nymphomatik was more of a sexually themed concept album, aimed purely at the dancefloor. Re:Vision was sort of a split album, with some new songs and some reworked versions of material from earlier albums. Beyond is our first shift away from club music and into a more moody downtempo sound, definitely my personal favorite of all of our recordings.
Informatik is a very general term. What can you disclose about the meaning of the bandname?DD:
To be honest Matthew and I made up the band name completely unaware of its meaning in other languages. We just thought it sounded like an interesting word.
What is the connection between Informatik as bandname and your music?DD:
Not much really. We only became aware of the meaning after the fact. I suppose from a purely revisionist stand point one could say that we named the band Informatik because our music is created with the aid of computers.

You call your music "electronic arena rock". What do you think what the rockmusic end of Informatik looks like and what is the electro? How do you manage to fuse those styles to one?TN:
To me there's really no distinction...our music is designed to convey an emotion and a message, the sounds and tools we use to get there are more or less uninmportant. We have a sonic idea in mind when we begin writing a song, so we just do whatever it takes to realize that idea. Sometimes a more traditional "rock" sound is necessary to get the point across, and other times the main riff might come from a synthesizer. The most important thing is making the connection between us and the listener.
You both work in your projects "din_fiv" and "Battery Cage". How can you describe the project of the other member – tyler about da5id's "din_fiv" and vice versa?TN:
Well, din_fiv started out as a much harsher EBM type of project with the 'Infinity' album, with a couple of club hits that would appeal to anyone that likes Leather Strip, or mid-period Skinny Puppy. I like the record, but the second din_fiv album 'Escape To Reality' was really a quantum leap ahead on every level. In many ways, it's really the missing link between our albums 'Syntax' and 'Nymphomatik'. The songwriting and lyrical content is really miles ahead of anything else that was being released in that time period (1999 - 2000), and I always thought that it should have been considered another classic album in the futurepop genre, alongside VNV and Apop's offerings from that time.
DD:
Din_fiv (pronounced DIN-5) is a purely electronic side project where I can say anything I want both musically and lyrically. It's definitely influenced by the dark electro sounds of Mentallo & The Fixer, Decoded Feedback, and Pulse Legion. Tyler's band, Battery Cage, has changed drastically over the years, starting as a techno-industrial sledgehammer for those suffering from ADHD to their modern incarnation as a Conceptual Space Rock band. A great example is A Young Person's Guide To Heartbreak, a very ambitious and conceptual work that is completely lost on your average listener due partially to the fact that there are a few missing tracks on the full length that are on the Single. The work as it should have been laid out would span over 90 minutes. No one really has the time or attention to devote to serious listening nowadays. People are used to encapsulating the experience of an entire album by purchasing a single track from iTunes.

You describe Informatik to be a emotional electronics. What emotions do you like to write about?
DD:
Love and loss. Hope and fear. The basics really. In general, I just write about what I'm feeling at the given time although I have written using past and fictional perspectives.
How would you interprete Informatik's recent "emotional electronics" album "Arena" in regards of "Aristotle's Rhetorics on Emotions"?
TN:
I'm not familiar with the reference, but I think the album speaks directly to the listener...emotion is the universal human expression. I can only say that we intended to make a record that could appeal to anyone, regardless of their nationality or native language. The goal is to bypass the mind and connect directly to the heart, the emotional core of the listener.
If Informatik was a cake, what ingredients should be used for it?DD:
All vegan ingredients.
You name influences from IRIS or Depeche Mode. What impact did those bands have on your music. Are there any other influences beside them?
TN:
When you make dark electronic rock music, it's always difficult for people to remove you from the shadow of Depeche Mode. I would say that the influence of Iris and Depeche Mode is simply that we like their songs, I admire their songwriting ability...but I wouldn't call Informatik "another Depeche Mode clone", either. We're quite good friends with Iris, so it's important that we don't just copy what they do. We have our own style that we apply to the broader framework of electronic music that helps us stand apart. I think life itself is the influence that plays the biggest role in shaping our musical directions. The seemingly mundane interactions we all experience on a daily basis, those are a much richer source of inspiration than any musical source. The music that we listen to for pleasure has very little bearing on the songs that we write, I can assure you.
In your press info one can read "Provocateurs of the consensual illusion". What can you tell us about that claim?DD:
At the center of our ethos is the notion that "reality" is entirely subjective. We reject the legitimacy of the constructed world around us. Instead we choose to create our own meanings.
Your new album is titled "Arena". What is the album about?
DD:
It's about dancing to the rhythm of your own heartbeat.
TN:
For me, it's a statement of our intent to reach the maximum possible stage, on our own terms.
Can we call it a concept album?DD:
Not really. It's more of a musical collage.
TN:
I agree, it was never intended to be a traditional concept album. I wouldn't add remixes from outside parties to a concept album, for example.
What is the title "Come together" all about?DD:
It is completely sexual and literal. There is nothing metaphorical about that song.
What advantage do you think you take from the "Use of the Subconscious", the emotion, for your music?TN:
My goal in the studio is to avoid letting the conscious mind direct my activity. If I try to force a particular shape onto a song, or analyze things too much, the essence of the song is often lost. I find that the best results are achieved simply by letting the emotional force of the universe push itself through me. Usually I just need to get my 'self' out of the way! It's an interesting paradox, one that I think many artists face...the most effortless work usually realizes the greatest results...the more labored the work, the more likely it is that the end result will be less satisfying. Of course, not all of the results will be appropriate for what is considered the 'Informatik sound', but the important thing is to keep the activity of creation flowing as much as possible, to always be open to what the universe has to offer.
The Track "The World Belongs To Us" is a live-track that have been recorded in Budokan. What is Budokan and what can you tell us about the gig?DD
: That song is in fact a studio track. We call it the "Live at Budokan" because that is the sound we were try to create. That is the sound of days gone past when albums were recorded in front of large audiences at famous locations. It's our attempt at ironic nostalgia.
"It Was Like I Was Dreaming" is a very interesting song too. What dreams do you personally have?TN:
The interesting aspect of the song is that it revolves around the idea of dreams being a gateway to an alternate reality, that you're peering into another possible version of your own existence. I like this idea very much!
"The End" is the last track on the album "Arena". What do you feel when the last tune has faded away – is it meant to be the final song of the project?TN:
"The End" was written during the 'Beyond' sessions, but it didn't seem to fit that records overall vibe. For me, the title "The End" is more of an indication that we are finished with making "industrial" style music, and are moving in a different direction these days. It was basically the product of jamming in the studio, and it was a lot of fun to make, but it's probably not a style that we would do again. It is definitely NOT the last song from Informatik! I think it just has a sort of epic quality that made it the perfect choice as the closing track on 'Arena'.
What can you tell us about the remixes and names of that versions: "Stadium Mix", "The Synthetic Dream Foundation Mix", "More Cowbell Mix", "Pulse State Mix" und "Arena Mix"?TN:
While we were working on 'Arena', we thought it would be a good idea to have an audience driven "remix contest", where we could allow people a chance to remix some of our songs. We made two songs from 'Beyond' available, "My True Love" and "Temporary", and told the participants that whoever won the contest would appear on 'Arena'. So, the two bands Pulse State and The Synthetic Dream Foundation were the winners, and their mixes appear on the album. The rest of the participants had their remixes released as a free digital album, available from our website. The 'Stadium' and 'Arena' mixes were simply in keeping with the idea of our music as "electronic arena rock", and were attached to older material that was reworked into our current sound, indicating that the sound has been amplified to it's maximum threshold.
" Don't Be Afraid" has been remixed by Claire Voyant, an Electro-Alternative Band from California. How did the remix come into life?TN:
Claire Voyant are friends of ours, we really love their music. The song "Don't Be Afraid" was originally written for 'Beyond', and we thought it would be very interesting for Claire Voyant to remix that particular song, and see how they could blend it with their particular style of music. While we had totally different expectations of the result, we are really happy with the version that they returned to us. I'm looking forward to returning the favor for them as well!
How does it feel to have Informatik play live in Europe for the very first time?DD:
I think I speak for both of us when I say we are extremely excited. It is something that we've wanted to do for such a very long time.
Do you have any detailed plans for your future as collaborative project?TN:
We plan to start working on the followup to 'Arena' as soon as we're back from our European tour. I already have some ideas about the musical direction, but it's too early to really comment. I won't really know what to expect until we're in the studio again. I can only say that I expect more emotion, more dynamics, more organics, and better songs! In the meanwhile, I have a number of other projects that I'm working on, I stay pretty busy all the time.
Many thanks. We want to use the opportunity to wish you all the best and Good Luck for all your future career!
Other articles:
Newest comments: