Leaether Strip - Aengelmaker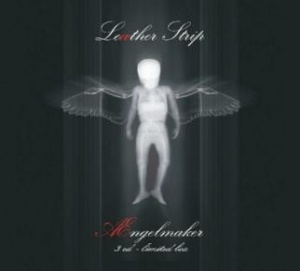 Reads: 4467 times
79%
Artist:
Galleries:
CDs catalogue:
Last topics on forum:
The next Claus Larsen's album is a journey into the mind of a psychopath. The composer of the double album entitled
Aengelmaker
is inspired by the terrible crime from the beginning of the 20th century. At the time in Dennmark, a mass-murder Dagmar Overbye killed children, who were born outside of a marriage.The first CD opens with a heavy track
Aengelmaker
. In this composition Larsen used contrast, which is created by a dramatic female speak and her screams mixed with electronic sounds. This music takes the listener to a gloomy world. The effect of these contrast is amazing! This is not the only moment, when we can hear dialogue as the introduction to the music of
Aengelmaker
CD. In group of this type of tracks are
Before I Fade
and
Spinning
. In my opinion the best tracks, which show the atmosphere of the album, are Aengelmaker and
Spinning
. I have already written some words about the first one. In the second track perspective is changed. Here, a listener firstly hears a dialogue between a child and a woman, then a song sang by the kid, followed by harsh electronic sounds at the end. This collision of innocence and cruelty is exposed by a delicate voice of the child and the voices of birds in the background with demonic vocal of a man and crazy speed of sounds in the next part of the track.
Other interesting compositions on
Aengelmarker
are:
Genetic Fuckup
,
White Flag, Black Celebration
,
So Hard They Fall
, and also two covers
Lili Marleen
and
Blasphemous Rumours
. Each of these titles constitute a sad reflection about our present times, about their brutality. Titles, lyrics, sounds and inspiration of these tracks are the picture of the contemporary problems of our civilization. Larsen shows us not only the problem of mass-murder of children, but also the nightmare of the war from beginning of 20th century. In
Genetic Fuckup
, we can hear words
imperfection is beauty
, which are in opposition to eugenics medicine. In this composition a vocal part appears, so characteristic of Leaether Strip, which arouses the feelings of fear, strain and curiosity in a listener. Also two covers on
Aengelmaker
are not accidental.
Lili Marleen
is a song used by nazi agitprop, but not only, and thus it's good correlate with
Genetic Fuckup
. And
Blasphemous Rumours
is the Larsen's version of Depeche Mode hit from 1984. In this song the composer shows difficult relation between a caregiver and a ward. This cover is much more raptorial and in my opinion more interesting for fans.
Limited edition of
Aengelmaker
is enrcihed by the CD entitled
Yes I'm Limited IV
. On this album we can find a remix of
Go Ahead
from EP
When Blood Runs Dark
and
Genetic Fuckup
. But personally, I was spellbound by two other tracks. First of them is
LoveHate
, where the composer mixed rough vocal with smooth electronic sounds. And the second track which really appeals to me is
Pain is Beautiful
. In this composition Larsen used clear female vocal and rough male voice. The combination of these two types of voices builds elegiac atmosphere. In all compositions fans can hear not only vocal line but also some kind of hisses and stertorous breath. All that sounds like a laudation of pain and pleasure blended with it.
Aengelmaker
with the bonus CD
Yes I'm Limited IV
is a trip to the dark parts of human personality and the past. By means of his music, Larsen told us about the suffering and aggression of the modern world. This album is for all people, who love electronic sounds, and for the ones in search of reflections.
Track lista:
CD1 - Aengelmaker

01. Aengelmaker
02. Anger
03. I can't sit still
04. Strap me down again
05. We are dust
06. Genetic fuckup
07. Lili Marlene
08. White flag
09. Dying to live
10. When you're inside me
11. Black Celebration
CD2 - Stolen Feæthers

01. Stolen feæthers
02. Insect warrior
03. I will never hurt you again
04. Treatment
05. Before I fade
06. La danse macabre
07. Don't you dare die on me
08. Spinning
09. So hard they fall
10. Deliver me
11. Blasphemous rumours
Cd3 Yes I'm limited IV:
bonus album only available with the limited box edition of "Aengelmaker"
01. Leæther Strip feat Unter Null: Don't you want me
02. Law of Jante 09 (Golem mix)
03. Lovehate
04. Leæther Strip vs. Supreme Court: Europa
05. Leæther Strip vs. Titans: Deadhead
06. Leæther Strip vs. Supreme court: Overkill
07. Back in control (Bigger mix)
08. Go ahead 09 (Hungarian club version)
09. One nine eight two (Obamarama club mix)
10. Snakebite (Black Mamba mix)
11. Pain is beautiful (freemixxx)
12. Genetic fuckup (Nostalgia mix)
Other articles:
Newest comments: