Leaether Strip – Æscapism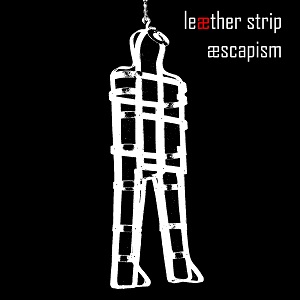 Reads: 4071 times
85%
Artist:
Galleries:
CDs catalogue:
Last topics on forum:
Many artists admit to being inspired in their works by the Leaether Strip formation. It is hardly surprising. Claus Larsen instead of focusing on creating his demonic image is concentrated on making music. The fact is that, sometimes these sounds are likely to be straight from a disturbing horror, which listening to makes the body shiver.
The author is a fan of movie soundtracks, which can be strongly heard in his music. "Æscapism" focuses on the issues related to an attempt of hiding away from the reality as from related with it problems. Hence that, album has a scrolling through lists of escaping matters, showed at different angles. The intention of the creator is not using duplication of schemes and to surprise the listener with each of the following tracks.
In addition to the leading theme associated with the title of the album, listeners can hear on the release a record of a trial with the demons, which presents visions straight from childhood nightmares. Apart from that, musician raises questions about the notion of equality and humanity. Sometimes he happens to be even obscene, sometimes pushing away with his brutal vision of reality.
The last track – "Extinction protocol", recorded with the participation of Decoded Feedback, is directed against bigotry and moral double standards, and at the same time it exposes the various social sins, while being cruel with them, at the same time carrying out a specific exorcism.
The album is balanced, although each of the tracks contained on it has a different style. Juggling with electro motifs with elements of harsh, to the melodic, almost nostalgic tones Claus Larsen causes that, the audience will not get bored. It is impossible to remain indifferent to used alternative electronics, whether in the form of old analog sound, or by presented intense rhythms under the sign of ebm. At the fore ground extend bass sounds, which create the core of each of the tracks. This is probably their only common element. But thanks to that each of the presented pieces, in spite of subjects they are dealing with, it is extremely danceable.
Tracklist:
01. We fail we forget
02. Sanctuary
03. Hold me
04. Humanity – Equality
05. Hold your fire
06. Suicide summer school
07. The hired man
08. Strong boys
09. Trash talker
10. In fire on fire
11. Unhuman response
12. I'm not the one
13. The dark gates of sundown
14. It doesn't hurt to hurt you
15. Extinction protocol (with Decoded Feedback)
Other articles:
Newest comments: