Santa Hates You - Crucifix Powerbomb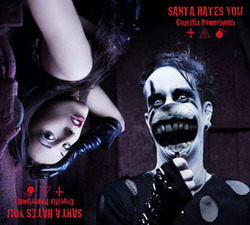 Reads: 3207 times
85%
Artist:
Galleries:
CDs catalogue:
Last topics on forum:
"Crucifix Powerbomb" is the last record of an industrial - electro - gothic formation Santa Hates You. Admittedly, that the album is surprisingly strong and can kick! Fresh-sounding songs with hard electro can wake us up in the morning better than the energy drink, or % drink ;)
I will not describe all of the songs, because you have to listen to this CD and rate it by yourself. And believe me! It is completely fantastic. The combination of male and female vocals, in both cases, sounding slightly insane + amazingly orchestrated music, it is what sets the right mood for any good party, and heats it to the limit. "Bootcamp" is a perfect song for me - exactly in my taste (unfortunately, my neighbours did not show a good music taste - this song can not be listened to quietly ;))
"God Is Hiding Under My Bed" is ideal for hard dance. And its repeated "God is hiding... " - Even ecstatic! Song "Rocked Heart" promotes "Crucifix Powerbomb" but did not strike me, and I can not convince myself to it somehow. It is good, but not the point it was expected to be. It lacks impact, did not brought me to my knees.
The same thing with the "Green Slime Spaceship". It is a bit blank in my opinion. By contrast,"Hexenpolizei" definitely has "something". It i really catchy and stays in memory for long. The German lyrics match the raw sound perfectly; an electronic insert makes the track a bit softer, otherwise it would have been too harsh.
"Your Soul's Funerall" in addition to good sound, has truly interesting lyrics, just like most of the SHY tracks, you can discern a hint of intelligence, a good dose of irony and interesting sense of humor in them.
Overall - the last album of this German project is a must. You simply have to listen to it and slavishly give in to its macabre charm. The lack of this album in your collection is a faux pas.
Tracklisting:
01. Fuck That I'm Human!
02. Hexenpolizei
03. God Is Hiding Under My Bed
04. Rocket Heart
05. Slime Green Spaceship
06. You Make Me Wanna Bang My Head Against The Wall And Not In A Good Way
07. Your Soul's Funeral
08. Z.O.M.B.I.E.
09. Sexuelle Unordnung
10. La Malia
11. The Bonus 2.0
12. Bootcamp
Other articles:
Newest comments: