Spiritual Front - Rotten Roma Casino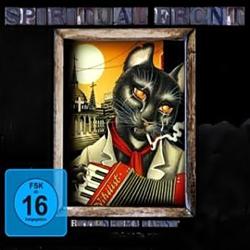 Reads: 6325 times
75%
Artist:
Galleries:
CDs catalogue:
Last topics on forum:
In overwhelming majority, regardless of whether it is a deliberate act or accidental,
pop has a property to gather all possible pathological phenomena in the music. Shallowness, banality, rubbish and deceiving listeners, praying on the lowest music taste (or rather lack of it) as well as robbing the money from pockets of dumb mass consumers. The lion's share of records from this field is a complete flop – nobody knows what is the purpose of recording them (besides the money argument) and nobody knows to whom they are addressed. Troglodytes, whose meaning of life is nothing but investigating whether it is Lady Doda (Polish pop singer) who copies Lady Gaga or the other way round, seem to be the only receivers. The problem is fundamental – good, ambitious songs do not grow on the trees and composing them requires bending over backwards. Making an effort makes difficulties perhaps this is way the term 'pop music' has become a synonym of a pap, trash, colourless music without the power of expression. Listening to the pop may cause following reactions in more sophisticated listeners: from sneering to uncontrolled and painful vomiting with loss of consciousness. Quite often unnecessary.
As long as bands like Spiritual Front play, pop will remain an ambitious, expressive, interesting and valuable music at least in some spheres. Let's call it nihilist suicide pop or mafia pop, no matter how. That does not make any bigger difference because we deal with making liberal use of everything which is worth in that broadly defined stylistics. Cheap bar tango, "Mexican' trumpets and guitars from a western film a'la Ennio Moricone (with respects for Hank Marvin) or completely "degenerated" ballads in Nick Cave's style – everything wonderfully prepared, seasoned and served by master of ceremonies – a cook, waiter, croupier and gigolo in one person – Simone Salvatori.
Everybody knows which ingredients should be used to prepare a pizza but not everybody is able to make a good use of this knowledge and create something which will be remembered longer than the next morning or the first morning's visit in the toilet ;-) Truly interesting things may be created when searching, risking and staking everything on one card in opposition to cashing in on smaller and bigger successes. Simone Salvatori has confirmed that he is capable of doing much more. "Rotten Roma Casino" invites to the frantic dance, gives a wink and a good laugh. Album's perfect lyric layer is a already well-known dense erotic mix, self-destruction, brash confessions as well as desire for bitter reflections and irony. Such is life in the instant form. Probably, in a slight more bearable version than in 'Armageddon Gigolo".
The latest Spiritual Front album is like chicken Scarpariello, a bit Italian and a bit American (yes, I know, Nick Cave is Australian not American ;-), spaghetti music western, which drags into gradually with a big pleasure because it tastes delicious. There is no possible way to avoid humming such blockbusters like "Darkroom Friendships", "The Days of Anger" or "Song for Johnny" with company of Simone's voice. I cannot help that the newest album of Italians reminds me of the fresh-casual type of kitchen – dishes prepared from natural products and served in a casual atmosphere. It is audible on "Rotten Roma Cassino". I am very glad that Spiritual Front hasn't smoked itself in a heavy smoke of neofolk bonfire but worked out its own style, light and ethereal and the same way extremely appealing. It joined to these artists which set the music points on the more ambitious railways because pop needs to contain meaning as well. Anything...And even though the duo with Sonja Kraushofer
(L'Âme Immortelle) cannot be compared to "Where The Wild Roses Grow", because it's a totally different dish, in any case it's very, very much tasty. Honestly – I've expected something different, I received something else but I'm not disappointed. I'm capable of being pleased with varied things. When I'm yearning for thrills so I listen to "Armageddon Gigolo", bite pepperoncini, drink grappa but after this suicidal move, my nature begs me for restoring the balance. And then I could only – savour the panna cotta dessert, swallow small doses of asti spumante and listen to "Rotten Roma Casino". Hey, is it really so sweet and nice in here...? Absolutely not. Listen to this album carefully. Many times. And you will agree with me – If Jesus hadn't died earlier in Las Vegas, he would definitely do it now in Rome...
Tracklist:
01. Darkroom Friendship
02. Sad Almost a Winner
03. My Erotic Sacrifice
04. Kiss the Girls and Make the Die
05. The Days of Anger
06. German Boys
07. Odete
08. Black Dogs of Mexico
09. Song for Johnny
10. Bare Knuckle Boy
11. Cold Love (In a cold Coffin)
12. Overkilled Heart
Other articles:
Newest comments: