Wrocław Industrial Festival 2010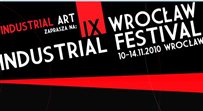 Reads: 10753 times
Artist:
Galleries:
Last topics on forum:
Before going to Wroclaw on WIF by train, I have carefully checked the weather forecast. I always do so if I don't want to land in briefs, with a rubber life belt and flippers in snow drifts, a situation which actually happens to me anyway, thus I am quite assured that all this media-powered trend of global warming is perhaps going on somewhere on Earth, but definitely stays out of Poland. It was supposed to be a cold November weekend on 2010/11/12-13 with rain, chill, rain and rain again, so without hesitation, I put the immortal "Wroclaw in the rain" into my player, and I packed my backpack with a cagoule. No matter it was heavy. So, ready for the rain and cold, on the 12th day of November, according to the Scriptures, early in the morning with a notable participation of PKP (Polish Railways) I picked up a one-sided battle intending to conquer Iwo Jima. Well, almost, in fact I just wanted to survive seven hours of journey on a train and get to Wroclaw. The impression was quite the same, yet the difference was that the Americans could sow their (justified) wild oats – I couldn't. The train-master was twice as big as me.
All I could do was to separate myself from the outside World with the use of my headphones and a bunch of youthful melodies from the iPod. After almost nine hours of travel, having damaged somebody's car on the level crossing, unfailing as always, Wroclaw welcomed me, against all forecasts - warm and sunny, causing me want to immediately exchange my jacket for a few bottles of cold beer. Besides the sun, my eyeballs attacked the party posters, of which the black-red Wroclaw Industrial Festival bills were the most noticeable. It was already the ninth time when the organizers of this undoubted cultural event on (post)industrial scene and the like, were equal to the task, offering a true spiritual feast to the fanatics like me. I could only really regret that the down-to-earth duties which appeared after setting up a family didn't let me to enjoy the whole five-days long stay, but you know - casus fortuitus. It can't be helped. Later on I've heard from my friends' tellings that it was really nice. You can divide the parties into those which you remember and those which you don't. Both types are cool. This time I had to take the words. Unfortunately, I don't remember as I wasn't there.

10.XI˙- BWA AWANGARDA GALLERY start 19.00

BIRDS BUILD NESTS UNDERGROUND (CZ)
ZENIAL / PIOTROWICZ (POL)

11.XI - BWA AWANGARDA GALLERY start 19.00

FETISCH PARK (DE)
SUTURE NAVIGATOR (POL)


My first day 12. XI - GOTHIC HALL start 19.00

Following the immortal quote from a famous Polish comedy film – Mis (Teddy Bear) "... przyszłem wcześniej... gdyż nie miałem co robić" (I came earlier... as I had nothing to do). Luckily, by the organizers courtesy, I could get straight to the Gothic Hall. After getting familiar with a non-raw beer and a raw interior and its atmosphere, I was ready to take in the sounds as well as another pints of beer. Severe sounds, brewing beer, pasteurized. Something like that. Maybe it's due to the drinks' that the soundcheck flowed through my head almost fluently into an opening warming set of DJ BAMBULE, that is Gordon Sharp from Cindytalk. I must admit it was well composed and well mixed, both the set and Gordon himself. All three of them, the set, Gordon and his image, played their role excellently. The public gathered at the dancefloor seemed to get caught more and more, and every new soul into the temple of noise was welcomed with a solid swig of liturgy. All followed by the official announcement by the organizers, worthy of the Oscar gala show, cutting of the ribbon, pinks, smiles, applause and...



The British group THEME revealed themselves to us giving the fifth concert in the project's history, practically on the second day after their show in Krakow, which was some sort of dress rehearsal in this configuration. This I mention as a duty of a chronicler, having In mind that the core of Theme - Richard Johnson (Richo) and Stuart Carter are well experienced musicians, known i.a. from their involvement in such projects as Playground or Splintered, whose last incarnation is set by both men together. The singer was doing his melodeclamation with loud voice interlaced with more agressive screams which sounded far up to the Gothic Hall's vault, drawing attention to Olga Drenda playing metal "flourishes"- a precious completion of live version of Theme. A very good opening. The interesting thing was that suddenly in "Turn To Light" there came the three of them again - Gordon Sharp, his image and this time his voice, supporting Johnson with vocals. When I was talking to Richo after the show, I found out that they're going to continue their collaboration with Gordon. Indeed, it's quite good news, it might be interesting. Theme presented their pieces starting with "Time Always Wins", "An Answer To All Life", "Turn To Light", "Dream Your Dreams" and in the end "Burn the Truth". The last track, as well as "An Answer..." come from their third record, "Valentine (Lost) Forever", while the other compositions were prepared specially with intention to be placed at the new, yet unpublished release. It looks fine, really.




The show of the Dutch BEEQUEEN might have been somewhat surprising for some people. Instead of the expected solid doze of drones prepared for, at any rate, the industrial festival, we've been given mostly baffling fresh sounds being a mixture of experimental form with pop content. This kind of specifically charming aesthetics of balanced expression was what Freek Kinkelaar and Frans de Waard treated us with, not to forget about extensive participation of the vocalist Olga Wallis. Among the repertoire prepared for WIF there came pieces from the last, successful album of Beequeen - "Sandancing", but also some older stuff was played. The whole performance got a bit lost in vast spaces of the hall (Beequeen would certainly fit better to a cosy club), but it caught my attention, thanks to it I decided to make it good and get to know more of the Dutch' music. Over 50 minutes passed with the songs, in turn: "Gilbert", "Someday Today", "Breathe" (Sandancing), "The Lord is My Shepherd", "The Maypole Song (Sandancing)", "It's a Fine Day", "Port Out Starboard Home", "Shame", "Honeythief" (Sandancing). It was so beautiful that for a moment I had doubts about the leitmotiv of the festival. Instead of getting my ears trampled, I trampled my throat myself.



Few moments of technical break and then the first show which I've been waiting for. The French experimental post-punk formation CLAIR OBSCUR, that is the most dangerous job in the world. This I thought about when I was watching the film at the background. Then I found out from Clair Obscur's vocalist, Christophe Demarthe, that their visuals are mounted fragments of documentary film about fishermen - Les Derniers Du Grand Metier. If you want, you can search the Web or see similar struggle with crabs on Discovery. The first part of the concert was based on tender guitar riffs, with sentimental vocal. Christophe was supported by Nicolas Demarthe and Dorota Kleszcz on guitars. After several minutes a rapid change of mood came in. More lively tempo, synthetic rhythms, keyboards. Christoph was at times resembling a vocal mannerism of Klaus Nomi. I'm not sure i fit was intentional, yet it was easy to notice. This part was supported by backings, registered with participation of ladies and gents: Bruno Dupont – percussion/drum instruments, keyboards, Sabine Martel - choir and Aline Montfort - flute. I don't know which face of Clair Obscur was more to my liking, I simply like "The Obscure Claire" the way she is. Twelve songs made up a show, one by another: "Blume", "The Last Encounter","Petite Fable","Cry No More", "Decades", "I Hope You're Fine", "This Song Is For You GPO", "Es War", "It'll Be Allright", "Toundra", "Barake", "Rain". To All those who were unsattisfied with what Clair Obscur presented live, I recommend getting familiar with their album releases. It's really worth it.



Another post-punk and 80s new wave legend, CINDYTALK lead by, oh yes - Gordon Sharp, who was a record-holder that day, being the one most often appearing on stage. Frankly speaking, it was an undisguised pleasure to through this nostalgic journey to the years of my youth. There is certainly a group of people who remember the project named This Mortal Coil and their debut album, but not many would get that the expressive vocals in pieces like "Kangaroo", "Fond Affections" and "A Single Wish" are works of Gordon. For the last couple of years this Scottish musician and performer Has been moving around more abstract, freed areas focusing on interesting industrial rhythms decorated with a solid doze of experimental, free, unformalized junction, noise sounds. The programme was prepared particularly for Wroclaw and it consisted of a mix of tracks performed live: "Speechless Cage", "Lost Between Us", "Widen The Focus", "A Useful Melancholy", "Prince of Lies", "Outside Out", "My Drift is a Ghost" with backings from laptop. Full tracks interlaced with short pieces, sometimes only, texts and lyrics, derived from the other products of the group, melancholic vocal parts sang out so loud until they were piercing the ears, the lyrics cried out to broken, chaotic rhythms, all this make a hallmark of the current form of the group. However, it was easy to sense their characteristic spirit. For me it was one of the most interesting points of the first festival day.


The next thing to come could be briefly described as - merciless, cut-throat, flagellation with sound. ESPLENDOR GEOMETRICO do not need special presentation, whoever knows them - knows the bomb, whoever doesn't - knows the numb. Behind the wheel of this industrial killer machine of mass destruction there is Arturo Lanz, grabing the microphone at times, to shout out his repetitive, broken phrase-parts of the text, carried by huge tide of beats generated by Saverio Evangelista. As it comes to Arturo's performance – usually I can't help laughing when I see a microphone in a guy's mouth. Then I remind myself of the famous funny wedding movie with Ziggy. However, during EG's show I didn't feel like laughing at all, even when at some moments Arturo looked as if he wanted to swallow the mic. Authentic emotions, launched like machine gun salvo, forte fortissimo, mutiny, scream, oppression, enslavement. Trance. The only thing I can say about the tracks is that there were pieces of the album called "Pulsión" released in 2009, but still a large part of the show consisted of loose improvisations and trance parades. A very good show, quintessence of the genre, highly impressive.



Overpowered with this nuclear explosion carried out by EG and slowly coming crisis caused by not having enough sleep, I slowly slipped into another event, a British duo KONSTRUKTIVISTS. The project was formed by the end of 70s by Glenn Michael Wallis who composes an interesting medley of avantgarde and industrial with characteristic elements of kraut rock style. The ex- member of Throbbing Gristle's concert crew and a close friend of Robert Rental, with whom he has worked in the past, together with his current companion Mark Crumby they presented to the Polish audience pieces from the early artistic activity of the project. This was a specific tribute to both first years of Konstruktivists and also their first visit in Poland. We listened to a collection of 11 compositions: "The Master", "Free Form Fetish", "Loch Groove", "Friendly Fire", "Mansonik no 3", "For Each Of Us", "Physical Jerk", "Konfrontation", "Mansonic No 1", "In Kabul" and the final "Andropov 84/I'm coming around your house". Maybe it was the atmosphere of unwinding festival which made Glenn feel so free that he bared his chest, put back the classical lyrics and improvised, moreover, he clearly quoted some phrases of Whitehouse's tracks. That was excellent fun.



This emotional day was beautifully crowned with spiritual emanation and painful bodiliness in this postindustrial-metaphysical crucible by our native group CHRISTBLOOD. This collective of three artists - Grazyna Kaczmarek, Tomasz Baran and Krzysztof Pawlik, existing for several years on stage already, show that it is possibile to trim the means of expression in such a way that would make the renering touching, full of deep content, but at the same time far from burdening stylistics.
Trance phrases, the use of sampled sounds as backgrounds to theatrical melorecitations, expanded, absorbing instrumentarium, the scenic movement and affecting visuals, all that made this performance truly successful. In spite of feeling totalny tired due to late/early time the show certainly drew my attention. Everyone is recommended to become acquainted with this group's artwork. In Wroclaw they presented 10 tracks: "Krople oceanu", "Pierwszy krzyk", "Inversus", "Inicjacja", "Ancor", "Chwila, która sprowadza ciszę", "Degradacja", "Passage... ", "Rubicon" and finished with "Oceanu łzy".

The day was ended (or rather welcomed) in the early morning by DJ MNIAMOS / ACIDTV, unfortunately without my own presence:-)


13 XI - GOTHIC HALL
7.00pm

On Day Two, as soon as I got back among the living, not without a looong afternoon nap, for a change I "...came earlier... as I had nothing to do", and again I scored a bull's eye. A warm-up led by the living legend - Dirk Ivens (Absolute Body Control, The Klinik, Sonar, Dive) combined with beer and fruitful talks with friends was a brilliant aperitif. I'm glad that we'll see Dirk again at another, 10th WIF.

I haven't seen the Wroclaw's JOB KARMA (POL) for quite a long time, thus the surprise was even greater and more positive. I do know Maciek and Aureliusz in person, yet it is not the reason why I'm going to bend low right now. The music, as well as the visual side place Job Karma's shows high in th rank of events on industrial scene.
Definitely, they're among the leaders. I received the newest release of Job Karma "Punkt" literally three days before going to WIF (I know, I know, SUCH a record should have been ordered long ago:-), so I barely had time to listen to it cursorily. Anyway... it started from the eyes squinting from the screens towards the audience. I must admit that this sort of sequence incredibly impressed me – from one hand this was a sort of eye wink to the audience, from the other side – an attentive observer. The Big Brother in a controlled and indoctrinated society. Both musicians – members of Job Karma, Maciej Frett and Aureliusz Pisarzewski hermetically "cased" with musical equipment seemed to be imprisoned while their music actually opened spaces for imagination and freedom. The music sounds as if it derived the best plots from the synth revolution of 70s and 80s. Motor rhythms, which are the basis for synth stories, pretty well underlined by guitar parts played by Aureliusz. And visually... hmmm... whoever has not seen fearfully suggestive films by Arek Baginski, for them any words will suffice. The animations, based on characteristic drawing, and the opening movie in which the "real" actor - Artur Grochowiecki – has played.
In two words – a fantastic performance, including mostly pieces from the latest album: "RAF", "Brain's Processing", "You Are The Key" replenished with Shekels from the debut record "Newson", "Bronte", "Hel", "TerrorVizja" and superb, constructed upon a trance pulsation "Hydroxizinum City" from the album "Tschernobyl". Perhaps some of the readers may so far become fed up with the level of my exaltation, maybe they'r e even sick, and they think that their computer screen is pasted with vaseline, but I just can't help that for me Job Karma is the number one of this evening in this convention. And the album "Punkt" is a permanent point of my contemplation.




After a short technical break there came NON TOXIQUE LOST. It was the first visit of the Germans in Poland and the WIF performance was their first chance to present their music live here. Unfortunately, the first part of the koncert was eaten up by technical problems. It's a pity, as the temporary lack of stage monitors, resulting in playing "off tune" and dealing with the so called feedback, didn't make the whole reception easily pleasant. Nevertheless, the programme presented by the duo Sea Wanton and A. Wollscheid including seven tracks was intriguing, that I managed to overcome all the other matters. "Eisicht a Suivre", "Nachtbuszeit", "England Ihren Feinden Schenken", "Buchenwald", "Neues Deutschland Lied", "Frobot" and the final song "Burnt Out" was a conglomeration of guitar experiments, accompanied by the radio waves samples coming from the radio set placed on stage. All this was interlaced with melodeclamations with a truly theatrical expression. At some moment, among many other watchwords displayed on the screen, there appeared "you will forget me very quickly" – if this was meant to be some sort of reflection of NTL about durability of their artwork in the memory of the audience, then this self-criticism was simply unnecessary.



I will not menton the technological break between the several performers, as it seems to be quite a justified standard, besides, one has to take a breath of fresh air from time to time to have a pint of fresh beer while having such intensively opened perception. This kind of fresh breath there appeared to be CONTAGIOUS ORGASM (JAP). Wonderfully mystical sounds intertwined into swinging rhythms gave some special colour to the performance of the Japanese. Extremely friendly (as it turned out later In the conversation) Hiroshi Hashimoto and Shingo Sugiura presented their sounds in taciturn way, without fireworks, stage fog or stroboscopes, and this was the best way to draw the listeners into their world for good. The frames slowly changing in the visuals (including photographies from Polskich films from the 60s) intensified the impression. I must admit that, even though I had known Contagious Orgasm before, no sooner than when seeing their live performance they impressed me that much. Strongly enough to make me decide to enlarge my collection of albums with their releases. Seven must have been the lucky number of the evening, as the set by CO was composed with seven pieces, starting from: "The Cause Of Beginning", "In A Flow", "Sweet Home", "Ballet Mechanic", "Smoke", "Inspection 09", "Long Distance Works 1".




One gulp of beer, exchanging opinions in the hall and it was time for DERNIERE VOLONTE. A mix of classic French chanson with electronics from 70s and 80s (Kraftwerk, OMD) in march-like, military sauce. What, you think it's not possible? Nonsense! The nation that could create such an outstanding combination as the brie cheese with cabernet sauvignon wine, has been serving us phenomenal taste of productions by DV for over 15 years. At WIF Derniere Volonte performed as a two-berth French boat. Wearing "sailor" T-shirts there showed – the second incarnation of Dave Gahan, that is Geoffrey D., supported live by a multipercussionist Pierre Pi. A serious back-up for the concert was made by a luminous logo of Apple. What then... Eleven tracks moved our asses - "Ami", "Regard Camouflage", "L'ombre des Réverberes", "La Nuit revient", "Mon Mercenaire", "Mon Orage", "Maintenant", "Qu'avez Vous Fait?", "Tout a Disparu", "Au Travers des Lauriers" and nomen omen "La Fete est Fini". Even though from my favourite album "Immortel" they Orly played " Maintenant", and not the absolute smash hit "Impossible", still it was very danceable, cool, swingy, energetic iand danceable. Have I just said danceable twice? Well, it must have been so:-)



I remember SPIRITUAL FRONT when they player a coupe of years ago in Poznan, so I wasn't surprised by installing a bedside lamp set on stage:-) And when I spotted the visualization being the first scenes from Passolini's film "Mamma Roma", I knew it's gonna be good. Italian cinema of the black-and-white stroke realism, this is my favourite cinema. Passolini sketched a dramatic life picture of the Roman prostitute known as Mamma Roma and her son Ettore. Images from their life among pimps, whores, robbers, blue birds – trailed people, yet being aware of their hopelessness, however, stuck into fumes of their miserable fate, it would all be a perfect imagery of SF's songs, if it was displayed onto something more than a box for Simone Salvatori's twelve-stringed guitar. Whereas In case of the movie the Great trump is the incomparable, the role full of vivd expression, created by Anna Magnani, then in case of Spiritual Front it is the person of the leader. It is himself who takes care of the whole band, and there's no doubt he does that in a brilliant way. Spiritual Front's performance was a part of promotional tour of the Italians' latest release "Rotten Roma Cassino", so it was obvious that their set included mostly tracks from this album, as well as "Armageddon Gigolo", and the cherry on the cake - yet unpublished, played live only "Hey Boy!". Very coherent, very professional, very touching. Pop? Hmm, if so, it was splendid.
After a very vivid, but not when it comes to stage movement, a bit static performance of Spiritual Front, both the stage and the auditory apparatus were nearly taken by storm and a huge power-noise-indu-penis of CON-DOM (UK) broke into. Being an undeniable legend of the scene, Mike Dando does not save his efforts live, what he proved in Wroclaw. Deformed, screams full of fury, sough, harsh, noise. A scratch on a plain image of controlled, incapacitated society. Unfortunately, the older I grow, the less impast do such means of expression have on me.




After a terrible slaughter served by Con-Dom, our ears were stroked enough for goodnight by KUNST ALS STRAFE from Germany, with Gerrit Haasler, Goetz Kleinhaus, Nikolai Arnold, Rocio Rocha and Johanna Blackstone as members, playing one and only piece - Invasive Reverse Surveyance. And again here the main roles were taken by melodeclamation and quasi-opera singing framed with sough, rasps and rustling. Interesting. And as King Julian used to say, "w tom noc, Maurice, w tom noc" (on this very night, Maurice, on this very night) WIF ended for me, as soon as DJ LUNATIC (POL) stopped to play.



In the morning a snifter of bread for breakfast, a train and time to go home, although there were unexplored events of Sunday left in the field:

DBMG/RAF (CAN)
[HAVEN] (POL)
INNER VISION LABORATORY (POL)
SYNAPSIS (POL)
DJ MNIAMOS /ACID TV (WRO)

I was leaving sunny Wroclaw fully satisfied. After a few days from this event I really didn't care at all about the fact that some of the projects proved that they sound way better on albums then live. That the ocal parts of some revelations ought to be mercifully passed over in silence, not to mention some other foul-ups. Besides the industrial black tere were many shades of pink. That doesn't matter – I was simply happy that again I could see and hear live a great deal of superb music, talk to friends, artists, and get new contacts. Here in Poland we are not being spoiled with a plethora of similar events, that is why I even more bow towards the organizers saying thank you, from now on I'm starting to count down the days to the next, tenth uncover of the festival. Sunglasses, a rubber life-buoy and flippers are ready to take. The organizers foreshadow Clock DVA and Zoviet France. I'll be there for sure and I recommend the same to all of you.


IX Wroclaw Industrial Festival full line-up:

10.XI - BWA AWANGARDA GALLERY
18:30 doors

19:00 BIRDS BUILD NESTS UNDERGROUND
20:00 PIOTROWICZ / ZENIAL

11.XI - BWA AWANGARDA GALLERY
18:30 doors

19:00 SUTURE NAVIGATOR
20:00 FETISCH PARK

12. XI - GOTHIC HALL
18:30 doors

18:30 dj BAMBULE
19:30 THEME
20:30 BEEQUEEN
21:30 CLAIR OBSCUR
22:30 CINDYTALK
23:30 ESPLENDOR GEOMETRICO
01:00 KONSTRUKTIVISTS
02:00 CHRISTBLOOD
03:00 dj MNIAMOS / ACIDTV

13 XI - GOTHIC HALL
7.00pm
18:30 doors

18:30 dj DIRK IVENS
19:30 JOB KARMA
20:30 NON TOXIQUE LOST
21:30 CONTAGIOUS ORGASM
22:30 DERNIERE VOLONTE
23:30 SPIRITUAL FRONT
01:00 CON-DOM
02:00 KUNST ALS STRAFE
03:00 dj LUNATIC

14.XI - Lulu Belle Cafe
18:30 doors

19:00 INNER VISION LABORATORY
20:00 [HAVEN]
21:00 BENICEWICZ
22:00 VILGOC
23:00 dj: MNIAMOS /ACID TV

Pages:
Other articles:
Newest comments: