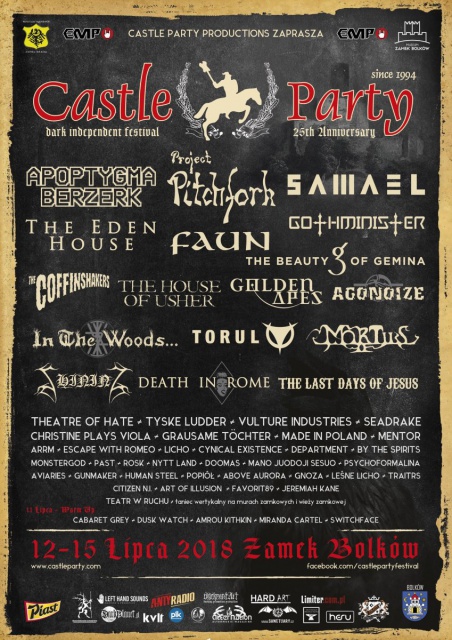 Reads: 6250 times
Artist:
Galleries:
Last topics on forum:
Dearest, Castle Party 2018 is already a part of history and honestly I don't know how it happened. It seems like every year it goes faster. We've just arrived and here we are sharing our memories. This year's edition was a bit different than previous ones. There were some changes made. On the other hand it is still our celebration and Bolków remains a place with friendly atmosphere where everybody feels good and wants to come back.
The first change is an extra day of the festival. Warm-up concerts took place on Wednesday in Arkady (former Basztowa). Four bands threw their concerts (
Switchface, Miranda Cartel, Dusk Watch, Cabaret Grey
) and despite lack of considerable space the party ended at 5 am next day for some.
Thursday
From the micro stage in Arkady we move to a small stage and here comes another change. It's no longer in a former church but in a Cultural Centre. Perhaps a slightly different atmosphere but closer to the castle so easier to run from one stage to the other. Anyway, Thursday was dominated by cold wave, post-punk sounds with gothic rock elements. As the first one, a band from Wroclaw,
Psychoformalina
, which took us into the world of simple rhythms, flowing sounds of guitar and melancholic voice of the vocalist. Next, also from Wroclaw, but much younger
Aviaries
. And then much more cold wave atmosphere by
Past
. And that's all from Polish stage. Next, celebrating their 10th anniversary, Italian
Christine Plays Viola
. With slightly different style and much more energetic was
The Last Days of Jesus
. It was hard not to watch the extremely charismatic vocalist. Even after he fell down he continued his performance. A big dose of a great avant-garde but also gloomy rock with a little bit of dark wave. Later on the legendary
The House of Usher
, meaning gothic rock full of slow and amazing guitars. To finish up with melancholic and almost mystical
Golden Apes
.
Friday
Friday will probably be remembered as shocking and provocative. Of course we mean two concerts by controversial German bands.
Grausame Töchter
in terms of music are quite interesting, energetic and impulsive. However, their erotic show gets much more attention. Cruel daughters entered the stage almost naked. Obviously getting the attention of the male part of the audience. Seriously? Naked women are so unusual? I was told that during club concerts they are much more perverse, but mixer in watermelon – the best ;) Even more bloody was the concert of
Agonoize
, the band combining elements of EBM, dark electro and industrial. It was their first concert in Poland. Extremely energetic and full of blood with murder and suicide performed on the stage. A bit grotesque most of all. But we need something more to live besides blood and nudity. It's worth to also pay attention to other bands playing on that day, especially
Leśne Licho
, who was the first to play. Despite the early hour they gathered quite a lot of fans. Slavic and Scandinavian motifs and lively pace made the audience dance. It was both girlish and hard.
Vulture Industries
kept the good mood. Dynamic and energetic concert. The Norwegians proposed quite avant-garde approach to metal with amazing ideas, intriguing guitars, rhythm changes and so on. British post-punk
Theater of Hate
performed between above mentioned German shockers. Instrumental diversity and 'the best of' concert. No unnecessary strange things, just an hour of good music. To catch a breath after Agonoize we watched a performance of
Lineact
group taking place on the walls of the castle. The members of the group presented a story of looking for love literally dancing in the air. After that British
The Eden House
, Sephen Carey's project with well known Monica Richards from Faith and The Muse. The castle was filled with atmospheric, ethereal sounds and delicate vocals and ladies were like nymphs. We could hear tracks from 'Songs for the Broken Ones' and the greatest hit 'To Believe In Something'. To finish the day,
Apoptygma Berzerk
and a comeback to more danceable sounds. The mixture of EBM, future pop, synthrock, electro and industrial, ballads and more rock moments resulted in cross-section concert in which everybody could find something for themselves. The setlist included among the others "Unicorn", "Eclipse", "Starsign", "Kathy's Song ", "In This Together", and also "You Keep Me From Breaking Apart", "Shine On"and "Until The End Of The World".
Friday small stage belonged to different shades of metal. We could hear quite interesting band
Mentor
. Hard, fast music which would be perfect for any metalheads.
Saturday
Saturday small stage was opened by
Gnoza,
who define their musical path as mantras, drums rhythms and electronic noise. Meanwhile, on the castle stage
Art of Illusion
was taking us into the world of progressive music, where the musicians think, work well together and provide unknown mixtures of styles. Rich in different experience and inspirations they use them as much as possible. Soon after them legendary
Made in Poland
with the best hits from new and old releases. Fans were surely satisfied. Hurry up to the small stage and there we have Siberian
Nytt Land
to recommend for Wardruna fans. With the smell of incense and not so much light we could float into the borders of our consciousness. Their music is full of simple sounds and melodies but simultaneously indulging us into less known experience. Hypnotizing and unsettling. Up to the castle again and there something completely different,
Tyske Ludder
and harsh dark electro. The concert of Swedish
The Coffinshakers
was total crazy mixture of gothic, country, horror with vampire elegancy. Successful performance and satisfied audience. Faster, lauder and harder was
Gothminister
, dark metal band full of strong guitars and heavy rhythms, made listeners move and that's what it is about after all. Once again to the small stage (not the last one) where
Mortiis
created amazing, gloomy atmosphere with deep sound spaces. Meanwhile, on the castle stage, for the first time on CP, German pagan-folk
Faun
w Celtic harp, bagpipes and other miracles which managed to evoke our sexual energy. Great contact with the audience, good mood, medieval ballads and danceable melodies. Sounds which fit the castle perfectly. The last on the castle stage was
Project Pitchfork
, meaning dark electronics with industrial elements. Energetic rhythms made the audience dance and ensured good fun. We could hear new tracks and greatest hits. And for the last time to the small stage where neo folk
Death In Rome
in a special midnight show worked its magic changing pop mainstream tracks by Lana del Rey or Rihanna into dark, atmospheric ones.
Sunday
As the first ones on the Sunday castle stage
Traitrs
, a band which plays with a light, slightly faster rhythm, pleasant guitar and piano and the vocals resemble and bit Robert Smith. As a result we have something like from the 80's and that's good because we need it. Next
Mano Juodoji Sesuo
and a few rhythms to dance.
Escape with Romeo
is another rock band with interesting piano, light guitar and melancholic vocal. Polish shock rock
Department
is a solid playing with harsh motifs and false banknotes flaying above the audience. Something for the fans of Killing Joke or Rob Zombie. In the meantime, Sunday small stage presented all kinds of electro with awaited by many
Torul
at the end. Soon after nightfall on the castle stage unmatched
The Beauty of Gemina
, once again on Castle Party and once again just perfect. Fantastic gothic rock, genuine, rhythmical and well-played. And as the last one, the band whose name is well respected among the fans of heavy playing,
Samael
. Amazing show, full, professional, and heavy. Perfect closure for 25th edition of Castle Party festival.
This year we didn't experience any catastrophe of weather but we didn't have pool party either, There were lots of creative outfits, black ice cream and dumplings. No church atmosphere and sometimes no air to breathe but a lot of music to reach our depth and evoke senses. Anyway, Castle Party as always great. Many thanks to organizers and to my second pair of eyes. Waiting for the next edition. STAY DARK!
Other articles:
Newest comments: