Nocturnal Culture Night 2012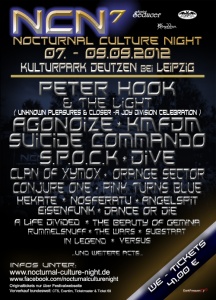 Reads: 11609 times
Artist:
Galleries:
Last topics on forum:
We packed warm clothes, equipment, sleeping bags, blankets and we set for another festival. This time NCN at Kulturpark Deutzen. Except of detours and heavy traffic we arrived on time. Just at the entrance we got thick book full of helpful descriptions of every artist. After receiving an accreditation and dealing with tent we went for a tour around this lovely place. Whole area was undoubtely astonishing. To get to Amphitheater, where performances took place, you had to cross the wonderful park alleys. Also delightful were finesse tunnels made of bushes, additionally enlighted by the lamps at night. They were leading to the pagan village, in the middle of which during festival was campfire and all the time folk music was played.

The first one to present at the stage was Merzfeld. Not only the mechanical riffs, keyboard background and construction of the songs reminds popular band. Also appearance and vocal is quite similar to Rammstein. Although they are one of many copies an audience appreciates them. Their attractiveness and professionalism can be seen in fact that their were asked by the audience and organizers for several special perfomances. They presented very well at NCN and completed "warming up" role perfectly. Despite of that, their performance could irritate Ramstein's devoted fans, because who would like to see the copy if there is an original? Undoubtely, because of that Merzfeld got mixed reviews.
Big applause got A Life Divided, German band performing electro- and synthrock music. Heavy, low-tuned guitars and drums served at a rapid pace, monumentally sounded keyboards together with pleasent vocal - this is how it can be simply described. You could feel huge experience of the musicians and vocalist perfectly encouraging the audience to have fun.
Such a compliment can't be said about the band from Great Britain, I think about Nosferatu. The vocalist, inspite of the fact that was writhing and fooling on the stage, tried to be really emotional and introvertic. Lack of contact with the audience only made this feeling stronger. Farther, it have to be admitted that they sounded original and it was worth to listen to them.
Well known to the German audience Eric Fish performed classical sea songs. No doubt he gained sympathy of the audience, that can be expressed by the huge applause and encores. Strong dose of shanties made the crowd singing and swinging like the ship on a sea wave.
The concert which delighted me the most during the first day was British KMFDM. Their music sounds of course fast and brutal and its characteristic feature is twisted technique. They gave impressive show of crazy erudition and virtuosic intrumental skills. Phenomenal Sasha's, that was looking at the audience like a hungry animal, confidence of moves was perfectly felt on the main stage; thereby they performed better than at M'era Luna. The band has big pack of devoted fans, so it's not a big suprise that Amphitheater was full of them on Friday evening. The crowd gone literally mad. And this should be the best recommendation for KMFDM.




The second day of the festival was opened by Opusculum, right after that performed Versus and then Fernthal. The last of them took the audience to an amazing trip to their own, private music world - simplicity hidden in their songs made them really catchy.
Also not bad were The Wars, Principle Valiente oraz Age If Heaven - but there were not many people at their performances. Then Eisenfunk appeared - band that managed to enliven the crowd and Fliehende Strume presenting the same level.
Nova Spaces didn't convince me. Photos of the band members, set as scenical background, looking like from the series "because the soup was too salty" were rather discouraging than incouraging. The musicians seemed to be immature as the artisans and not whole prepared to perform on the stage of this kind. However, music's value was totally lost among unnecessary tricks - I'm thinking about the child (incidentally nobody else was standing in front of the stage and what is more was painted the same way as musician), that was pulled to the stage to take some "souvenir photos" - like on zombie walk. Unfortunatelly, in this case it looked really strange.

The Beauty of Gemina was greeted enthusiastically and... it didn't disappoint. The musicians served interesting mix of dance music with rock sound, which let you relax and rest body and mind.
Sono's performance was a big suprise to us, because nobody was expecting this. Their appeared on the stage instead of Conjure One. From the beginning of the concert I knew it will be really energetic. The audience gathered in front of the stage caught it very quickly and started to dance and gambol.

The second day brought only few performances that were worth to mention, including the best concert of the entire festival. This title couldn't belong to anyone else than Suicide Comando. Even if they played the same repertoire as at this year's M'era Luna it sounded a lot better. For a long time I was under big impression of this performance. Everything was 100 % perfect. Johan Van Roy raving in front of the displayed visualizations is explosion of unbelievable energy. Of course, there were such a songs as "Bind Torture Kill", "Attention Whore", "Die Motherfucker Die" and "Hate Me". Power was bursting the stage into tiny pieces. As an encore S.C. played See you in hell.



For more than an hour amphitheater was breaking out with dancing and burning with fire. Late in the evening Dive played on the small stage and Peter Hook & The Light on the main. Both performences took even those who were tired and dazzled by S.C.'s magic.

Saturday performances ended Hekate - folk band presented from the good side. Anything was lacking, there wasn't too much of anything. Every piece was perfectly suited. It let to accept the concert as successful. Maybe Hekate's performance didn't bring any special suprises, but for sure it matched very well to the festival's wholeness.



The beginning of the last day brought big disappointment. Firstly, rather boring The Flood and then... Rummelsnuff? No, no and one more time no. Was enough to look - like Popeye after eating spinach. Failure. Strong electro-punk performed by the guy looking like a strongman (or maybe even bigger one) doing push-ups and sit-ups during his performance. To this day I can't understand the crowd on his concert (?). Maybe that offends band's fans, but won't write more about this here. After this dissapointments I was afraid of the next performance. Tying Tyffany was to me some kind of the question mark that quickly changed into the big, positive exclamation mark. The band almost swept away from the stage previous performers Cronos Titan (long story short: the cutting playback; deserved to be called the worst band) and boring Substaat. The great value of the band Tying Tyffany is for sure female vocal - strong and aggressive. Vocalist's charm attracts like a magnet and is a big advantage. For that reason, during the whole performance she was able to got attention of the male (but not only) part of the audience. Their debut album was released in 2005, it was created from the passion to dark industrial music, punk and vocalist's earlier experiences as a DJ on EBM stage. I liked the most piece "Show Me What You Got" and " Miracle". The band played catchy song "Drownin" from the latest album Dark Days, White Nights (2012) as well. When they were entering the stage it was really empty. As they were finishing I observed huge, warmed up crowd emanating with musical craziness.




Such an intensive fun in front of the stage couldn't offer even Angelspirit or Pink Turns Blue playing later!
[photo:3,433,;angelspit]
Genre of the music played by In Legend can be described as piano metal. Creative mix of rhytms forcing to dance and metal energy didn't let me stand in one point for almost entire show. Everyone has a great fun. Each was skipping, waving his hair (if he's got:]) and stamping, these who know lyrics were roaring loudly together with guys from the stage. Oh, you could only envy this long, waving hair. What a pity that they didn't play on the main stage.



Clan of Xymox is Dutch band that doesn't need to be introduced. Synth melodies and characteristic vocalist's voice were getting shivers on the skin as always. The audience once was swaying to the rhytm and instantly stopped paralyzed. Some fans ecstasy were reaching the limits. After atmospheric performance we heard applause and delighted shouts.



Agonize belongs to this kind of the band that makes impression right at the moment of entering the stage. The singer is devil himself. Requisites that he used during creating music show and gallons of poured out synthetic blood caused consternation. The audience divided into two groups: first, delighted by vocalist's strong voice and his magnetism showed on the stage. They gave the power over their all senses to the performing musicians. Second group... was running away... It was something to look at ;)



As we know Spock from Star Trek is an alien: that was also the name of Swedish synth-electro-industrial project which was the star of the night closing festival. S.P.O.C.K (Star Pilot On Channel K) made me laughing once they appeared on the stage. Three Grandparents with big smile on their faces, wearing something looking like spacesuits - musically not my pair of shoes and there were some falses - daub at first glance. But after some time charismatic vocalist convinced me to himself by dancing and playing a little auto-ironically with his image. He was able to calm down the crowd with one gesture. There were some jokes, absolutely irrelevant inclusions, but it was really funny. The audience was totally crazy. Big advantage were the covers of well known songs played by the band to which everyone could have a great fun while drinking good beer.



We didn't stay to the end of their performance. We decided to go back to Poland. Next to the car we were looking at the stars and listening to the last sounds coming from the stage. We weren't hurrying - maybe because of that we notticed burning fireworks finishing the whole festival. It all looked wonderful! Our visit in this place made us happy for the next few days.
Maybe we will appear here again, at the next edition.

Pages:
Other articles:
Newest comments: