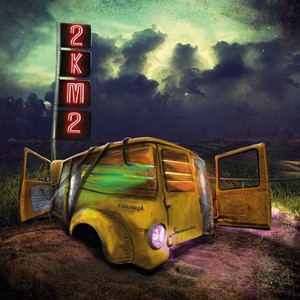 Reads: 1885 times
85%
On 24th September 2014 was released debut album from British 2KM2 band "It Was Tough". Adrian Breakspear mixed it at Bank Studios. The band consists of Chris: guitars, bass, drums, programming; Mike: vocals, bass, keyboards, programming; Ed: drums. Three men from London spent six years in the studio and after hearing the whole I am sure that this was not a waste of time.
The album opens with dynamic, abundance of sounds and strong vocal "What's Coming?". Title of the first composition captures listener's curiosity, what exactly can you expect? What we will hear? What will happen?
And there is happening a lot. All tracks provide us with opulence of well-harmonized sounds. Throughout the entire album we are guided by strong, charismatic, nice to the ear and a very male voice of Mike. Clearly outlined drums and ubiquitous guitars with properly audible and pleasant to the ear bass fill all the rest of space. It should be admitted that all the songs end in a thoughtful way. And so it is on the entire record. Rock aggressiveness soothe keyboards, which were very successfully introduced in "Rescue Me" track and "Dark Brown Bin" ballad.
A mystery and a great surprise for me is the penultimate track i.e. "Love Store". Kept in the convention of 70's, if not in an earlier decade. It is probably a pastiche. For me, I do not know why, it associates with the Muppet Show and Gonzo alien chasing for chickens. You have to hear that to try to understand.
Album finishes with the longest on the release "Believe".
My favorite one is dynamic at the beginning, with greatly sung chorus supported by daring guitars, and well-muted at the end "Clouds'n Storms".
Music material is prepared and carried out very well. Ten songs in unique and leaving no doubts way refer to the pop of 80's. The band fully takes on musical inspirations from that period. What I have spotted are the echoes of bands such as Spandau Ballet, Thompson Twins ("Rescue Me"), but most of all Duran Duran. Although fans of groups like Depeche Mode, Queen, Awolnation, OMD, INXS, The Cure, Hurts, New Order, Placebo, U2, Peter Murphy, Phil Collins, Linking Park, White Lies, Billy Idol will also find something for themselves. Undoubtedly gentlemen know how to play. To appreciate values of music and affluence of sounds coming from tracks on "It Was Tough" it is worth listening to it with a decent equipment. It is really worth it, although I have to admit that I needed few times to see and fully appreciate aforementioned advantages.
Tracklist:
01. What's Coming?
02. Dancing in the Drain
03. I can move the mountains
04. Rescue Me
05. Devil's Dance
06. Dark Brown Bin
07. Clouds'n'Storms
08. She smokes a lot
09. Love Store
10. Believe
Newest comments: