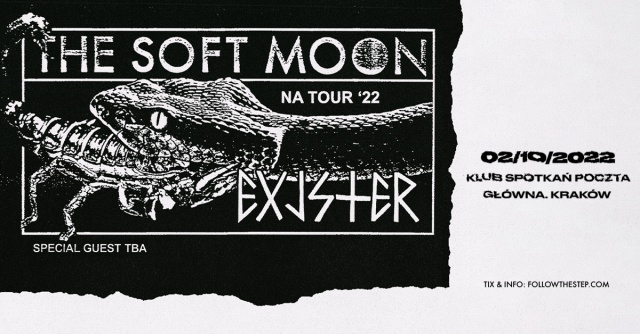 The Soft Moon tour in Poland about to start!
2022-09-27
(
Events
)
The autumn repertoire of concerts offered by Follow The Step is diverse - also fans of harder music will find something for themselves. At the turn of September and October, The Soft Moon will go on tour in Poland!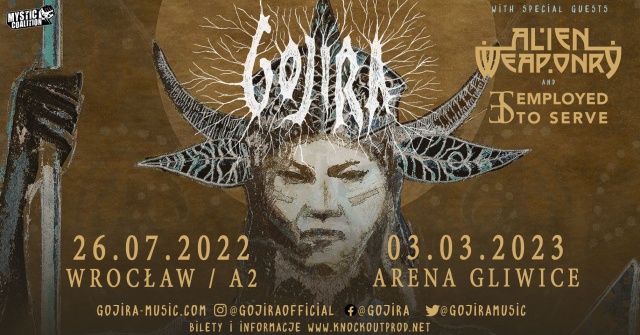 Gojira + Alien Weaponry + Employed To Serve / 26.07.2022 / Wrocław A2
2022-07-18
(
Events
)
Gojira is coming back to Poland with their newest album "Fortitude" (2021). The French band will perform @ A2 club, Wrocław on July, the 26th 2022 and then on March 3rd at Arena Gliwice. Their supporting acts will be Alien Weaponry and Employed To Serve.
18:00 - Doors
18:55-19:25 - Employed To Serve
19:45-20:30 - Alien Weaponry
21:00-... - Gojira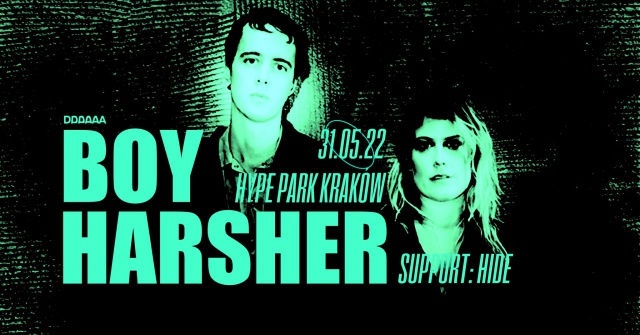 BOY HARSHER + Hide | 31.05.22 | Hype Park, Cracow
2022-05-16
(
Events
)
Boy Harsher will appear in Warsaw and Krakow to promote his latest album "The Runner (Original Soundtrack)", which was released in January this year. The album is the sound equivalent of the film of the same title that Boy Harsher made during the pandemic. It is a horror movie mixed with a meta-document illustrating the process of making the album. It is worth recalling here that the members of the team met during film studies.
The duo, created by Jae Matthews and Augustus Miller, is currently one of the most popular representatives of the minimal synth trend, although they describe their music simply as "dark electronics".
Boy Harsher was founded in 2013 in Northampton, Massachusetts, USA and was first known as Teen Dreamz. In 2014, the first EP of the duo "Lesser Man" was released, and in 2016, the first album entitled "Yr Body is Nothing", supplemented with the EP "Country Girl" in 2017 and the album "Careful" in 2019.
The evening will be complemented by a performance by the Chicago duo Hide.
We recommend purchasing tickets only at authorized points of sale.
By purchasing tickets from third parties, you are exposing yourself to fraud.
People who are over 15 on the day of the concert (but under 18) may enter the concert with the written consent of their parents / legal guardians. People who on the day of the concert are under 15 years of age may enter the concert only under the supervision of an adult indicated by their parents / legal guardians and with their written consent. The consent template can be downloaded here: https://tinyurl.com/formularz-zgoda
REGULATIONS: https://tinyurl.com/regulamin-DA
31.05.22 HYPE PARK, Cracow ul. Kamienna 12
18:00 DOORS
20:00 START
TIX:
Biletomat: tinyurl.com/boyharsherKRK
GoOut: goout.net/pl/bilety/boy-harsher+hide/enhn/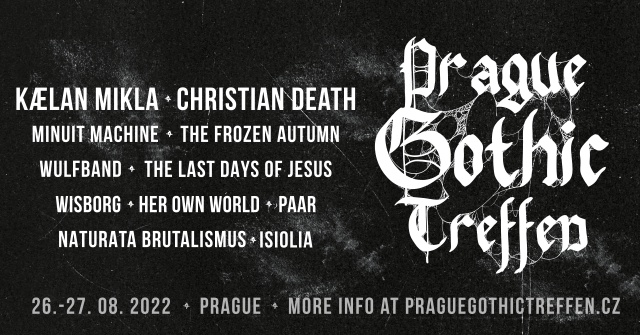 XVII PRAGUE GOTHIC TREFFEN - complete lineup
2022-04-20
(
Events
)
On Friday 26th and Saturday 27th August, the biggest gothic gathering in Central Europe will return to Prague. It will feature 11 bands (including scene mainstays Christian Death and The Frozen Autumn or contemporary cults Kælan Mikla or Minuit Machine), DJs and the traditional gothic picnic.
Who would have thought seventeen years ago that Prague Gothic Treffen would one day grow into the biggest event of its kind in Central Europe? That it would host the very bands we then used to play from Winamp for a few gothic enthusiasts with religious reverence. But it did. In fact, PGT started attracting so many people that after a few years it is moving from our beloved Futurum to a bigger club.
In the two inter-connected venues, Fuchs 2 and Bike Jesus, we'll once again be able to enjoy two concurrent stages covering everything from traditional goth to the hottest trends in the dark scene in terms of genre. What to look forward to?
line-up Kælan Mikla (ISL), Christian Death (USA), The Frozen Autumn (IT), Minuit Machine (FR), Wulfband (SE), The Last Days Of Jesus (SK), Wisborg (DE), Her Own World (PL), Naturata Brutalismus (EC/DE), Paar (DE), Isiolia (CZ).
Entry: 690 Kč + charges (GoOut.cz)/ 790 Kč (door).
Trailer: https://www.youtube.com/watch?v=03TdSAQkC7U&feature=emb_title
FB Event: https://fb.me/e/MHlhWiVv
Presale: https://goout.net/en/xvii-prague-gothic-treffen/szciuwr/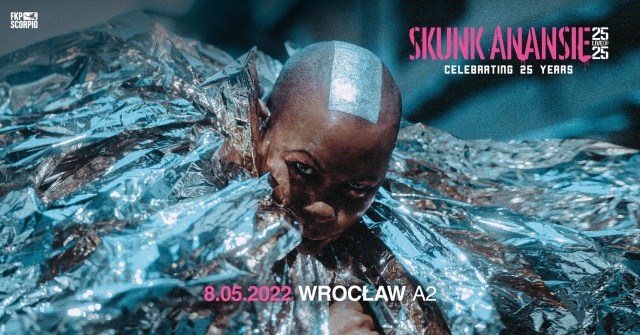 Skunk Anansie - Celebrating 25 Years, CKA2, Wrocław
2022-04-03
(
Events
)
Following the release of their 25LIVE @ 25 album in 2019 in celebration of their 25th anniversary, British rock icons Skunk Anansie have announced a new European tour date. Due to the huge interest in tickets, the band confirmed some additional concerts, incl. at the famous 02 Academy Brixton in London, as well as in Łódź and Kraków.
Over the past 25 years, Skunk Anansie has gained international fame as one of the greatest rock bands of all time, and Skin herself has become one of the world's most iconic female artists as well as an inspirational role model, activist, pioneer for women in the music industry, model and the muse of fashion designers.
Last year, Skunk Anansie introduced fans to a completely new version of their music with the brilliant song "What You Do For Love". The song appeared on BBC Radio 2 and immediately won the hearts of the fans. Then, at the beginning of this year, we got to know the crazy riff "This Means War", which was accompanied by an amazing video recorded during their last performance in Poland at the Pol'and'Rock festival for 800,000 people.
www.skunkanansie.com
In a world that is seemingly tending to tear apart, Never Not Nothing [NNN] is a band whose vibe is focused on putting it all back together. Positive nihilistic sound cocktail. At the same time, the unwavering optimism of the counterculture love club of the 1960s, the shot of the acrimonious social distortion of punk spitting. A 1977 joke, an outbreak of 100% Acid House-resistant hedonism, all served in a glass filled to the brim with the hope and despair of tomorrow's future.
www.nevernotnothing.com
Venue: CKA2, Wrocław. Date: 08.05.22
gates opening: 19:00
start: 20:00
www.fkpscorpio.pl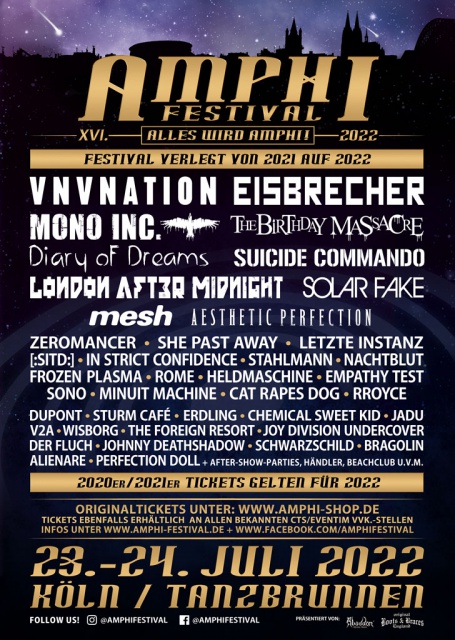 Amphi Festival 2022 - 23-24.07.2022
2022-03-07
(
Events
)
Dear Amphi Family,
before we get into the nitty-gritty we'd like to express our sincere gratitude for a little moment first:
YOU ARE ABSOLUTELY PHENOMENAL!!!
Thank you for the incredible amount of positive responses, heartening words and all the positive energy you sent us. The decision to postpone the Amphi Festival from this year to 23. & 24.07.2022 was far from an easy one and we feel absolutely humbled to have such a great community supporting us - actually the best we could ever imagine!
As promised, today's announcement deals about the line-up for 2022. Again we've put our shoulders to the wheel, to preserve the current (2020/2021) line-up for next year. In the vast majority of the cases we succeed again.
Only with OOMPH! and SCARLET DORN we encountered two bands this time, for whom scheduling reasons prevented them from moving with us, so they ultimately had to cancel their participation. In return we are excited to announce two very powerful replacements for 2022. MONO INC. and ERDLING will step in for their fellow colleagues in worthy manner.
With all that settled, Amphi will move into 2022 with the following full line-up:
Already confirmed artists and bands for the Amphi Festival 2022, sorted by day.
Saturday, 23rd of July 2022
ALIENARE
BRAGOLIN
CHEMICAL SWEET KID
DER FLUCH
EMPATHY TEST
FROZEN PLASMA
JOY DIVISION UNDERCOVER
LETZTE INSTANZ
MESH
MINUIT MACHINE
MONO INC.
NACHTBLUT
ROME
SHE PAST AWAY
[:SITD:]
SOLAR FAKE
STAHLMANN
THE BIRTHDAY MASSACRE
THE FOREIGN RESORT
VNV NATION
Sunday, 24th of July 2022
AESTHETIC PERFECTION
CAT RAPES DOG
DIARY OF DREAMS
DUPONT
EISBRECHER
ERDLING
HELDMASCHINE
IN STRICT CONFIDENCE
JADU
JOHNNY DEATHSHADOW
LONDON AFTER MIDNIGHT
PERFECTION DOLL
RROYCE
SAMSAS TRAUM
SCHWARZSCHILD
SONO
STURM CAFé
SUICIDE COMMANDO
V2A
WISBORG
Times
Doors open: 10 am
Concerts start: 11 am daily
On top of that let's have a quick look at our additional events for next year. CALL THE SHIP TO PORT at MS RheinEnergie continues with its original line-up, featuring FORCED TO MODE, WELLE: ERDBALL and S.P.O.C.K and the OFFICAL AMPHI-PRE-PARTY on Friday night at the Theater remains unaltered, too, including the DJs RONAN HARRIS, SVEN FRIEDRICH, ELVIS and MSTH!
All in all good news! And the coolest thing: if you already own your ticket(s) for 2020 or 2021, they automatically remain valid without any further ado!
Now let's just quickly find a new home for the remaining Amphi tickets, before we get to celebrate this festival together, that shall unleash not double but triple the party! As usual tickets are available at www.amphi-shop.de or via CTS/EVENTIM, including their local box offices. The remaining ticket contingent is limited - we recommend you have at it sooner rather than later!
More:
https://www.amphi-festival.de