AlterRed - Mind-Forged Manacles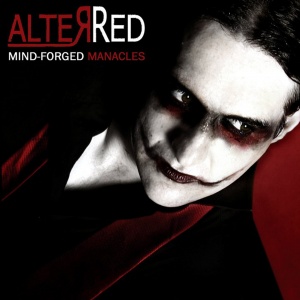 Reads: 698 times
This is a strange album. Even a very strange one. For a long time I could not make myself to hear it for reasons depending and independent from me. Luckily I managed finally, and here it is before you: AlterRed - Mind-Forged Manacles.
What greets us is "Like April Fools'. And on the one hand it is an ear –catching, but on the other side, the impression is that the accompaniment is too ascetic, and more sounds could be needed, more of a proverbial "fuck" which would make the track a better one. Because it is a tuneful, and the vocal does not irritate, in other words, it has the potential. It is followed by "Losing Your Shine", actually as it begins, so it ends, and again it is a bit "vague". It gets more interesting with the third track, "Sex, Death or Money," which has a quite nice intro and you can say, it can be remembered, but it suffers from a condition, which I see in all the tracks, namely the lack of a stronger accent, it is too much "fuzzy". And so passes the entire record. Primary attention is being replaced by a very horrible fatigue. This material seems bland and unremarkable. While the vocal do not disturb at first, then after a while, and though it is correct, it starts to work on your nerves. Throughout the album I was hoping that maybe in the end something will start to happen. But I have not experienced... Quite interesting, comparing to the others, seems to be the song "Emily" and maybe "Fleshbind" where there are stronger beats that pull out from a general apathy, that this album causes. It is for me rarely, that I am not able to get through the whole album, but in the case of the "Mind-Forged Manacles", this is how it looked. Music hidden behind the vocal, lack of energy, lack of climate.
I do not know if I can recommend this CD to anyone. More fascinating
it seemed to me to listen to the sounds of a drill outside the window, than going through this material. For a long time I have not listened to the album so monotonous, boring and weak. If you wish to hear it, then you do this entirely at your own risk.
Tracklist:

01 Like April Fools
02 Losing Your Shine
03 Sex, Death Or Money
04 Amphetamine Chic
05 Emily
06 The Patient
07 Fleshbind
08 The Drug Named God
09 Broken Glass
10 One Of My Mornings
11 Nothing Less Than Violence
Other articles:
Newest comments: