Ashbury Heights - The Looking Glass Society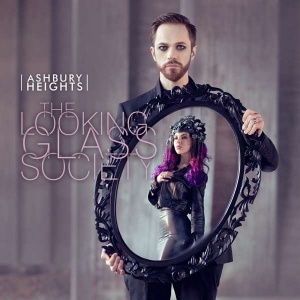 Reads: 4651 times
95%
Artist:
Galleries:
CDs catalogue:
For the third album from Swedish Ashbury Heights we waited far too long. After five years of this project's suspension in musical activities, Anders Hagström came back not only with an abundant beard on his face, greater maturity and musical awareness, but also with so far the best release. "The Looking Glass Society" can be welcomed only in one way: as the love of your life, the lover returning after years of separation.
Hagström's partner (now third one) in this perfect crime of sound is a performer and alternative model Tea F. Thimé, having no experience as a singer. This fact could bother, however, although Tea has not dealt with opera as her predecessor, is doing well in this new role, and as a co-author of texts adds something from herself to the new band's stylistics, which differs from previous known project's incarnations - at the same time it is an expansion, far more sophisticated and rich, as distinct form, which is surprising with its consistency. Because what defines "The Looking Glass Society" at all levels, from image, lyrics to music, finally, is - according to one of the album's tracks - phantasmagoria, even if derived from real dilemmas and reflections. Among topics covered on the album appear primarily threads of love ("Piano"), protests, when it comes to the supposed need to adjust to the rest of society ("Glow"), personal issues with story often dressed in unusual visions ("Phantasmagoria ").
Juicy electronics provides the sound a certain dose of sweetness. Anders uses the full dancefloor potential of his music, while maintaining its introversional character with a touch of misanthropy; at the same time rich orchestrations with use of the piano, strings and striking idiofons give magnetic synth-pop nobility. This mix make unreal the reality surrounding the listener, giving it a taste of almost Victorian tales, although it is sometimes accompanied by deep, club bass.
Even opening the album "Masque" (my personal favorite) shows fully the development that has taken place in the project's works. There is no room for even one additional note, sounds almost flow from all available space, but with no impression of an overflow – but filling. Pulsating beat introduces into a trance, and light keyboards lift to the world combined with the reality with just a delicate thread. Both effects enhance the vocal. Here it is worth to mention that the leader's singing has become more charismatic, mesmerizing, yet full of energy. In "Masque", as in many other compositions, Tea takes part only in the chorus, which does not mean she was not given a greater autonomy. The energetic "Leave Off at Seven," in which bells and cymbals counterbalance the dance beat, she plays the lead role in "Hollow" equally with Anders. And although in this combination I remain primarily Hagström's fan, it cannot be denied that he had made the right choice when it comes to the new singer, whose timbre of voice is perfectly integrated with the flamboyant glamor of the new Ashbury Heights.
Without a doubt the mark of "The Looking Glass Society" will remain "Phantasmagoria", a song-synthesis. If you will not be grabbed by a fairy-tale feature that gives string parties and bells, pulsating motorics of drum machine and bittersweet synthesizers, it is probably because just in your close neighborhood there was a massive explosion of dynamite. It should be noted that Ashbury Heights' talent to create poetic lyrics with unique rhythm (as in perfect Poe's lyric), are revealed, among others, precisely in "Masque" and "Phantasmagoria".
As a kind of masterpiece I consider "Hollow", composition that from the beginning to the end is melancholic, without unnecessary destruction of grief resulting from the first low notes of harpsichord and sounds of strings, kept later also by layers of hypnotic electro. However, in "Piano" there is no longer consequence in creating the mood, but more optimistic content of the track allows it.
Do not forget also about strings in "Glow", interesting effects apparently delaying the rhythm in "Heart of Darkness" or another pearl, "Gravitational Man," the purest electro representative on the album. From synth-pop straight of the 80's Anders draws in "Ghost Spider Mother" (those wistful synthesizers!) and energetic "The Number 22". Almost synth-rock "November Corrosion" brings associations with... The Sisters of Mercy, perhaps only with a higher than usual dose of electronics.
Moments of respite from crazy dance? As such could be considered fairytale-like, just as "Phantasmagoria", "Starlight" kept at a moderate pace.
We are used to the caterpillars that transform into butterflies. However, Ashbury Heights began in 2010 to pupate for the second time – from imago to something absolutely new. We can already admire the effect - "The Looking Glass Society" is one of the best things that happened in the alternative electronic scene in recent years.
Tracklist:
01. Masque
02. Heart Of Darkness
03. Glow
04. Hollow
05. Phantasmagoria
06. Piano
07. Leave Off At Seven
08. The Number 22
09. Gravitational Man
10. Ghost Spirit Mother
11. Starlight
12. November Corrosion
Other articles:
Newest comments: