Attrition - Unravelling of Angels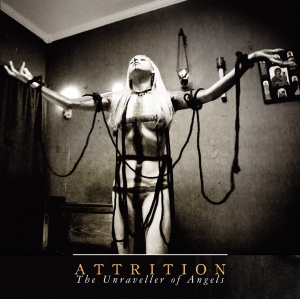 Reads: 1932 times
85%
Galleries:
From the ominous, scattered piano sounds of the opening track through to disturbing swirling cacophony of its climax, The Unravelling of Angels is a fascinating chronicle of a perplexing mindset of its creator Martin Bowes. His seminal act Attrition has been nurturing the Gothic and industrial scene for over 30 years and this newest effort, a long anticipated and welcome return to realms of musical creativity that are as haunting as they can be unforgiving, is sure to remind all listeners why. Welcome all of you brave souls, to the darkwave fury of Britain's masters of sonic nightmares.
Weight and overwhelming intensity of the new material is unleashed upon the audience without remorse and 'Karma Mechanic' absorbs the remnants of breakbeat structure into the melodic, pulsating tapestry of guitars, fluctuating synths and the alarming, abrupt pitch of Mona Mur's guest vocals. Compositions' paradoxical nature continues with record's first single 'Narcissist' that layers complex and dense elements of frightening gloom atop a dynamic electro current. With female cries and whispers interrupting the immediate flow of the track, Bowes achieves a rare connection with the audience, one that is sustained through immediate and palpable sense of danger and horror that looms in the darkness of Attrition's oppressive style.
Moments of beauty are never far away and from those impenetrable soundscapes of album's first half, inhabited by the apparent if deceiving aural chaos, emerge tracks like 'One Horse Rider' where more approachable tones are achieved through intoxicating merger of lush violins, sensually considerate beats and hypnotic voices. The Unravelling of Angels sustains the alchemy of the most shadowy of gothic methods, even when they are enriched by the unpredictable industrial ingredient that dominates the cacophonous conclusion of otherwise melancholy 'Snakepit' and slowly, towards the climax of the record, sets the clear direction for Attrition's latest work.
On 'Suicide Engineer' melodies begin to swirl so dizzyingly that it is not until the arrival of powerful percussion that listener is able to grasp song's tortuous structure. Heightened noise derived sound effects that lend the closing 'The Internal Narrator' its grotesquely twisted atmosphere help send off the album with a fitting, increasingly disorienting coda.
Rarely are the journeys as enjoyable as this one whilst remaining perturbing and nihilistic. The Unravelling of Angels might be Attrition's sixteenth release but the music remains intoxicating and in equal parts fuels the hellish visions of ones worst dreams and the harmonious glamour of the sweet, sweet fantasies.
Tracklist:
01. The Unraveller
02. Karma Mechanic
03. Narcissist
04. Histrionic!
05. One Horse Rider
06. Snakepit
07. Suicide Engineer
08. The Causal Agent
09. Hollow Latitudes
10. The Internal Narrator
Other articles:
Newest comments: