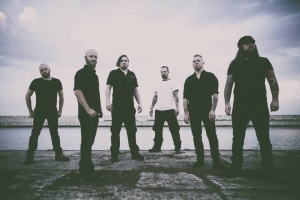 Reads: 2480 times
Artist:
Galleries:
On 8th November in Cracow's Fabryka the concert of
Blindead
was taking place. Despite the weather which did not encourage to leave the house it was worth to go since the energy and power of the gig could raise the dead.
As the first on the stage the musicians from
Moanaa
promoting currently their latest release, album Descent. They started shyly, slowly creating atmosphere and after a while they burst out with energy. The vocalist appears from the darkness and paralyses with deep, strong voice. Soon after, he is joined by the second vocalist and the dance of two voices begins. They fully fulfil the soundscape. The light, sometimes very bright, harmonises with music as well as visualisations in the background and on the side walls. It gives total, massive effect. The last song sounds almost majestically.
Short break and the stage belongs to the second support,
Moaft
. This time, to keep the balance, there is no vocalist. I would say the guitar has this function to lead, dictate and rule. Amazing power and energy.
And finally, the star of the evening,
Blindead
and awesome, magic concert, which took the gathered into completely different level of consciousness and experience. Enchanted audience absorbed the sounds from the stage in a hypnotic way. Blindead create unearthly atmosphere, large soundscapes which simultaneously evoke introvert mood intensified by the big eye which appeared behind the band and on the side walls. It seemed to look into the darkest parts of your soul. The eye as well as other monochromatic visualisations strengthened the psychedelic atmosphere which was also magnified by the light cutting the dense air and changing its shape. The concert starts with "Phaze I: Abyss" and that's perfectly enough to completely lose the contact with reality. The saxophone in the hands of Rafał Waszkiewicz adds some exotic elements, intrigues so that we fall into the unknown. Then "S1" i "E5". The band is currently promoting their album "Live at Radio Gdańsk" so some tracks were played in acoustic version sitting, plugged apparently but still. During "My New Playground Became" and "Dark & Gray" the impression of total hypnosis was still present, it was simply impossible to resist. There were some guests on the stage as well. Apart from above mentioned Rafał Waszkiewicz (Merkabah), also Michał Banasik and Michał Zimorski. Then "B6", "A7bsence" "Self-consciousness Is Desire and" "So,It Feels Like Misunderstanding When", "Affliction XXVII II MMIX"dragged the audience deeper and deeper into this captivating music world, leading through its meanders. And that's it. And suddenly it turned out that it's over. The feeling of being awaken from disturbing but fascinating dream. It was worth it. I recommend. I say Thank you.
Other articles:
Newest comments: