Christian Death announces forthcoming European Tour!
Galleries:
Event:
Archive: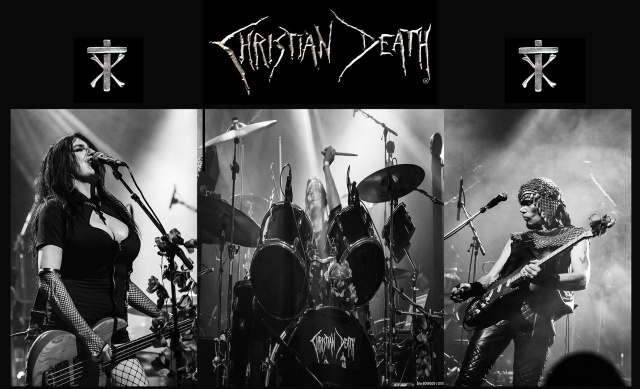 Gothic/Death Rock legends CHRISTIAN DEATH are very pleased to announce their very first LIVE VIDEO CHAT and premiere of their new video, "FORGIVEN."
Furthermore, CHRISTIAN DEATH will be embarking on a European tour beginning on May 22 and ending on June 22.
Tues. May 21: Stoke-on-Trent, UK / @Underground
Wed. May 22: Plymouth, UK / @The Junction
Fri. May 24: Leeds / @Temple of Boom
Sat. May 25: London, UK / @Underworld
Sun. May 26: Manchester, UK / @Rebellion
Wed. May 29: Zagreb, CRO / @Boogaloo
Thu. May 30: Padova, IT / @summer festivals-
Fri. May 31: Torino, IT / @Padiglione 14-
Sat. June 1: Roma, IT / @Traffic
Sun June 2: Pomigliano D'Arco, IT / @First Floor Club
Mon. June 3: Milano, IT / @Soundclub -
Wed. June 5: Frankfurt, GE / @The Cave
Thur. June 6: Oberhausen, GE / @Kultempel 6
Fri. June 7: Hamburg, GE / @Logo
Sat. June 8: Kassel, GE / @Goldgrube
Sun. June 9: Leipzig, GE / @Wave Gothic Treffen, Festival
Mon. June 10: Osnabruck, GE / @Works
Wed. June 12: Lyon, FR / @Rock'n Eat live
Thur. June 13: Paris, FR /@Room tba
Fri. June 14: Rotterdam, NL / @Baroeg
Sat. June 15: Leige, BE / @Le Garage - Creative Music
Sun. June 16: Ernegem, BE / @B52 Rock Club
Fri. June 21: Wroclaw, PL / @ Liverpool
Sat. June 22: Warszawa, PL / @ Poglos
Newest comments: