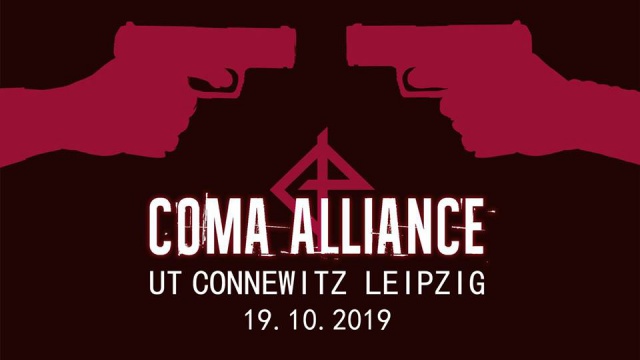 Reads: 3699 times
Artist:
Galleries:
CDs catalogue:
The magic of concerts in small clubs... I like festivals, but they are much less personal than the events organized in cozy, atmospheric places, especially if the stars of the evening play without any supporting bands and there is no limit on the amount of time they can spend with their audience. It is then certain that we all meet only to enjoy each artist's music, without the time limits imposed by the festival (usually tight) line-up. It is easier then to build a unique, personal atmosphere, exceptional contact with the audience that came on the evening to meet only this one, chosen, usually favorite musician. The climate of such events is absolutely unique and so was October 19 in Leipzig at UT Connewitz.
Despite the fact that I have been to Leipzig many times, be it at concerts or at Wave Gotik Treffen I have never been to this club before, and it is absolutely extraordinary. UT Connewitz is a unique place, it gives the impression of an old cinema or theater (which apparently it is), has shabby walls, an old balcony and columns, and yet, paradoxically, just such a somewhat theatrical atmosphere was perfectly emphasized by the Coma Alliance concert. Coma Alliance perfectly combine several elements – their own artistic element (from the only album released so far - "Weapon of Choice") and their own projects – Diary of Dreams and Diorama.
It's hard not to notice that the Hates & Wendt duo is a perfect combination – joy, energy, rock blast and charisma paired with moderation, precision, distance, irony and sensitivity. A beautiful mix that has always worked, but only now has found complete fulfillment in the CA project. The evening began around 8 p.m., some time before the concert you could hear impatient calls that grew as fans noticed the band at the gallery. It began traditionally with the instrumental "Unusual", and then we already got a full cross-section of wonderful songs from the repertoire of Coma Alliance, Diorama and of course Diary of Dreams. We heard most of the songs from "Weapon of Choice", but also the wonderful, flagship songs "Traumtanzer", "Her liquid arms", "Why" and "AmoK".
Another thing is the wonderful contact with the audience the band establsihed – jokes, stories, anecdotes... Adrian at some point joked that he must now wear glasses, but, for example, he also called Leipzig his second heimat... It was apparent the two gentlemen have an amazing bond and it was incredible to observe such a great agreement on stage. It's really fantastic, especially if you think two perfectionists are working together, then watching the show is pure pleasure. Especially if, as has already been said, there is no rigid time frame – the concert itself was long plus a few encore, it lengthened the concert to well after 10 p.m. In addition to the magic of great music, it's hard not to mention the wonderful, atmospheric interior, the lights and the amazing, wonderful audience – the club was packed to its limit and just pure acceptance, admiration and love were directed towards the stage. Great vibe!
It's hard to say why some bands evoke such strong feelings and others don't... whether it's a matter of specific choice of music, words, artists charisma, history shared with fans, being part of their private mythology, history... one thing is certain... Adrian Hates and Torben Wendt are masters of reaching people's hearts – a powerful capital, especially at times when hearts close in fear of what is happening in the world. Thanks for the wonderful energy exchange, a dose of beauty, sensitivity, magic and a good fun. You are incredible! Thank you
Setlist:
Unusual
Royd
decipher me
Why
Sepia
AmoK
Miracle
Starfruit
Trembler
Finsta
a dark embrace
Kein Mord
dark vibes
Coma Supreme
Butterfly: Dance!
CA2
Trip Job
Buttons
HLA
Traumtänzer
She and her darkness
Other articles:
Newest comments: