Contaminated Intelligence - Mental Fractures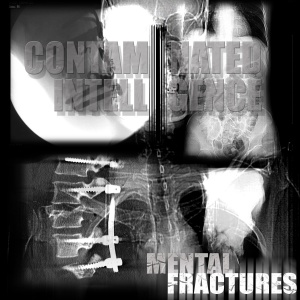 Reads: 1757 times
60%
Music which is embedded in the right context it is easier to understand, but - regardless whether it is in our nature to sympathize or not – the music should defend itself. We can sympathize with the author, but do not feel pity about his music. So how presents EP of the industrial project Contaminated Intelligence, which leader decided to tell us a story of his serious injury he suffered while snowboarding?
"Mental Fractures" are five instrumental compositions (thank God!) that are supposed to represent different stages from the accident itself, to the return to health. Vocals - this time are absent, perhaps except a small filtered sample in the background ("Recovery") - which were simply irritating on "Worn Teeth", therefore, they do not interfere with the reception of the music, allowing to derive more pleasure from intercourse with Contaminated Intelligence sounds. Anyway, also on the "TRACKS" compilation the project proved that without forcing to shout phrases into the microphone, the compositions gain on.
To advantages of "Mental Fractures" you may include a slightly psychedelic atmosphere resulting from the experimental sound, somewhat similar to the early works of Weena Morloch and minimalism that reminiscents works of Christian Morgenstern (Visco Space). These features give the songs mutual consistency, however, you can easily split them: "CRUNCH!" and "Rupture Shatter", represent the pain and pharmacological wandering between the worlds of reality and dream, based on drum'n'bass rhythm, which cause anxiety, while both parts of "Recovery" are more orderly kept, cheerful, and d'n'b elements add them energy; "Healing" is based on ambient textures and brings finally soothing effect. While all compositions clearly reflect the effort and emotional states that accompany personal history of Jourdan Turner: uncertainty, anxiety or even gratitude.
"Mental Fractures" is a release created and produced decently, but it is difficult to expect that it will last in the memory for longer. The snowboarding has inscribed risk, just as giving own works under rating of the audience, although the rate, of course, is different. And although in both cases Turner is so far unscathed, it is hard to resist the impression that this material is treated more as a form of a therapy, and that recipient is of secondary importance, which is no surprise. For fans of downtempo and d'n'b experiments.
Tracklist:
01. CRUNCH!
02. Rupture Shatter
03. Recovery
04. Recovery Pt. 2
05. Healing
Newest comments: