Dark AmbienTropical Night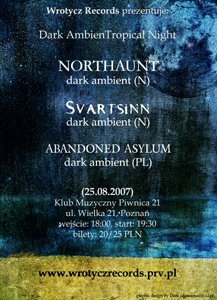 Reads: 3973 times
Artist:
Galleries:
Events signed by Wrotycz Records remain engraved in my memory for long - and these are of course nice memories; this time it won't be any different. Dark AmbienTropical Night, as well as other events organized by this label, took place in an old club Piwnica 21.
With a little 10 minute delay I was treated to a video projection warm-up called "
r.A.S.H.n.k.a-RA
" made by a Finnish duet
Halo Manash
, thanks to which we could witness a specific ritual. The project created an extraordinary ethereal climate using all kinds of musical instruments, both conventional and home-made – it was hard to name them and figure out how it was possible that these devices made such fantastic sounds that left people transfixed.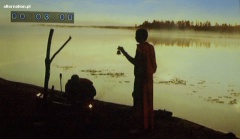 After the projection the scene was taken by the youngest, one-person project from Poland. It was dark-ambient-industrial
Abandoned Asylum
, which was formed at the turn of years 2002/2003. It presented material that will soon be released on the debut album. During the show, however, I had an impression that most of the works were copied from Raison D'etre compositions or were inspired by them to the extend that they sounded almost the same. On the one hand, it's good, because Raison is classic in itself, but on the other hand the point is to create something oneself. I won't complain though, because as for a young project the concert went quite well and I would only like to suggest that the video projection should be more dynamic as during the concert it consisted only from slide shows and it soon became boring.
The next one-person project to come on the stage was Norwegian
Svartsinn
. As his forerunner, Jan Roger Pettersen also presented dark-ambient-industrial sound. In his visualization he used some old horror which reflected heavy and dark climate created by Svartsinn's music to the point that nothing was visible on the screen ;). It should not be considered as inconvenience though, as this is a feature of Jan Pettersen's music, which is supposed to be sad, deep and depressive. In my opinion, the atmosphere on the show was built perfectly well, which was proved by the audience's total attention and concentration. As for me the only big disadvantage of the concert was the fact that it could have lasted longer; it ended so suddenly that it seemed as if the audiotape had broken and that was the end, there wasn't going be anything more; it destroyed the atmosphere a bit.
The star of the whole event was, as it was expected, another one-person formation from Norway hidden under the name of
Northaunt
. This time dark – industrial sound was enriched by atmospheric, almost neo-folk element in the form of elegant interweave of guitars and all outdoors sounds that Hærleif Langas has plenty in Norway. He added vision to the sound and, by creating inseparable symbiosis, Northaunt "imprisoned" the audience in some kind of a trans. Sensations were incredible and, as it often happens with this music genre, hard to describe; people who haven't experienced the poetic music of Hærleif Langas personally, will never understand what I am talking about. Notrthaunt visited Poland for the first time but I hope it will not be the last.
And so it was another interesting event presented to us by native Wrotycz Records. Now we can only wait for other concerts that are to be listened to and seen in the near future…
www.abandonedasylum.thonar-records.de
www.svartsinn.com
www.northaunt.com
Pages:
Other articles:
Newest comments: