Dark Fabrikk: CH District + RSM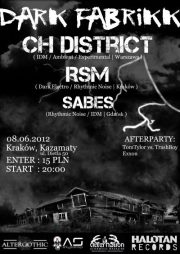 Reads: 3222 times
Galleries:
Last topics on forum:
Cracow has been bravely supporting the developement of our Polish dark independent scene (on condition that it exists, of course). Within the first edition (and do we hope not the last one) of a series of parties entitled Dark Fabrikk, we had an opportunity to see and hear two Polish projects: CH District, acknowledged both in the fatherland and abroad, and quite promising - RSM.
The party took place at Kazamaty, which has been hosting similar events for a while now. According to the schedule, Sabes, a representative of the heavier version of electronica from the North, was supposed to perform, however due to certain problems which the organizer holds no responsibilty for, the artist did not arrive in Cracow, after all. Nonetheless, the process of anticipation for the other artists was recompensated by a couple of DJ sets, well-turned out and decently choosen, not devoided of both popular and catchy pieces.
In the first place
RSM
, founded in 2008 in Moscow, took the stage. The music, which the duo treated the gathered to, was characterized by a high level of diversion, starting from variations on rythymic noise, through exploited to the limits dark electro elements, ending with ethereal sounds of witch house, a genre that has been in vogue recently. The frontman of the project, Sychy, was trying to pass his energy on to the audience; unfortunately, much as he tried, the best part of it remained passive, as usual. Nevertheless, the performance was by all means dynamic, the choice of pieces pertinent, an attempt to interact with the participants was marked. Especially moving was the fact that, apart from the latest compositions, the older ones, distinctively more jarring with their accidentality in terms of bonding the sounds into the whole, were also featured in the setlist.
After a short while the representatives of
CH District
appeared onstage to freshen the audeince with their cocktail of juicy bass and pleasurably sour distortions of various sounds. The set, which we were treated to that evening, was filled with such immensely energetic supplies that it simply did not allow to slow down, nor to take a breathe. The gathered seemed to be absorbing the tracks with each and every cell of their body; standing still could be regarded indecent. The compositions, however different they might have been, complemented one another perfectly, building an unusal atmosphere, saturating the air (otherwise growing heavier from the electronica) with synthetic tones. The music comprised a sort of a medium, making it possible to exchange impressions among the participants and the performers. With its show, CH District indubitadely met up the needs and expectations of the fussiest and the most demanding lover of the genre.
Other articles:
Newest comments: